Edible sugar cookie dough is a fun and easy dessert to make for Christmas! This eggless recipe uses heat-treated flour so it is safe to eat for everyone!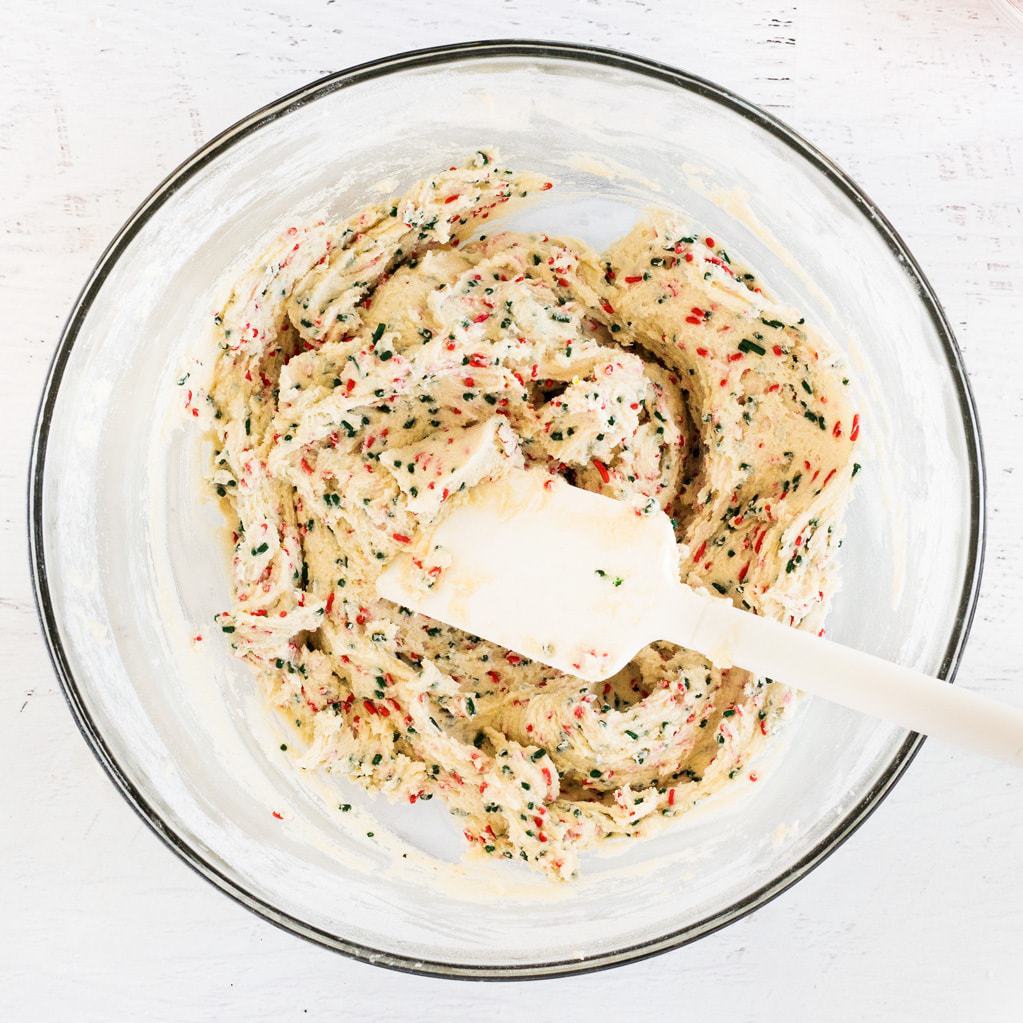 With Christmas comes cookies and with cookies comes dough. Let's be honest, we are all guilty of licking the spoon after scooping dough on to the cookie sheet.
Eventually you have to stop because you will get a stomach ache, but what if I told you there is cookie dough that is safe to eat? Yes, that's right I have a recipe for edible sugar cookie dough.
Your first question may be, "Why can't I continue eating the raw dough from the bowl?" Well, you can (after years of baking I have yet to get sick, knock on wood), but you are risking getting sick when consuming raw cookie dough. Let me explain…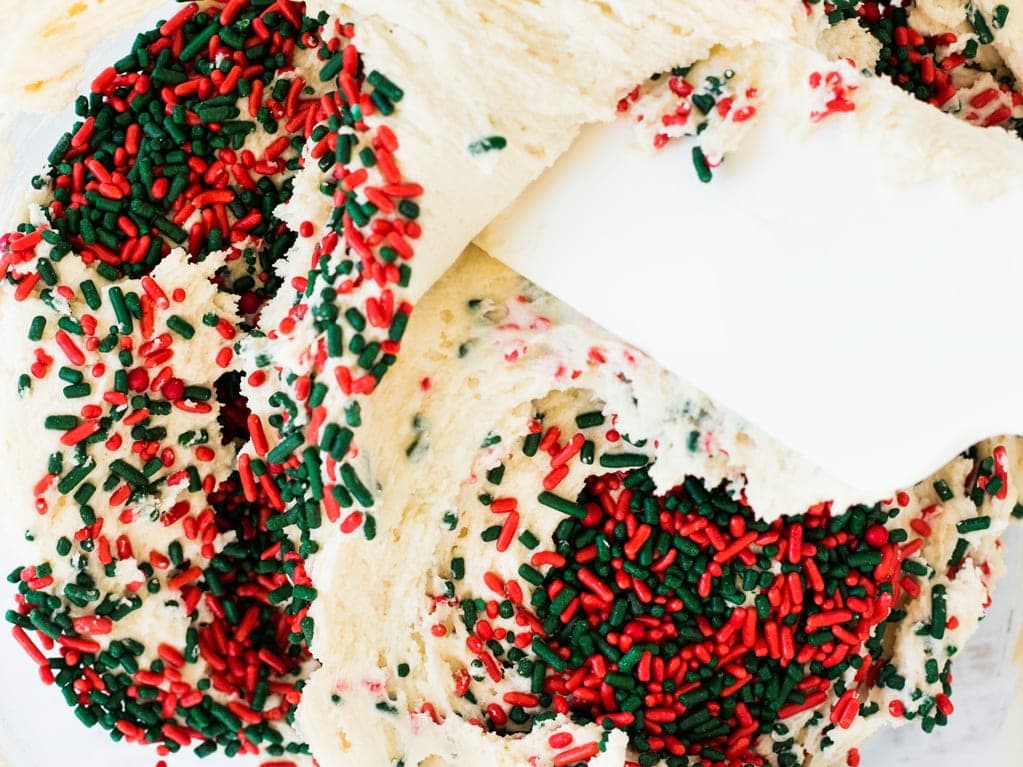 The two biggest factors that may cause illness when eating raw cookie dough are the raw eggs and the raw flour.
Raw eggs have a small chance of containing Salmonella bacteria. The best way to avoid that chance is to use pasteurized eggs or make eggless cookie dough . Pasteurized eggs are somewhat difficult to finds so my sugar cookie dough is eggless.
Raw flour (yes, that's a thing) may contain E. Coli bacteria, which is killed when exposed to high levels of heat (i.e. when you bake cookie dough).
The solution? Bake the flour before adding it to the dough. That way all bacteria disappears and you can eat all the raw cookie dough your heart desires.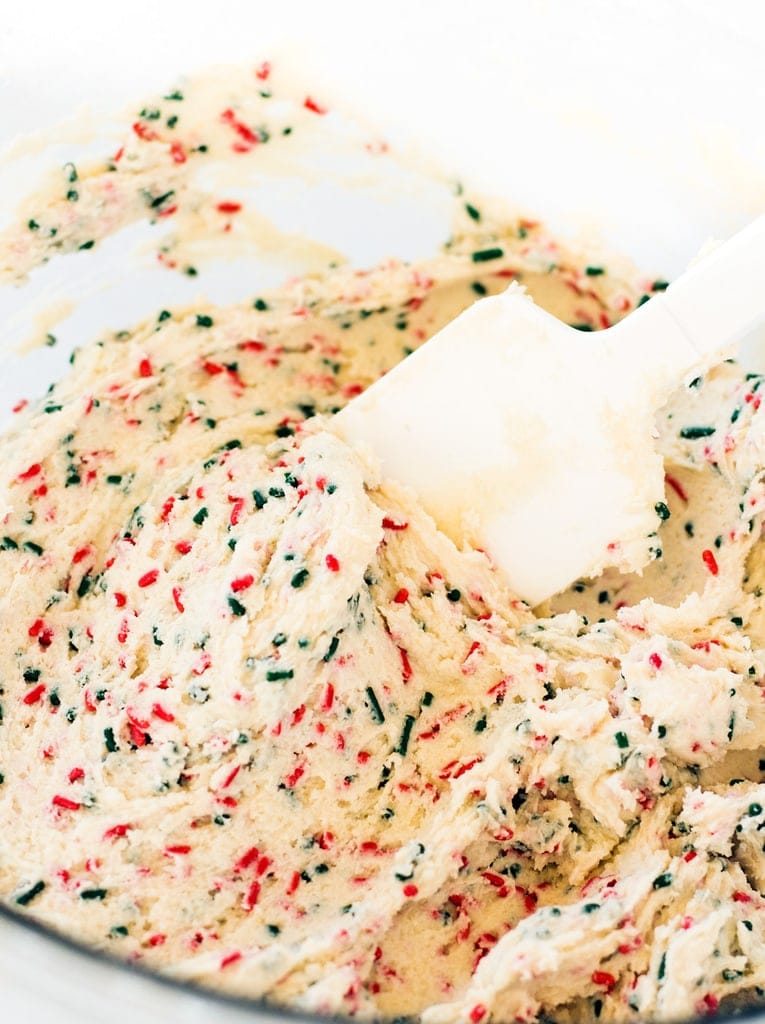 Now that we've all been educated about nonedible and edible cookie dough, let's talk about this recipe.
I was inspired by NYC's hot new spot Cookie DŌ, a shop that has a line down the block of foodies eager to try raw cookie dough. My sister stopped by and said it was worth the hype, but also an incredibly rich treat so to pace yourself.
But aren't all good desserts that way?
I of course wanted to try making my own edible cookie dough, but what flavor? There are dozens of cookies out there, but I wanted to make a classic Christmas cookie dough.
I chose sugar cookie dough and tested out a few recipes to perfect that raw cookie dough taste.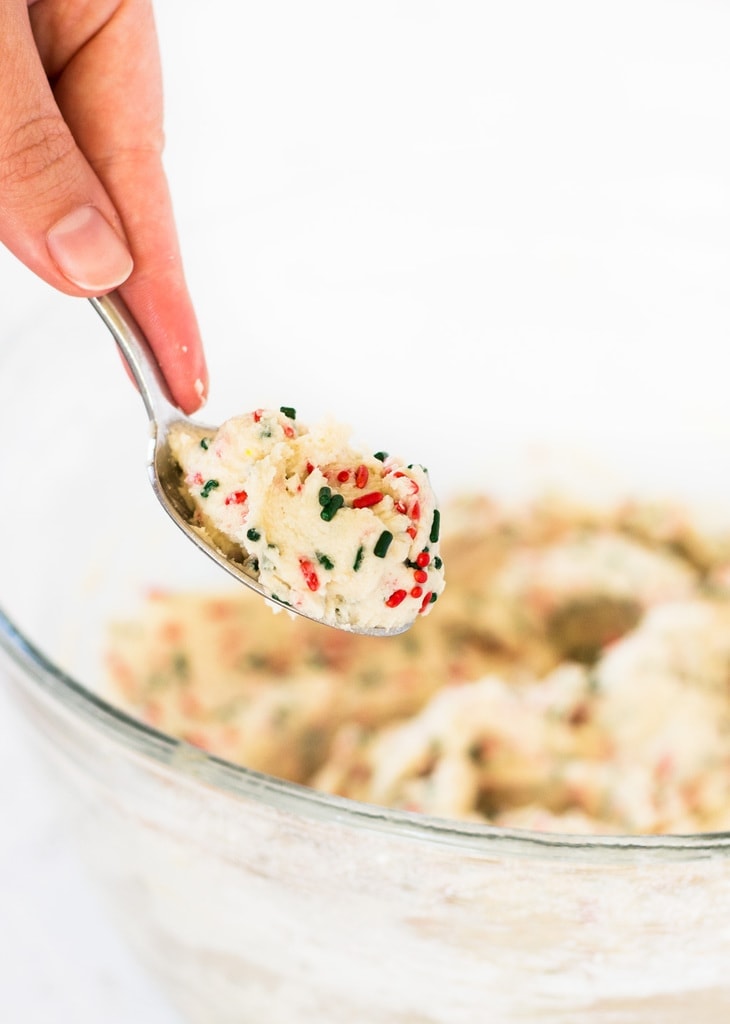 I used my go-to Christmas sugar cookie recipe for inspiration and worked from there. I found that using mostly granulated sugar and a little bit of confectioners' sugar created the perfect tasting consistency.
To make up for the eggs, I used milk in my dough. It helped gather up all the ingredients and hold them together.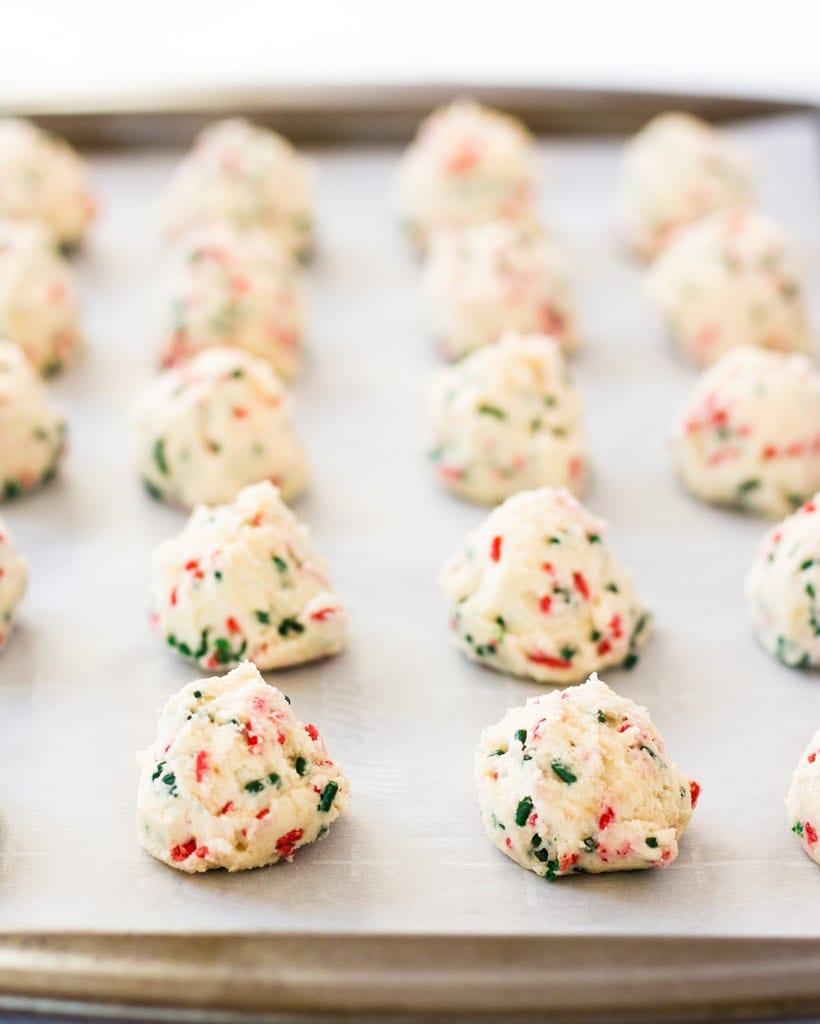 When it comes to serving edible sugar cookie dough, there are two options: straight from the bowl or pre-made scoops. I chose the scoop method.
I store them in the freezer and grab one when I need to satisfy my sweet tooth. Scoops are also perfect if you are entertaining guests (hello, girls' night!).
It's completely up to you which way to enjoy your treat. Either way, refrigerate the dough before serving as it does contain milk and butter.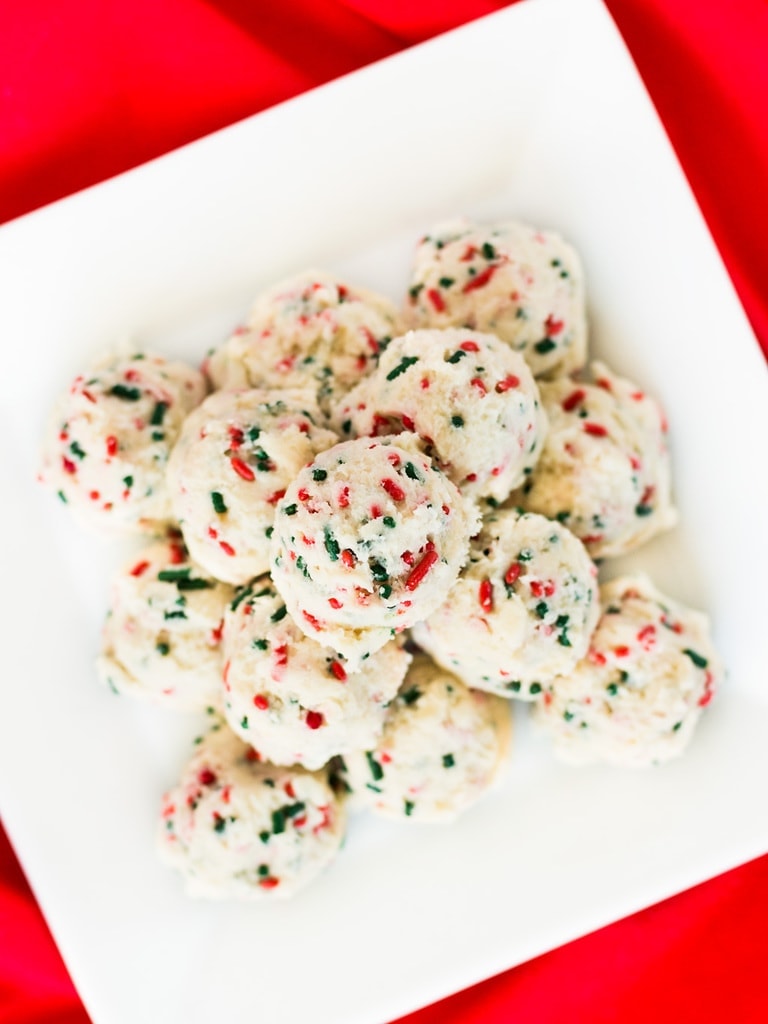 With all the baking going on during the holiday season, it's a good idea to have edible sugar cookie dough on hand. You never know when the sweet tooth calls!
Tools you need to make edible sugar cookie dough: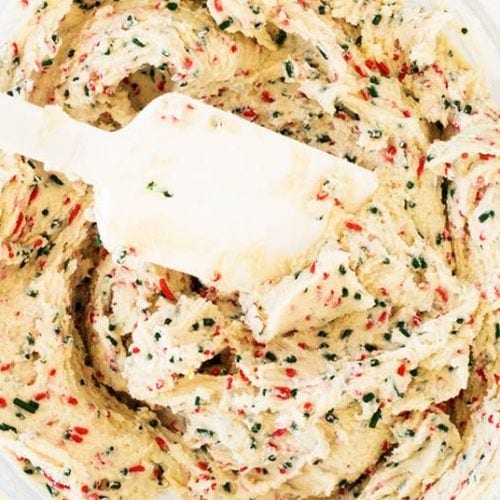 Edible Sugar Cookie Dough
Edible sugar cookie dough is a fun and easy dessert to make for Christmas! This eggless recipe uses heat-treated flour so it is safe to eat for everyone!
Print
Pin
Rate
Servings:
50
balls of cookie dough
Ingredients
2

cups

(250 g) all-purpose flour

1/2

teaspoon

sea salt

3/4

cup

(170 g or 1 1/2 sticks) unsalted butter,

room temperature

1

cup

(200 g) granulated sugar

1/2

cup

(60 g) confectioners' sugar

3

tablespoons

milk

(I used low-fat, but skim and whole work just as well)

1

tablespoon

vanilla extract

3/4

cup

holiday sprinkles
Instructions
First, pasteurize the flour.¹ Preheat oven to 350° F. Spread flour on a 9x13 baking sheet or Silpat, and bake for about 5 minutes. Let cool completely.

Whisk the flour and salt in a bowl. Set aside.

In a large bowl of a stand mixer (or using a hand mixer), mix the butter, granulated sugar and confectioners' sugar until light and fluffy, about 3 minutes. Add the milk and vanilla and mix until combined. Slowly add in flour mixture and stir until smooth.²

Fold in the sprinkles or other favorite mix-ins. Using a cookie scoop or spoon, scoop tablespoonfuls of dough on to a cookie sheet lined with parchment paper. Chill in the refrigerator for 20 minutes and serve.³
Notes
¹ Baking the flour in the oven kills off any harmful bacteria.
² If the consistency is too thick, add another tablespoon of milk.
³ Cookie dough should be stored in an airtight container in the refrigerator for up to one week.
If you like this recipe, try making sugar cookie truffles!
Pin it for later!