This recipe makes the best vanilla cupcakes! They're moist, full of vanilla flavor and topped with fluffy buttercream frosting.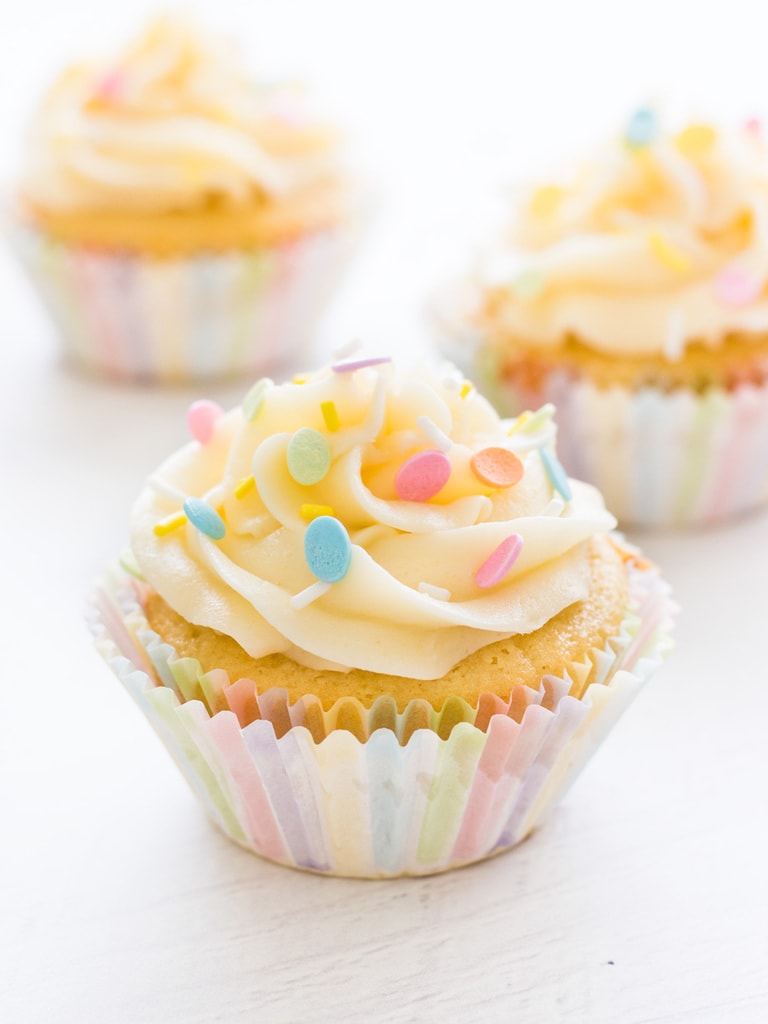 Let's talk cupcakes. If you like to bake, knowing how to make classic vanilla cupcakes is a necessity. So today I'm sharing my best vanilla cupcake recipe with homemade buttercream frosting.
So what makes these the best vanilla cupcakes? Well, I'll tell you.
The best vanilla cupcakes are moist, fluffy and filled with vanilla flavor. The moist and fluffy ratio has to be perfect so each bite melts away in your mouth. The vanilla flavor can't be toothachingly sweet, but sweet enough to keep you coming back for more.
Choosing the right frosting is also crucial. It's easy to have a rich frosting overwhelm any cupcake, but I find that you can never go wrong with a classic buttercream frosting. It is the perfect compliment for classic vanilla cupcakes.

The buttercream frosting I used for these cupcakes is my absolute favorite. It's not too sweet and is buttery smooth (I hate when you can taste the sugar granules in frosting).
To get that consistency, I beat the butter for a while, usually using the whisk attachment for my stand mixer. After about four or five minutes, the butter turns lighter in color and fluffy. Then, all you need to do is add the sugar and vanilla (maybe some milk if you want a thinner consistency) and pipe the cupcakes!

Of course the fun part is decorating! I'll admit, half the reason I bake is to frost and decorate cupcakes. It is so satisfying—dyed frosting, cute paper liners, fun sprinkles—the possibilities are endless!
Over the years, my assortment of sprinkles and cupcake liner collection has grown immensely. The sprinkles and the liners for these cupcakes were a HomeGoods find. I love the pastel colors—they were perfect for Easter!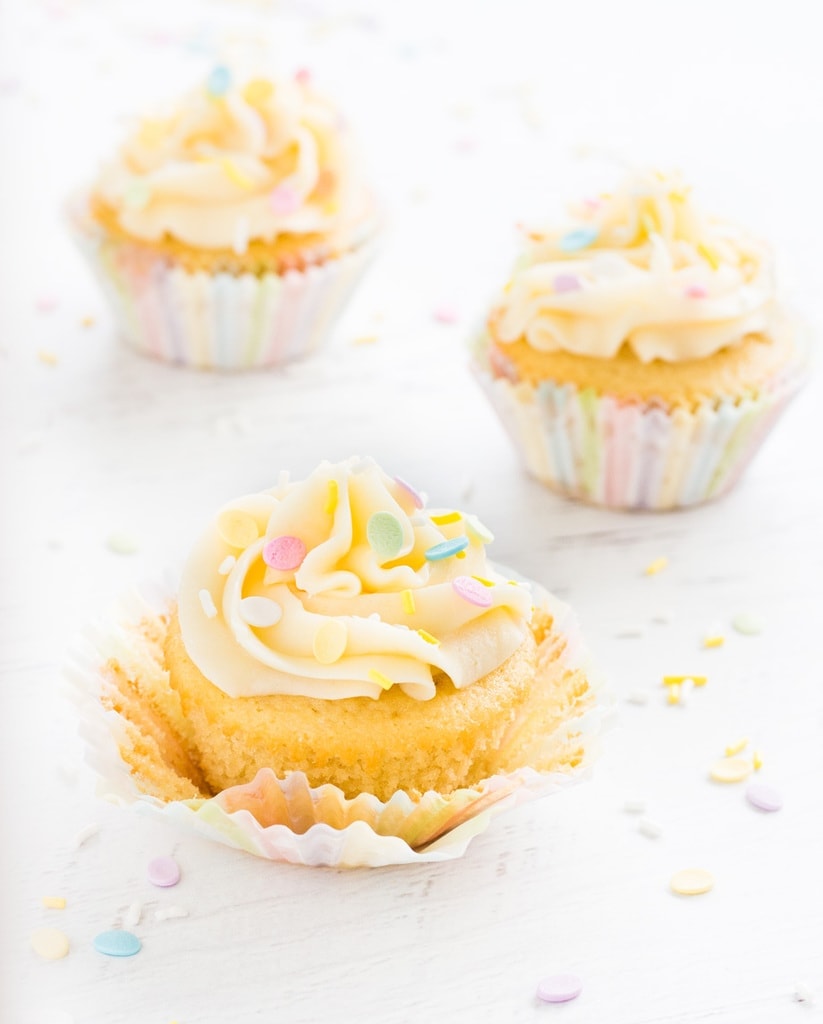 This recipe also works for other holidays. Want to make Christmas cupcakes? Dye the frosting green and decorate with red sprinkles. Need cupcakes for your Fourth of July party? Get red, white and blue jimmies and American flag toothpicks.
Like I said, when you're making the vanilla cupcakes, the possibilities are endless!
So here's your chance to bake the best vanilla cupcakes. Master this recipe and your family and friends will consider you a pro!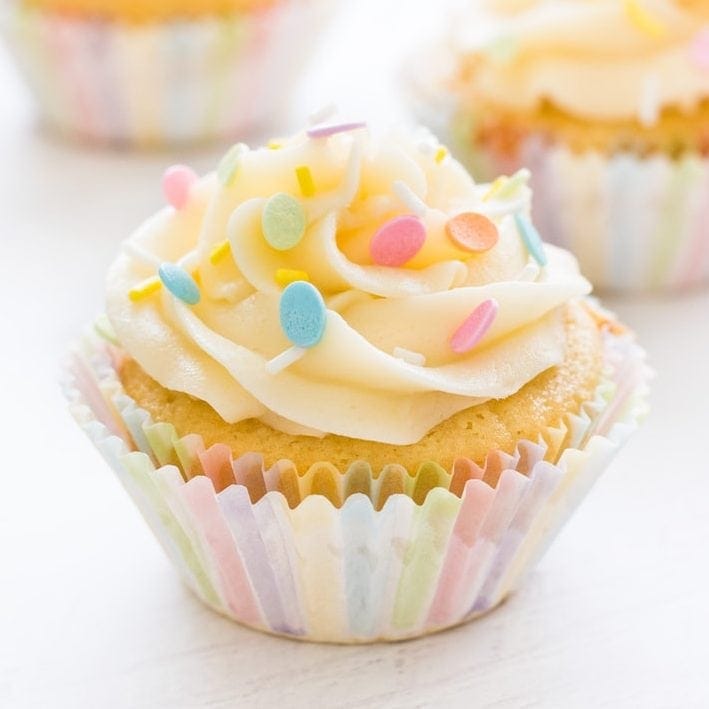 Best Vanilla Cupcakes
This recipe makes the best vanilla cupcakes! They're moist, full of vanilla flavor and topped with fluffy buttercream frosting.

Ingredients
Vanilla Cupcake Ingredients
1 3/4

cups

(224 g) cake flour

1 1/2

teaspoons

baking powder

1/2

teaspoon

baking soda

1/2

teaspoon

salt

1/4

cup

(57 g or 1/2 stick) unsalted butter,

room temperature

1

cup

(200 g) granulated sugar

2

large eggs

1/3

cup

(75 g) sour cream (or plain, low-fat yogurt)

1/4

cup

(60 ml) vegetable oil

2

tablespoons

vanilla extract

2/3

cup

(160 ml) cup milk
Buttercream Ingredients
1

cup

(226 g or 2 sticks) unsalted butter,

room temperature

2 1/2

cups

(300 g) powdered sugar,

sifted

2

teaspoons

vanilla extract

1/8

teaspoon

salt

1-2

tablespoons

milk
Instructions
Vanilla Cupcakes
Preheat oven to 350° F. Line a cupcake pan with baking cups.

In a medium bowl, whisk together cake flour, baking powder, baking soda and salt. Set aside.

In a large mixing bowl, cream together the butter and sugar until light and fluffy. Add the eggs one at a time, beating well after each addition. Beat in the sour cream, vegetable oil, and vanilla extract.

Gradually add in the flour mixture in three parts, alternating with milk (So it goes flour, milk, flour, milk, flour). Mix until batter is uniform and smooth.

Fill baking cups about 2/3 full and bake for 12-14 minutes, or until a toothpick inserted into the center comes out clean. Remove from the oven, transfer cupcakes to a cooling rack, and allow them to cool to room temperature before frosting.
Buttercream Frosting
In a large mixing bowl, whip the butter (with a stand mixer or electric hand mixer) until fluffy, about 5 minutes.

With the mixer on low speed, gradually add in the powdered sugar until completely incorporated.

With the mixer on medium speed, add the vanilla and salt, and beat for a minute, until fluffy. Add milk until desired consistency is reached.

Transfer to a frosting bag with tip and frost away!
Recipe Notes
Store in an airtight container at room temperature for up to 4 days.
Recipe adapted from Pastry Affair.