Gingerbread Biscotti
This post may contain affiliate sales links. Please see my
privacy policy
for details.
Gingerbread biscotti is a festive way to start your morning. Drizzled in white chocolate, this treat pairs well with hot coffee.
Gingerbread biscotti is a festive snack to have with your coffee during the holiday season. For day 6 of my 25 Days of Baking, I decided I needed a festive snack with my midday coffee to keep me going through the holiday season. Gingerbread biscotti was the answer! The dough is spiced with ginger, cinnamon, ground cloves and all spice for plenty of flavor. A drizzle of white chocolate is the final touch!
Why this recipe works: The aforementioned spices along with molasses and brown sugar provide plenty of gingerbread flavor. This recipe is easy to make because all you have to do is form the dough into two logs, bake, then cut the logs into the slices before the second bake.
How to make gingerbread biscotti
Make the dough: Whisk dry ingredients together in a large bowl. Set aside. Mix together wet ingredients using an electric mixer. Add dry ingredients to wet ingredients and mix just until combined.
Form dough: Divide dough into two equal parts. Place on a lightly floured work surface and form into two logs 10 inches by 2 inches. Place onto parchment lined baking sheet.
First bake: Bake the dough logs at 350 F for 30 minutes. Let logs cool slightly for 10 minutes.
Cut the logs: Cut the logs into slices about 3/4-inches thick. Lay slices face up on parchment lined paper.
Second bake: Bake slices for 10 minutes, flipping the biscotti halfway through. Let biscotti cool on wire rack.
Melt the chocolate: Melt white chocolate in a double boiler or microwave (see tips for melting chocolate). Use a spoon or icing bag to drizzle melted chocolate over baked biscotti.
Helpful tips for making biscotti
Want to be successful at making biscotti? Here are some tips. After the first bake, let the logs of biscotti cool for only 10 minutes. You want the logs still warm so they don't crumble when cut. Use a serrated knife and cut in a sawing motion.
During the second bake, flip the biscotti over halfway through for even baking. Transfer biscotti to a wire rack immediately so they cool quickly and become crunchy.
Frequently Asked Questions
Is there butter or oil in biscotti?
Traditional biscotti does not use butter or oil. This recipe relies on eggs and molasses to bind the ingredients.
Why is my biscotti hard?
Biscotti is supposed to be crunchy, but if it is too crunchy or hard to eat then it was probably baked too long. I suggest dipping the biscotti in coffee, tea or milk so it doesn't go to waste!
How to store gingerbread biscotti
Store in an airtight container or holiday tin at room temperature. Use parchment paper between layers so the white chocolate drizzle stays in tact. Biscotti will keep for up to 2 weeks.
Can you freeze biscotti?
Yes, place in an airtight container (make sure no air gets in to prevent freezer burn). Use parchment paper between layers so biscotti doesn't stick together. Freeze for up to 3 months.
Related recipes
Do you love biscotti? Try my classic biscotti recipe to learn all the tips and tricks to homemade biscotti. I think you'll also love my almond biscotti recipe with vanilla glaze. It is packed with almond flavor. For you chocolate lovers, my chocolate biscotti is for you! It has chocolate chips in the dough and a chocolate drizzle on top. If you're looking for more holiday-related biscotti recipes, you can try my pumpkin biscotti or peppermint biscotti from She Wears Many Hats blog.
Other good gingerbread recipes include these gingerbread scones with maple glaze and gingerbread crinkle cookies (they are so chewy!)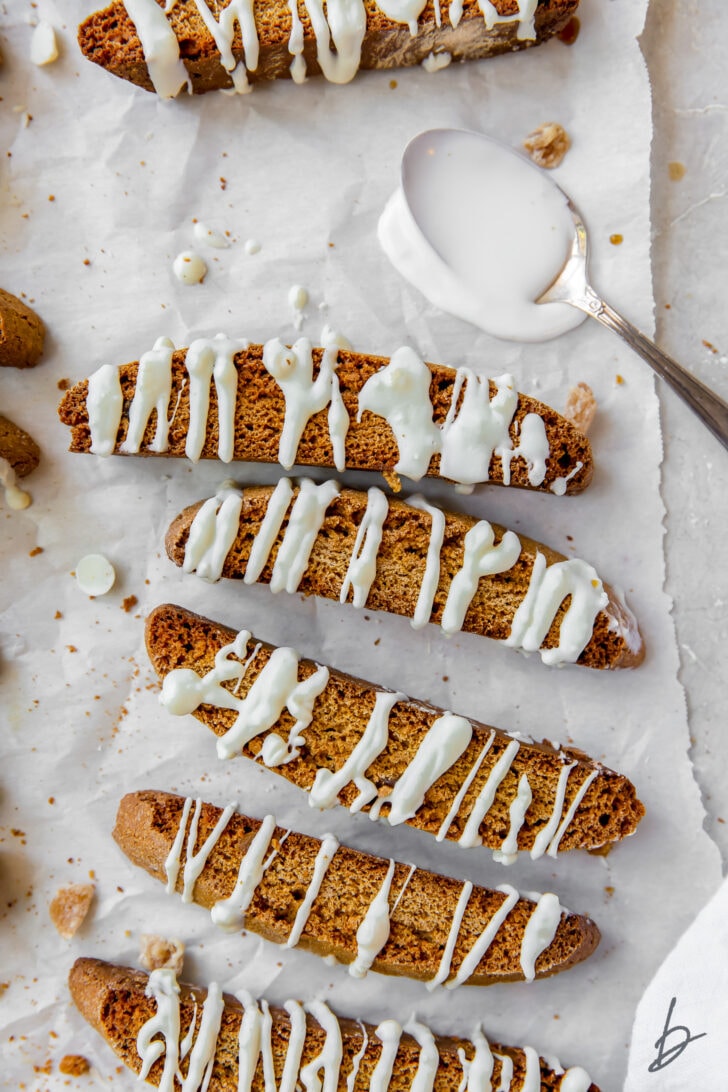 Gingerbread biscotti lasts for a couple weeks, which makes it perfect for the holiday season. You can make it ahead of time and enjoy it on Christmas morning or gift it to friends and family. If you enjoyed this recipe, show me on social media by tagging @ifyougiveablondeakitchen.
Gingerbread Biscotti
Gingerbread biscotti is a festive way to start your morning. Drizzled in white chocolate, this treat pairs well with hot coffee.

Ingredients
2 ¼

cups

(281 g) all-purpose flour

1 ¼

cups

(250 g) light brown sugar

,

packed

2

teaspoons

ginger

1

teaspoon

cinnamon

½

teaspoon

ground cloves

¼

teaspoon

allspice

1

teaspoon

baking powder

¼

teaspoon

baking soda

½

teaspoon

salt

2

eggs

2

tablespoons

molasses

½

teaspoon

vanilla

2

tablespoons

crystallized or candied ginger

,

optional

1

cup

white chocolate chips or melting wafers¹
Instructions
Preheat oven to 350º F. Line baking sheet with parchment and set aside.

In a bowl, whisk together all the dry ingredients—flour, brown sugar, ginger, cinnamon, ground cloves, ground all spice, baking powder, baking soda, and salt. Set aside.

In a stand mixer with a paddle attachment, mix together eggs, molasses, and vanilla until well combined, about 1 minute. Slowly add the flour mixture and crystallized ginger (if using). Mix until it forms a doughy ball, about 2 minutes.² Scrape the edges and bottom of the bowl if necessary.

Flour work surface and transfer dough to the surface. Divide dough in half and form each half into a log about 10 inches by 2 inches.

Place logs about 4 inches apart on the baking sheet and bake for 30 minutes, the surface will spring back when gently touched. Let cool 10-15 minutes.

While the logs are still warm, move from baking sheet to cutting board. With a serrated knife, cut log into 3/4 inch slices on the diagonal. Place slices back on parchment lined pans, cut sides down. Repeat with second log.

Lower the oven temperature to 325° F. Bake 10 minutes, flipping biscotti over half way through. The baking time depends on how dry you like your biscotti. Longer baking time (15 minutes) makes a harder, crunchier biscotti. Let biscotti cool on baking sheet for 2 minutes then transfer to a wire rack to cool completely.

Once cooled, use a double boiler or microwave to melt 1 cup white chocolate chips (see tips for melting chocolate here). Use a spoon to drizzle chocolate over the biscotti. Allow chocolate to harden and enjoy with your coffee!
Notes
I suggest using white chocolate melting wafers or adding a tablespoon of shortening to white chocolate chips when melting. It will help the white chocolate from becoming too stiff in the melting process.
If the dough is too wet, like a cookie dough, add some flour 1 tablespoon at a time until it forms a ball. If it is too dry and crumbly, add some milk 1 tablespoon at a time.
Store gingerbread biscotti in an airtight container at room temperature for up to a week.
Serving:
1
biscotti
,
Calories:
140
kcal
,
Carbohydrates:
27
g
,
Protein:
2
g
,
Fat:
3
g
,
Saturated Fat:
2
g
,
Cholesterol:
15
mg
,
Sodium:
76
mg
,
Potassium:
100
mg
,
Fiber:
1
g
,
Sugar:
17
g
,
Vitamin A:
22
IU
,
Vitamin C:
1
mg
,
Calcium:
42
mg
,
Iron:
1
mg
Adapted from: Baking Illustrated and That Skinny Chick Can Bake