Hard cider and Fireball cupcakes are filled with flavor… and alcohol. Fireball and Angry Orchard are infused in this spiced cupcake recipe.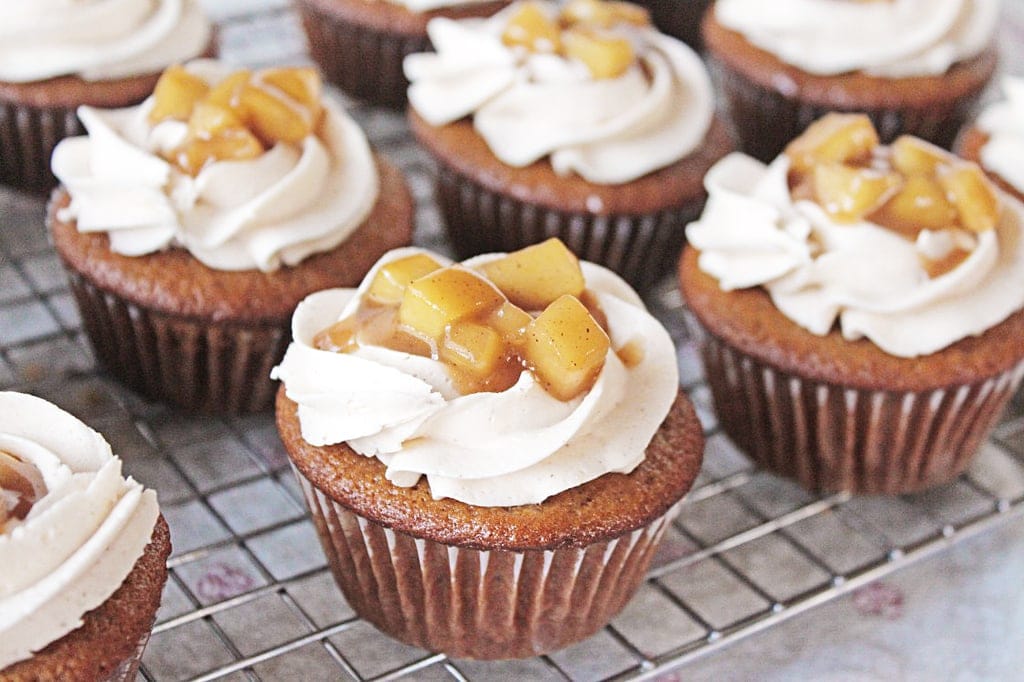 DISCLAIMER: You will have to eat a lot of Fireball cupcakes to feel the effects of the alcohol… and that is okay because these cupcakes are INCREDIBLE.
Let me start by saying that I am a seasonal person—seasonal eater, seasonal drinker, and seasonal runner (I do not run in the cold, sorry). My go-to drink in the fall is Angry Orchard hard cider sometimes with a shot of Fireball.
When I saw this recipe for hard cider cinnamon cupcakes I just had to try it. They turned out lovely and that is not the Fireball talking.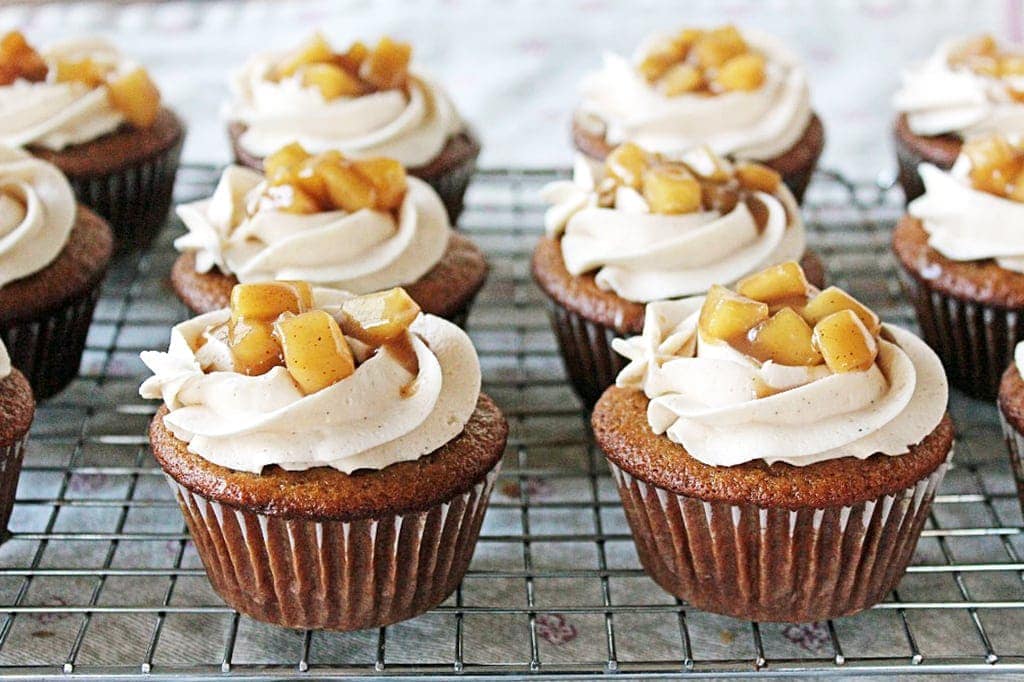 The spiced cake batter is the epitome of fall. The hard cider brings out all the spices (think: nutmeg and cinnamon). Then there's the caramel apple filling. I could have eaten those glazed apples by the spoonful. They are the perfect filling and topping for these Fireball cupcakes.
Of course the dessert wouldn't be complete without the buttercream frosting, which is spiked with the cinnamon whiskey.
Hard cider and Fireball cupcakes are every bit of deliciousness you need in a dessert. Spiced with fall flavors and kicked up a notch with some alcohol, once you take a bite there is no turning back.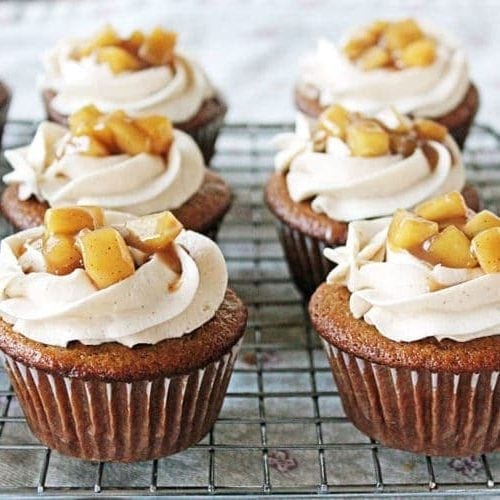 Ingredients
Cinnamon Spice Hard Cider Cupcakes
1/3

cup

butter

1

egg

room temperature

1

cup

buttermilk

room temperature

1

cup

dark brown sugar

1/3

cup

sugar

1/2

Tablespoon

vanilla extract

2 1/2

cups

all-purpose flour

2

teaspoons

cinnamon

1/2

teaspoon

nutmeg

1

teaspoon

salt

1

Tablespoon

baking soda

1

cup

hard apple cider

room temperature*
Whiskey Caramel Apple Filling
3

Tablespoons

butter

2

large

or 3 small crisp apples peeled, cored, and diced (I used Gala apples)

1/4

cup

dark brown sugar

1/4

teaspoon

cinnamon

1/4

teaspoon

kosher salt

1 1/2

teaspoons

vanilla extract

1

teaspoon

cornstarch

2

Tablespoons

whiskey**
Cinnamon Whiskey Buttercream:
1

cup

2 sticks butter, room temperature

3 1/2

cups

powdered sugar

sifted

1/4

teaspoon

cinnamon

1

teaspoon

vanilla extract

1-2

Tablespoons

whiskey**
Instructions
Cupcakes
Preheat oven to 350° F. Line a muffin tin with cupcake liners and set aside.

In a small saucepan, heat the butter over medium-low heat, whisking constantly.

The butter will start smelling sweet and brown specks will appear, remove from heat and continue whisking for 30 more seconds. Pour into stand mixer and let cool. Once the butter is cool, add the buttermilk, egg, sugars and vanilla, and mix until well combined.

In a separate bowl, sift together the flour, cinnamon, nutmeg, salt, and baking soda. Gradually add the flour to the wet ingredients, scraping down the sides of the bowl after each addition.

Once the flour is fully incorporated, stir in the hard cider, being careful not to over mix. Scrape the sides and bottom to make sure there aren't any clumps. Fill each prepared cupcake liner a little more than halfway.

Bake for 15-18 minutes, until a toothpick inserted in the center of a cupcake comes out clean.
Filling
Melt the butter in a medium-sized saucepan over medium heat. Add the apples, sugar, cinnamon, salt, and vanilla. Cook for about 10 minutes on medium-low heat, stirring occasionally, until the apples are soft and have released their juices. (It will smell delicious!)

In a separate bowl, whisk together the whiskey with cornstarch. Then add to the pan with the apples and cook for another 3 minutes, until the liquid thickens. Set aside to cool.
Frosting
Cream the butter for a minute or two. Add the powdered sugar, cinnamon, and vanilla extract. Beat on medium speed until creamy.

Add the whiskey, start with one tablespoon and add more until you reach desired consistency (I ended up using 2 tablespoons). Beat on high for 2-3 minutes, until fluffy and whipped.
Assembly
Core each cupcake with a cupcake corer (if you're fancy like that) or a melon baller.

Fill the cupcake with apples, then top with buttercream frosting. Garnish with any left over apples and enjoy!
Notes
*I used Angry Orchard hard cider in the cupcakes, because it's delicious and I wanted some while I baked this tasty treat. If for some reason you do not want to have alcohol in your cupcakes, regular cider works too.
**I used Fireball Cinnamon Whiskey. Again, if you don't want alcohol in your cupcakes, replace with regular cider.
Check out my favorite products!
Find all my go-to baking products in the shop!
Recipe adapted from Veggie & the Beast