Williamsburg Cheese Shop
This post may contain affiliate sales links. Please see my
privacy policy
for details.
Cheese, glorious cheese… one of my great loves.  I will try any type of cheese–soft, hard, spicy, smelly–you name it, I'll try it.  When I walked into the Williamsburg Cheese Shop in Virginia, my strong feelings toward this dairy product immediately surfaced.
Upon entry, your senses overcome you.  You smell fresh cheeses, see specialty foods, and hear people conversing over their delectable treats.  Scattered throughout the store are sample bowls filled with specialty foods, from Virginia peanuts to salami.  It is a food lover's dream.  My stomach drove me straight to the back of the shop where there is a counter offering sandwiches made to order.  You can choose from a selection of meats, such as Virginia cured ham, salami, or smoked turkey, and pair it with your choice of cheese on freshly baked bread.  It would be a mistake to not try their famous house dressing, which is a mayonnaise based spread seasoned with mustard and Worcestershire sauce (I'm guessing).  My sandwich go to is the prosciutto on focaccia with provolone and roasted tomatoes.  It is one of the few sandwiches that is comparable to those I enjoyed while abroad in Italy.
After finishing my lunch, I spoke with some of the store clerks who were equally as passionate about food as I was.  I began in the cheese section where a woman had just began to cut part of a fresh wheel of Parmigiano Reggiano.  She offered me a slice and I honestly had not experienced such a flavorful Parmigiano since living in Italy.  It had its characteristic hard texture and nutty flavor–simply delicious on its own.  While she portioned the cheese, I asked her what the more popular selections were among the customers.  The 2 year aged cheddar was most popular due to its familiarity, but close runner ups were gouda and goat cheese.  These cheeses are the most common choices when costumers opt for the cheese plate that is paired with a glass of wine.  My favorite sample was known as the drunken goat, which is a creamy, mildly tangy goat cheese that was cured with wine.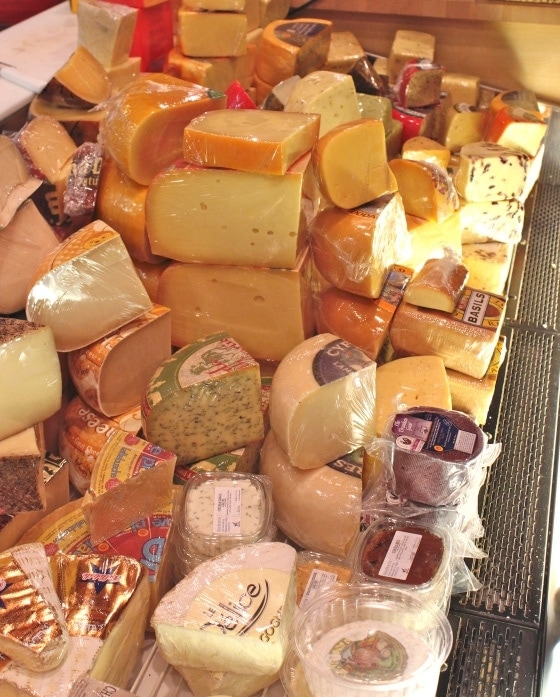 I took a break from gawking over the cheese and moved onto the specialty foods filling the shop's shelves.  Everything from salsas to pasta to tea were available to the customers.  A friendly floor sales associate approached me and I quickly took the opportunity to ask how the owners choose what to sell in their shop.  They attend the biannual Fancy Food Show that exhibits thousands of "on trend and best in class products."  Having the shop stocked with trendy, quality items, like kale pesto, surely keeps their customers coming back for more.
While some products rotate in and out of the store, some of the staples include the Virginia peanuts, Savannah honey, and selection of olive oils and balsamic vinegars.  Having tried most of these items during my visits, I can safely say that they alone are worth the trip.
Another alluring feature is the Williamsburg Cheese Shop's selection of wine. (You can't have cheese without wine now can you?)  The cellar is fully stocked with hundreds of wines including over 50 that are under 10 dollars.  The woman I talked to earlier mentioned that you don't need to buy an expensive wine to enjoy good quality.  I fully agreed with that statement and asked if they offer any wine and cheese pairing classes.  I was disappointed to hear that they don't, but the employees are well educated in their products and are happy to suggest a cheese to pair with whichever bottle of wine you choose.
After a complete appreciation of the Williamsburg Cheese Shop and all it has to offer, I departed fully satisfied.  Begin the countdown to my next visit!
The Cheese Shop of Williamsburg, Virginia