Gingerbread crinkle cookies are a must-try during the holidays. They are chewy, full of ginger flavor and coated in sugar with exposed cookie cracks.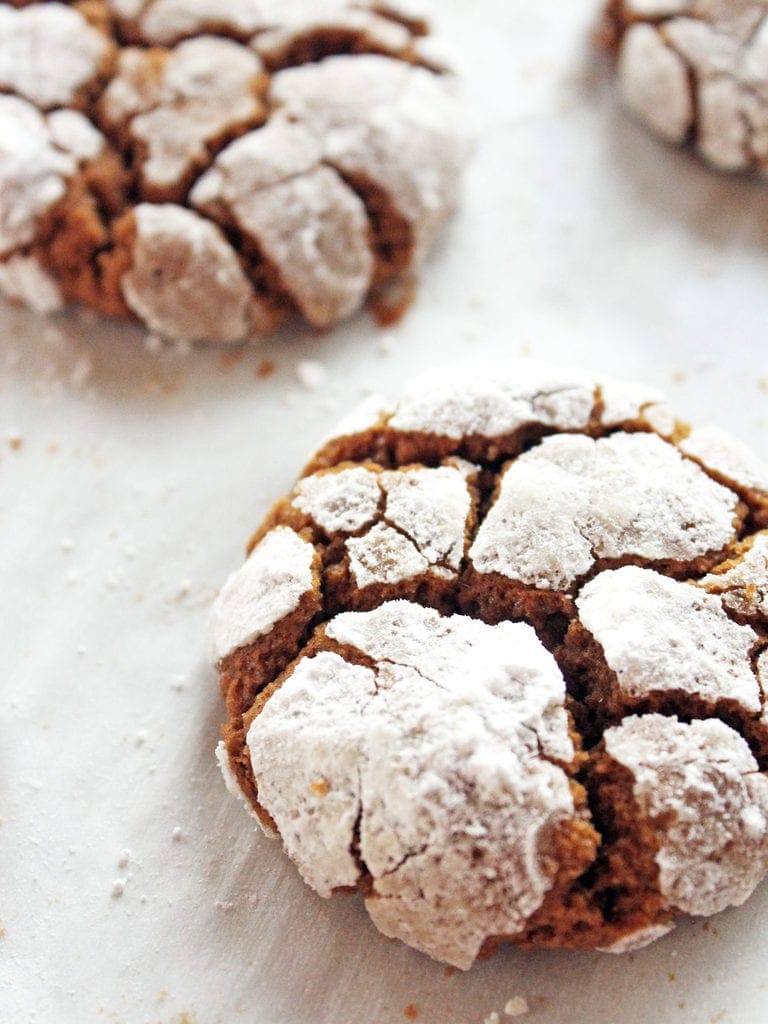 It's National Cookie Day! As if I needed another reason to bake cookies during the Christmas season. Today I tried my hand at crinkle cookies, but not the good old fashioned chocolate ones.
I took my cookie game to the next level and made gingerbread crinkle cookies—and yes, they are as festive and sweet as they sound.
I am just as big a fan of chocolate crinkle cookies as the next person, but I wanted something different and I had my mind set on gingerbread.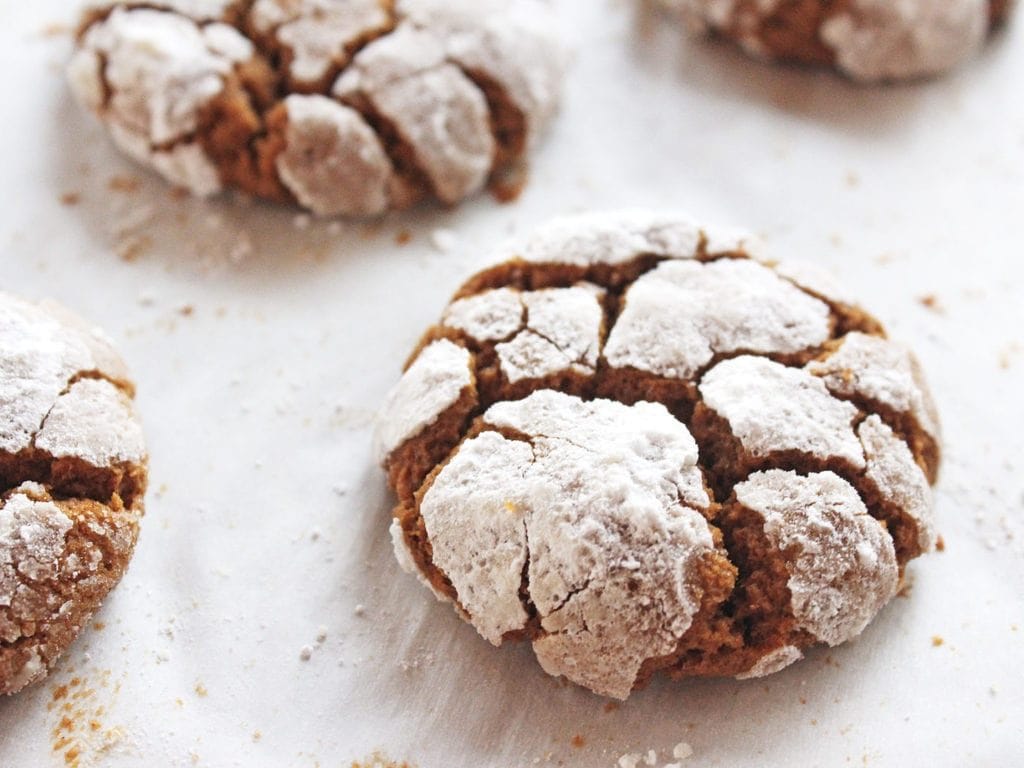 There are cut-out gingerbread cookies, gingersnaps, ginger thins, chewy gingerbread cookies, crispy gingerbread cookies, but gingerbread crinkle cookies prove to be a rare find.
I searched endlessly and couldn't find a recipe that matched up with the cookie I was set on baking. Naturally I took on the challenge and started some recipe testing.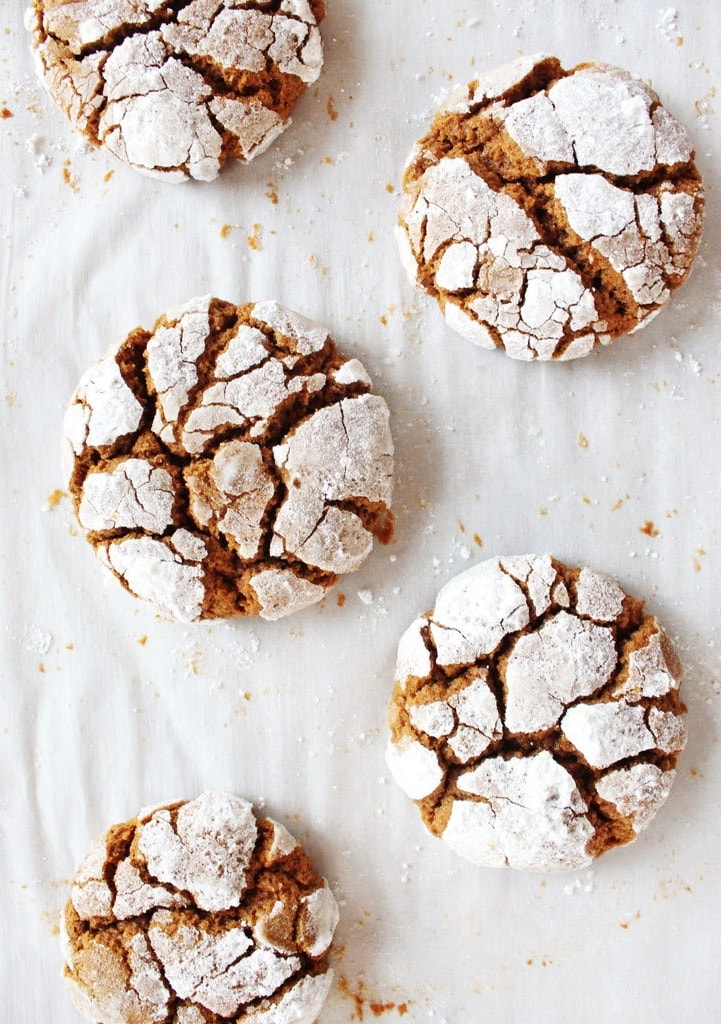 You know a good crinkle cookie when you see it—and eat it. They are covered in powdered sugar with a few gaping cracks exposing the inner parts of a perfectly baked cookie.
To meet the same expectations the chocolate crinkle cookies set, but in gingerbread form, I made a few exchanges to the ingredients.
I found that brown sugar was best suited for the dough as it aids in the chewiness and plays well with the generous portion of molasses I added. Spices are of course necessary to give that flavor gingerbread cookies are known for.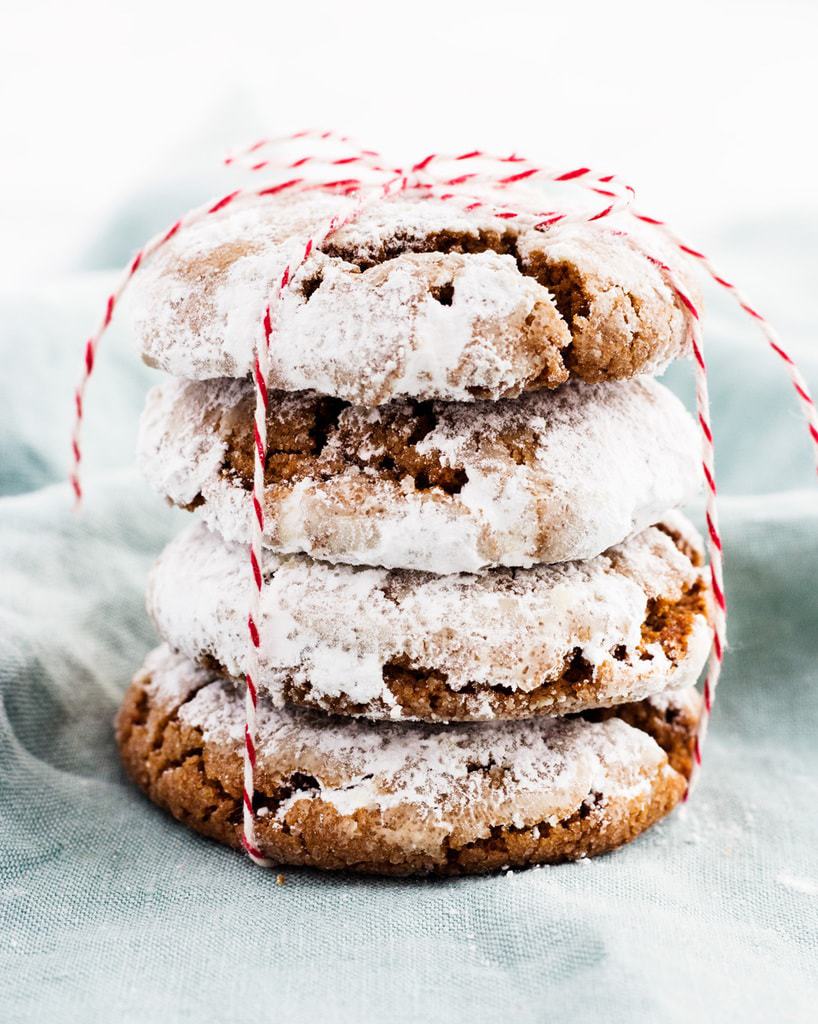 As for the signature crinkle exterior, a roll in granulated sugar and then powdered sugar makes a perfect crackly exterior and keeps the powdered sugar in place.
Chilling the dough is a necessary step in the recipe as it makes it easier to roll the dough into balls and keeps the center nice and chewy once the cookies are baked. And who doesn't want to bite into a chewy center?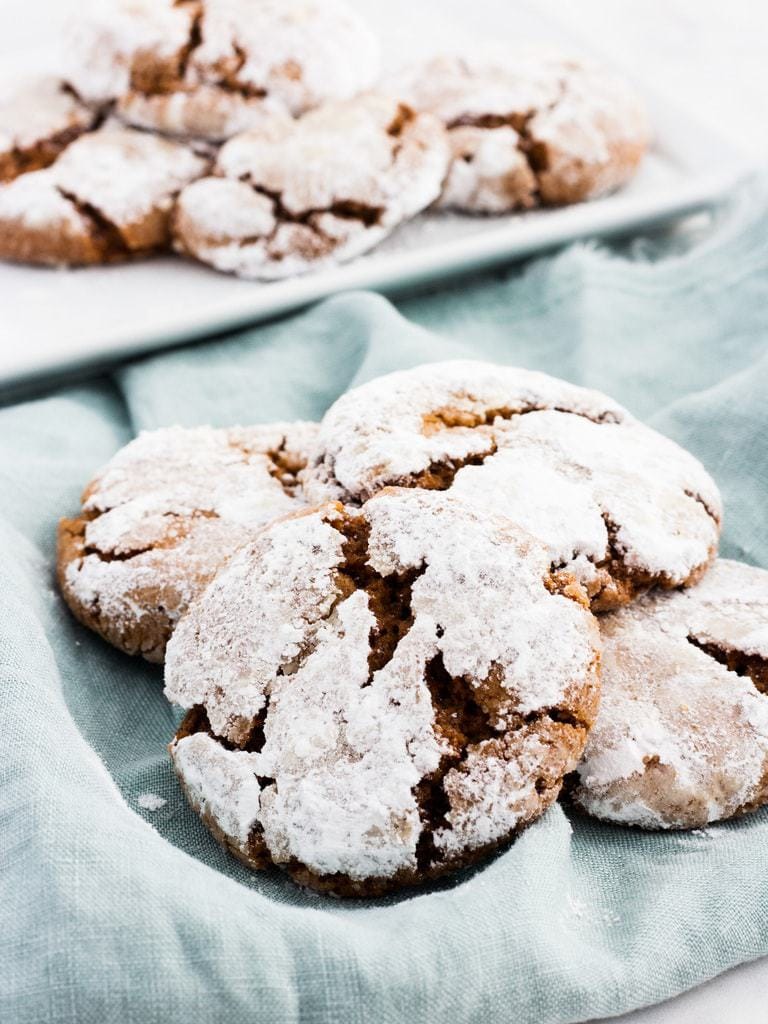 I can't help but think what a perfect contribution these cookies will make to the Christmas cookie swaps and holiday pot luck parties everyone has scheduled this month.
In years past I have baked peanut butter reindeer cookies, butter spritz cookies and peppermint chocolate cookies. I'm excited to share these gingerbread crinkle cookies with friends and family this year!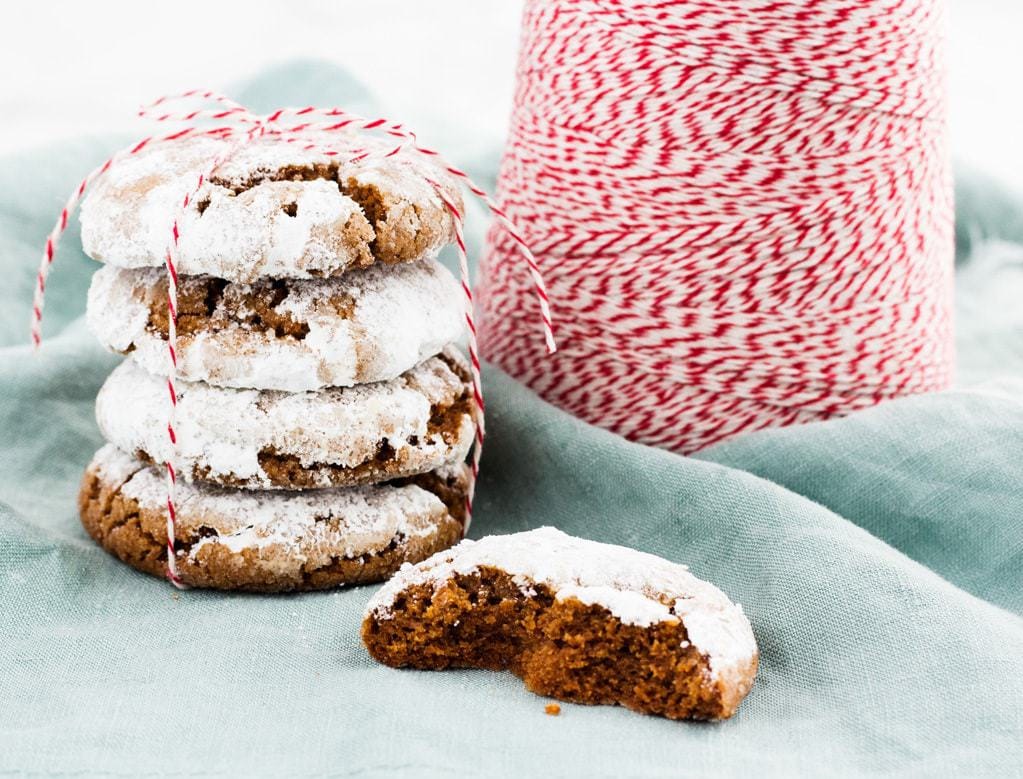 Bookmark this recipe for the holidays. These gingerbread crinkle cookies overcome your sweet tooth and flirt with your tastebuds leaving you wanting more.
Gingerbread Crinkle Cookies
Ingredients
3

cups

(375 g) unbleached all-purpose flour

3/4

cup

(150 g) dark brown sugar, packed

3/4

teaspoon

baking soda

1

tablespoon

ground cinnamon

1

tablespoon

ground ginger

1/2

teaspoon

ground cloves

1/2

teaspoon

salt

12

tablespoons

(170 g or 1 1/2 sticks) unsalted butter, softened, but still cool, cut into 1/2-inch cubes

3/4

cup

molasses

2

tablespoons

milk

1/2

cup

(100 g) granulated sugar

1/2

cup

(60 g) confectioners' sugar
Instructions
With an electric mixer (either hand or stand) stir together the flour, brown sugar, baking soda, cinnamon, ginger, cloves and salt at low speed until combined, about 20 seconds. Stop the mixer and add the butter pieces. Mix at medium-low speed until the mixture is sandy and resembles fine meal, about 1 1/2 minutes. Reduce the speed to low and, with the mixer running, gradually add the molasses and milk. Mix until the dough is evenly moistened, about 20 seconds. Increase the speed to medium and mix until thoroughly combined, about 10 seconds.

Scrape the dough onto a work surface; divide it in half. Working with one portion at a time, shape the dough into two round disks. Cover them in plastic wrap and freeze until firm, 20 to 30 minutes. Alternatively, refrigerate the dough 2 hours or overnight.¹

Preheat the oven to 350° F. Line the two baking sheets with parchment paper.

Take the cookie dough out of the fridge and scoop a heaping tablespoon full of dough. Roll dough into a ball and be careful not to overwork the dough as it will lose its chill and get too warm.² Roll each dough ball in the granulated sugar until coated. Transfer ball to confectioners' sugar and roll again until coated evenly. Place the coated dough balls 1-inch apart from each other on the prepared baking sheet.

Bake the cookies until set in the centers, 12 minutes. Do not over bake. Cool the cookies on the sheets 2 minutes, then remove the cookies to a wire rack to cool to room temperature. Store gingerbread crinkle cookies in an airtight container at room temperature for up to a week.
Recipe Notes
¹ Cookie dough can be frozen ahead of time for up to a month. When ready to bake, let the dough defrost in the fridge so it is still cold when it's into balls.
² If the dough does get too warm, simply place the baking sheet with cookie dough balls in the refrigerator for 10 minutes before transferring to the oven to bake.
Recipe adapted from Baking Illustrated.
© IF YOU GIVE A BLONDE A KITCHEN. All images & content are copyright protected. Please do not use my images without prior permission. If you want to republish this recipe, please re-write the recipe in your own words, or link back to this post for the recipe.