These two-bite chocolate chip mini scones are little morsels for any time of day—breakfast, afternoon tea, or dessert. Enjoy them in just two bites!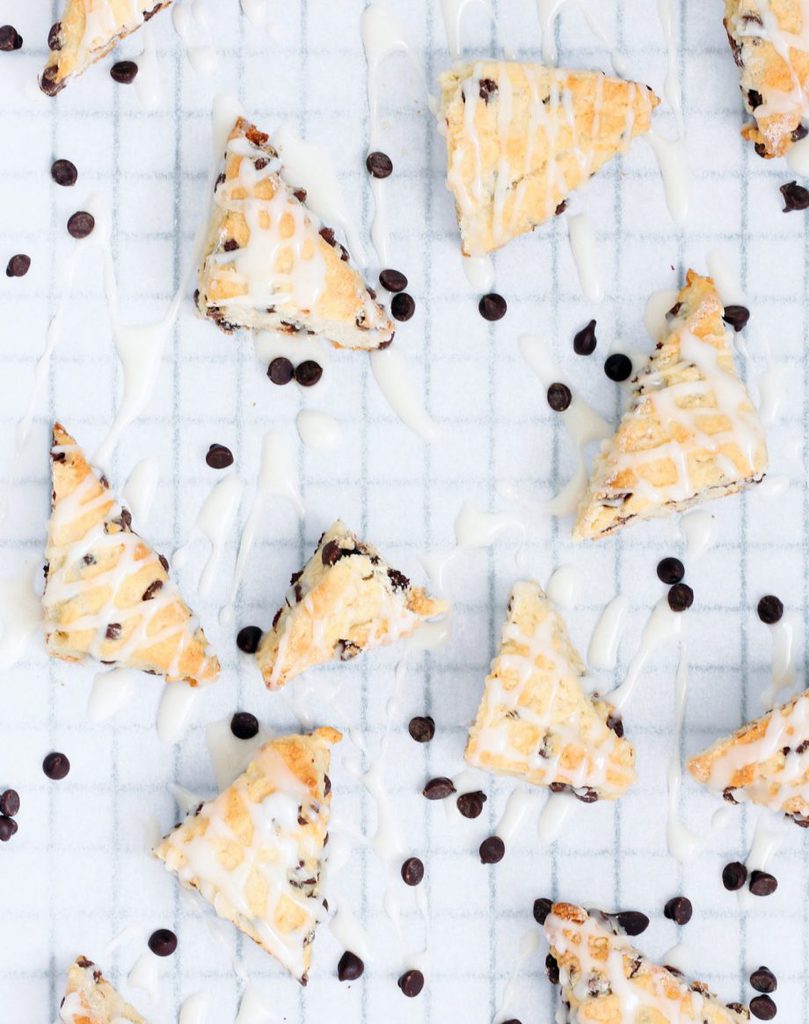 Craving a sweet, tender baked good snack? I have your fix. These two-bite chocolate chip mini scones are little morsels for any time of day—breakfast, afternoon tea, or dessert. They are the perfect pick-me-up you can enjoy in just two bites!
I've been rethinking scones for a while now. The typical scone is almost the size of your fist, which is great if that's all you're having with your coffee at breakfast. But what about at a morning meeting? Or brunch with friends? Or as an afternoon snack? It seems a little indulgent (although I've totally scarfed down a whole scone as an afternoon snack before).
That is why I'm introducing the two-bite scone.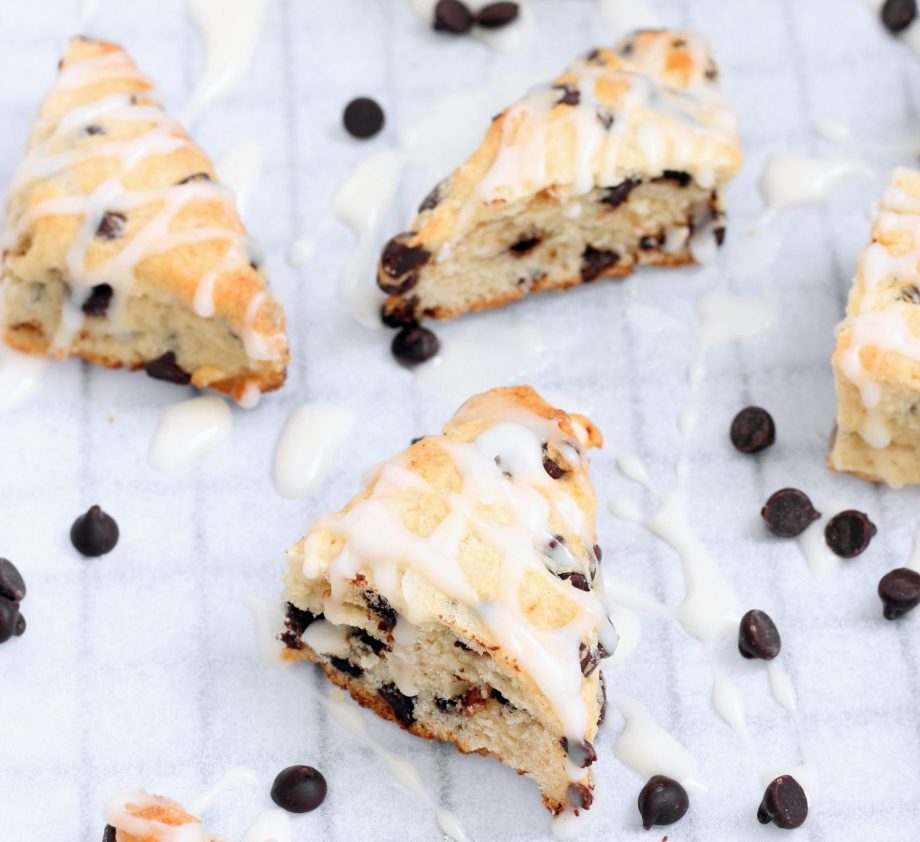 Two-bite scones are self-explanatory. They are mini scones that can be consumed in two bites of course! You have all the enjoyment and deliciousness of a regular scone, but in a bite-sized portion. My first two-bite scone recipe is a standard chocolate chip scone recipe using mini chocolate chips.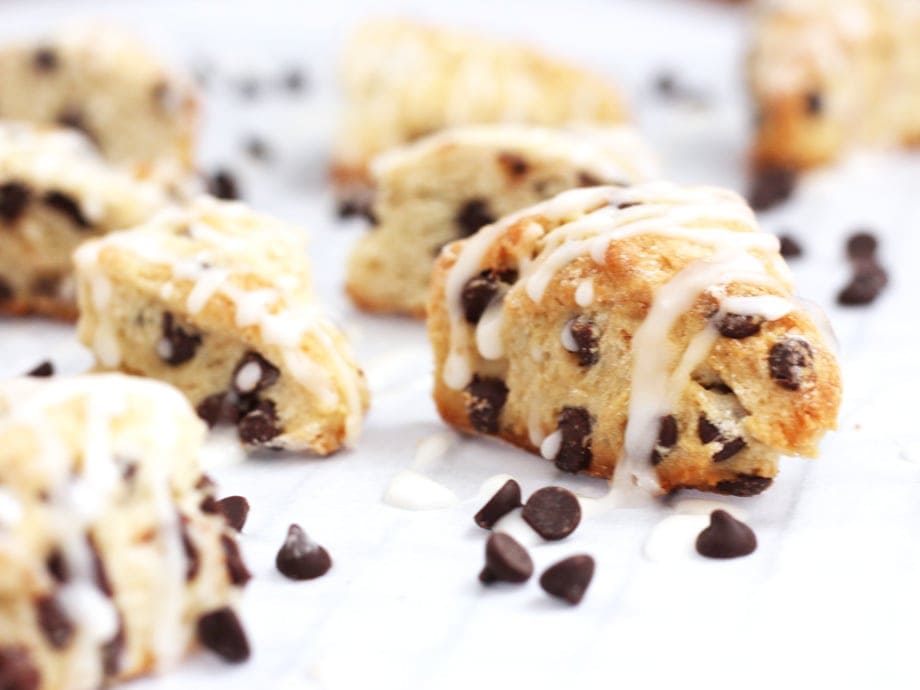 To achieve the two-bite portion you have to work in squares and triangles (bear with me here). Start by forming your dough into an 1-inch by 8-inch square. Then use a sharp knife or pizza wheel to cut the dough into four equal squares. Cut the dough again to form 16 equal squares. Next, cut each square diagonally to create two triangles (you will have 32 triangles total).
Bake the 32 triangles and let them cool on a wire rack. Once cooled, use a sharp knife to cut the triangles in half one last time. Voila! You have created the perfect two-bite portion.

At only 70 calories each, these mini scones are perfect to serve when you have friends over for brunch or if you have kids who tend to not finish their food. Or you can make them and have a grab-and-go snack all week long. Believe me, you will find reasons to eat these mini scones!

Haley D. Williams
Yields 64
Two-Bite Chocolate Chip Mini Scones
40 minPrep Time
15 minCook Time
55 minTotal Time
Ingredients
Scones

2 3/4 cups unbleached all-purpose flour
1/3 cup sugar
3/4 teaspoon salt
1 tablespoon baking powder
1/2 cup (1 stick) cold unsalted butter, cut in pats
1 1/2 cups mini chocolate chips
2 large eggs
2 teaspoons vanilla extract
1/2 cup plus 2 tablespoons milk

Glaze

2 cups confectioners' sugar, sifted
2-3 tablespoons milk
1/2 teaspoon vanilla, optional
Instructions
Scones

In a large mixing bowl, whisk together the flour, sugar, salt and baking powder. Work in the butter just until the mixture is unevenly crumbly. It's okay for some larger chunks of butter to remain unincorporated. Stir in the chips or finely chopped chocolate.
In a separate mixing bowl, whisk together the eggs, vanilla or other flavor, and 1/2 cup half and half or milk.
Add the liquid ingredients to the dry ingredients and stir until all is moistened and holds together. Stir in additional milk (one tablespoon at a time) if the dough seems dry, and doesn't come together.*
Scrape the dough onto a well-floured work surface. Pat/roll it into an 8" to 8 1/2" square, a scant 3/4" thick. Make sure the surface underneath the dough is very well floured. If necessary, use a giant spatula to lift the square, and sprinkle more flour underneath. Cut the square into 2" squares; you'll have a total of 16 small squares. Now, cut each square in half diagonally, to make 32 small triangles. This is all easily accomplished with a rolling pizza wheel.**
Transfer the scones to a parchment-lined or well-greased baking sheet. They can be set fairly close together as they will not spread during baking. You should be able to crowd them all onto an 18" x 13" half-sheet pan.
Place the pan of scones in the freezer for 30 minutes, uncovered. While the scones are chilling, preheat the oven to 425°F.
Bake the scones for 15 minutes, or until they're golden brown. Remove the pan from the oven, and allow the scones to cool right on the pan. When they're cool, cut each scone in half once again, to make a total of 64 tiny triangles.***

Glaze

Make the glaze by stirring together the sugar, milk and vanilla in a small bowl. Place the scones to a rack set over parchment, to catch any drips from the icing. Using a large spoon (or by placing the icing in a icing bag) drizzle the icing over the scones. Allow the glaze to set before serving. Scones can be kept in an airtight container at room temperature for five days.
Notes
Be careful not to overwork the dough as it will result in tough scones.
*Flour your knife each time you make a cut to prevent the dough from sticking to your knife.
***Don't be too particular here; in fact, if the scones are already a size you like, don't bother to cut them again.
7.6.4
105
https://www.ifyougiveablondeakitchen.com/2016/04/13/chocolate-chip-mini-scones/
If You Give a Blonde a Kitchen
Recipe adapted from King Arthur Flour