Salted Nutella blondies uses a chewy blondie recipe with the addition of Nutella dollops and a sprinkle of sea salt on top.
"Ooey gooey goodness" best describes these salted Nutella blondies. My go-to blondie recipe is kicked up a notch with dollops of Nutella and a sprinkle of sea salt.
Blondies are climbing to the top of my favorite dessert list. The brown sugar buttery goodness is wooing my tastebuds. I really didn't think I could like a chocolateless dessert this much. But of course I go and add chocolate to it anyway.
And not just any chocolate—Nutella. I took my perfect blondies and introduced them to Nutella. And you know what? It was just what these blondies needed.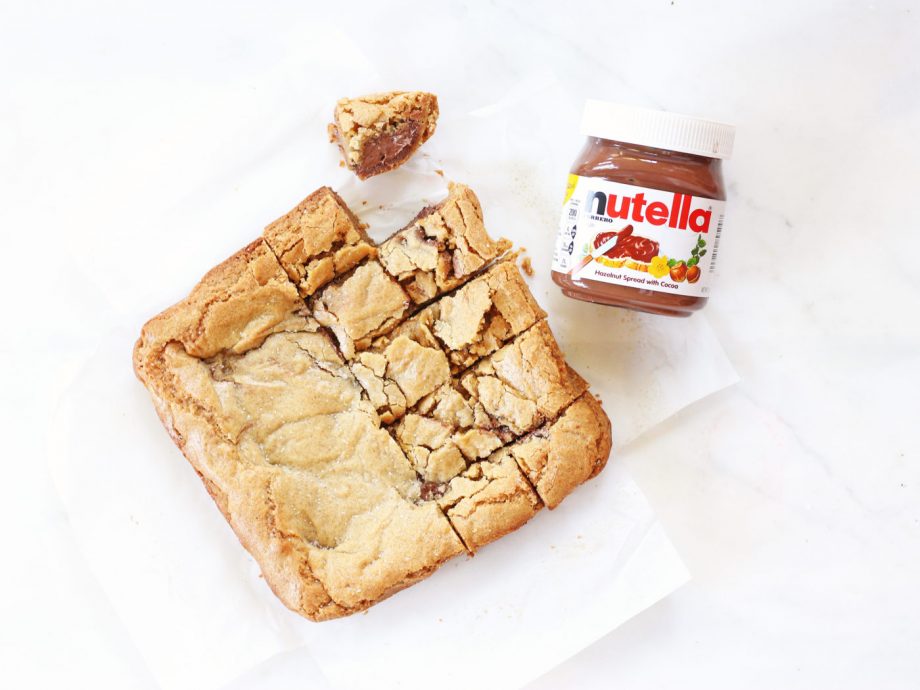 The hazelnut chocolate spread found its way into the blondie batter in just the right way. I placed about a dozen dollops of Nutella onto a cookie sheet lined with wax paper. I placed the cookie sheet in the freezer while I made the blondies.
Why did I do this you ask? Well, plopping Nutella straight from the jar into the batter will cause the Nutella to spread quickly in the baking. Thus, taking away the beautiful blonde color blondies are known for. Freezing the Nutella dollops for 20 or so minutes hardens the Nutella and makes it easy to place them in the blondie batter.

And when the blondies go into the oven, the Nutella softens up and stays pretty much right where you put it. So when you cut the blondies, each bar gets its own Nutella surprise.
And fair warning, these blondies are SUPER gooey (if you couldn't tell from the photo). I advise waiting until they are completely cooled before cutting. Let the Nutella get settled in its new home before introducing it to the neighbors a.k.a. your stomach.
I mean, c'mon. That gooey goodness is just waiting to be eaten, especially with the sprinkle of sea salt on top. The salty sweet combo brings out the brown sugar butter combo and the hazelnut notes in the Nutella.
And there you have it… Nutella-stuffed salted blondies!
Salted Nutella Blondies
Ingredients
1 1/2

cups

180 g all-purpose flour

1

tsp

baking powder

1

tsp

salt

12

Tbs

butter

1 1/2 sticks or 170 g, melted and cooled

1 1/2

cups

250 g light brown sugar

2

large eggs

1

tsp

vanilla

1

cup

296 g Nutella
Instructions
Line a small baking sheet with wax paper. Measure 1 cup of Nutella. Use a spoon to scoop Nutella into about 12 dollops on the wax paper, each one about 2 or 3 teaspoons (no need to be exact). Place the sheet in the freezer while you make the blondies.

Preheat the oven to 350° F. Line an 9x9 baking dish with parchment paper and spray with nonstick spray. Set aside.

In a medium bowl, whisk together flour, baking powder and salt. Set aside.

In a separate large bowl, mix together melted butter and brown sugar using a stand mixer or hand mixer. Add eggs one at a time mixing well after each addition. Add vanilla and mix until combined. Using a rubber spatula or wooden spoon, add the flour mixture to the egg mixture and stir by hand just until combined.

Pour batter into prepared pan and use the rubber spatula to evenly spread the top. Remove the Nutella dollops from the freezer. Distribute dollops evenly on top of the batter. Use your fingers to push each dollop into the dough. Smooth the dough over the Nutella with a spatula.

Bake at 350° F for 25 to 30 minutes, or until the top is shiny and cracked, and feels firm to the touch. Sprinkle with sea salt immediately and cool completely on a wire rack. Cut into 1 1/2 by 2-inch bars and serve.
Recipe Notes
· These blondies are very soft and full of gooey goodness. Resist the urge to cut them when they come out of the oven or shortly after. Allow them to cool completely. This may take up to three hours.
· Nutella blondies should be stored in an airtight container at room temperature for about a week.
Recipe adapted from Baking Illustrated and inspired by The Food Charlatan.