Homemade chocolate chip cookies are chewy, rich and filled with chunks of chocolate chips. This is a classic recipe you will use time and time again!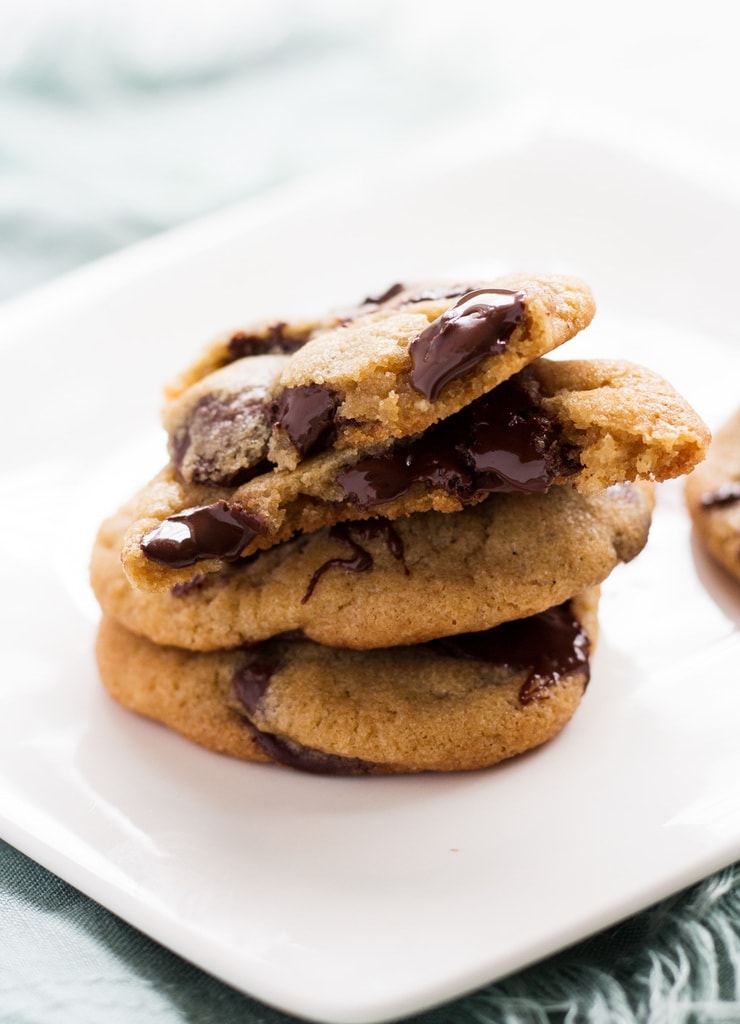 Nothing beats homemade chocolate chip cookies. Warm cookies right out of the oven with melted chocolate chips and a cold glass of milk—that to me is pure bliss.
Today I'm going to share with you my favorite chocolate chip cookie recipe. I've been using it for years and it's one of the few recipes I have memorized. I've made these cookies so many times I swear I can bang out a batch of homemade chocolate chip cookies in under 15 minutes.
Try me.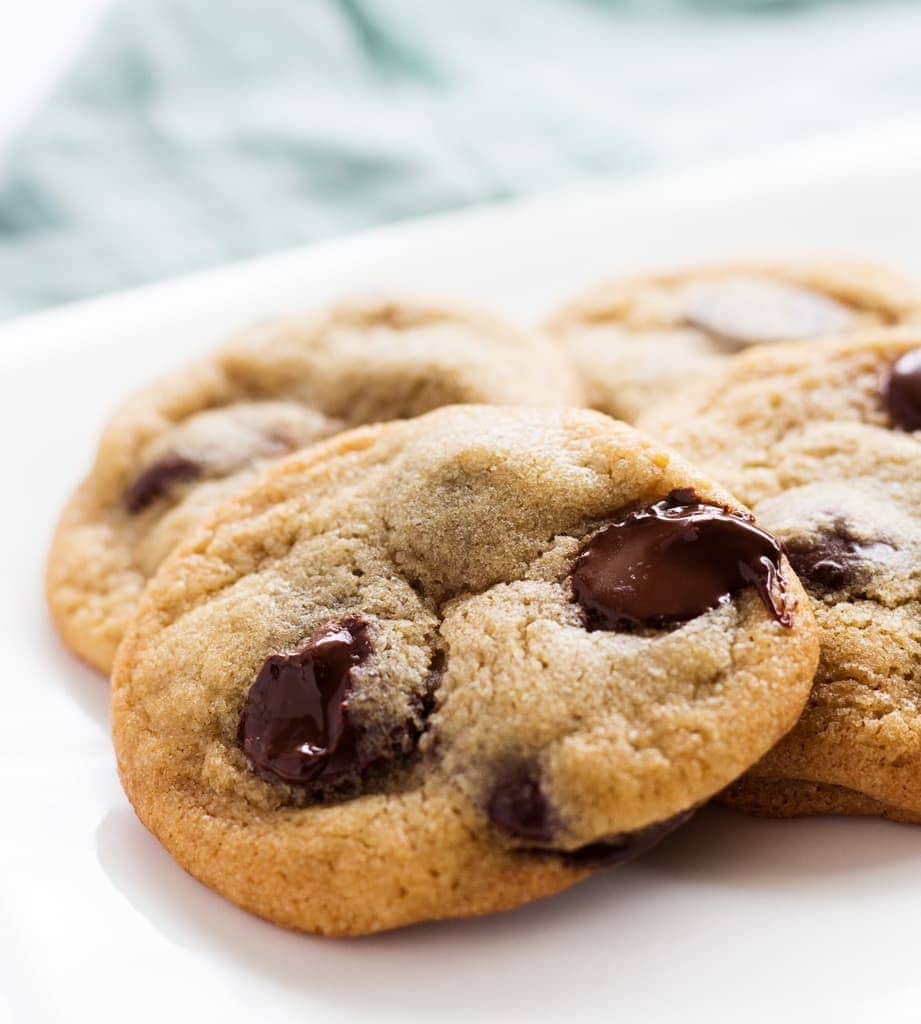 Growing up I tried my fair share of chocolate chip cookie recipe, but when I tried this one I was hooked. They are perfectly chewy and tender and the giant chunks of chocolate melt right into the dough.
The key to chewy homemade chocolate chip cookies is brown sugar and an extra egg yolk. Those two ingredients make the chewiest cookies not to mention the lightest and fluffiest cookie dough.
And let's be honest, we all take a spoonful of cookie dough 🙂

The combination of the egg yolk and brown sugar makes a hearty texture, which is perfect for holding onto big chunks of chocolate chips (I use Ghiradelli).
Those globs of melted chocolate are what dreams are made of. The chips are wrapped up in chewy cookie dough and together they bake into perfect chocolate chip cookies in the oven.
This cookie dough also stores well in the refrigerator and freezer (sometimes I think the cookies turn out even better after the dough is in the fridge for a day!) And if you ask me, it's always a good idea to have cookie dough in the house. You never know when a craving for homemade chocolate chip cookies will strike!
 Tools you need for this recipe:
Yields 36 cookies
Homemade Chocolate Chip Cookies
Homemade chocolate chip cookies are chewy, rich and filled with chunks of chocolate chips. This is a classic recipe you will use time and time again!
5 minPrep Time
10 minCook Time
15 minTotal Time
Ingredients
2 1/4 cups (270 g) unbleached all-purpose flour
3/4 teaspoon baking soda
3/4 teaspoon salt
14 tablespoons (198 g) unsalted butter, softened
1 1/2 cups (300 g) brown sugar, packed
1/4 cup (50 g) granulated sugar
1 large egg plus 1 egg yolk
2 teaspoons vanilla
2 cups (350 g) chocolate chips
Instructions
Preheat oven to 350 F. Line a baking sheet with parchment paper and set aside.
In a medium bowl, whisk together the flour, baking soda and salt. Set aside.
In the bowl of a stand mixer fitted with a paddle attachment, beat on medium speed the butter, brown sugar and granulated sugar until light and fluffy, about four minutes. Scrape down the sides of the bowl when necessary. Add the egg, egg yolk and vanilla. Beat until combined, 20 to 30 seconds.
With the mixer on low, slowly add the flour mixture to the dough. Careful not to over beat. With a wooden spoon or rubber spatula, stir in the chocolate chips by hand.
Scoop about 2 tablespoons of cookie dough, shape into a ball, and place onto the prepared baking sheet. Repeat placing each ball of cookie dough about 1- to 2-inches apart. Bake for about 12 minutes or until the edges start to turn brown. Cool on the pan for 5 minutes and then transfer to a wire rack to cool completely. Store in an airtight container at room temperature.
Notes
Store cookies in an airtight container at room temperature for up to 5 days.
Cookie dough can be stored in the refrigerator for 3 days or in the freezer for 1 month.
7.6.4
170
https://www.ifyougiveablondeakitchen.com/2017/01/01/homemade-chocolate-chip-cookies/
If You Give a Blonde a Kitchen