Chocolate-covered strawberry brownies are a decadent dessert made with fresh strawberries on top of fudgy chocolate brownies.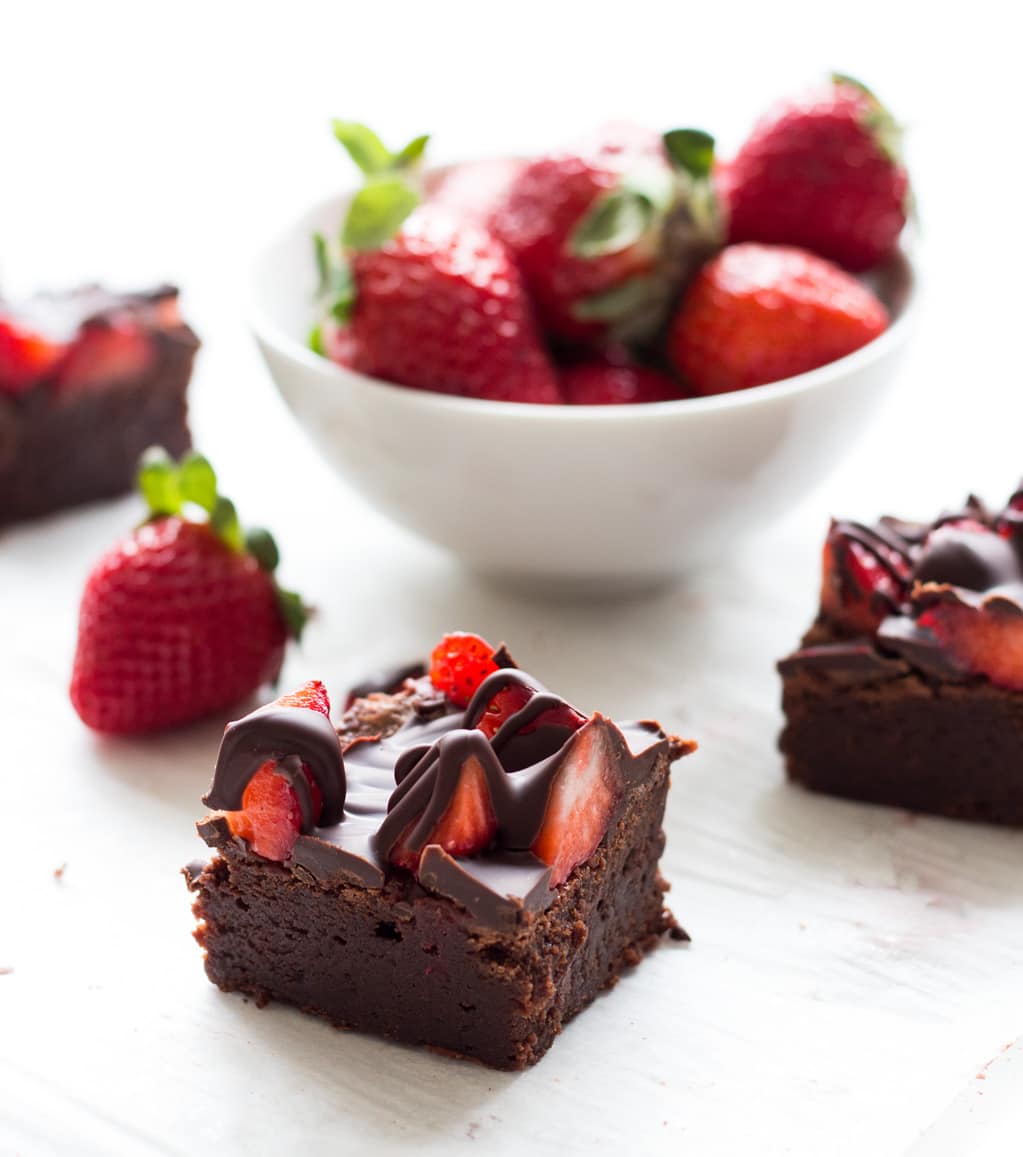 My favorite form of chocolate is arguably brownies. Their dense, fudgy, chewy texture is just how I want my chocolate. With Valentine's Day in sight, I decided to add some color to my brownies and topped them with fresh strawberries.
When I think of romantic Valentine's Day foods, chocolate-covered strawberries instantly come to mind. They're fresh and sweet, but not too indulgent.
Well, I wanted to make them indulgent.

I thought the best way to make chocolate covered strawberries indulgent was to put them on top of a decadent dessert such as brownies. That should do the trick, right?
It certainly did. My brownie recipe is without a doubt decadent. It makes brownies that are chewy, fudgy and, most importantly, chocolatey.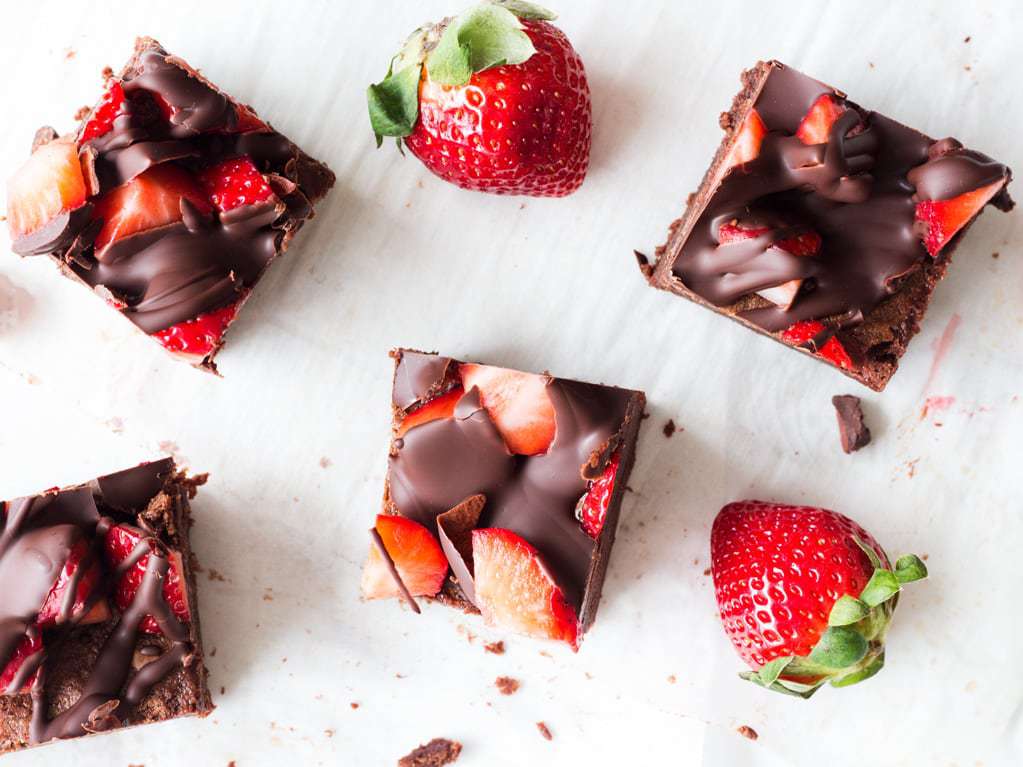 So imagine biting into the fudgiest brownie you can think of. Now imagine that brownie topped with freshly cut strawberries and a smooth layer of chocolate. That is what these strawberry brownies taste like.
The sweet strawberries bring a fresh and fruity flavor to rich, chocolatey brownies. After having one (okay, two) of these brownies, I may never want to eat plain old chocolate-covered strawberries again. They just taste so much better on top of fudgy brownies!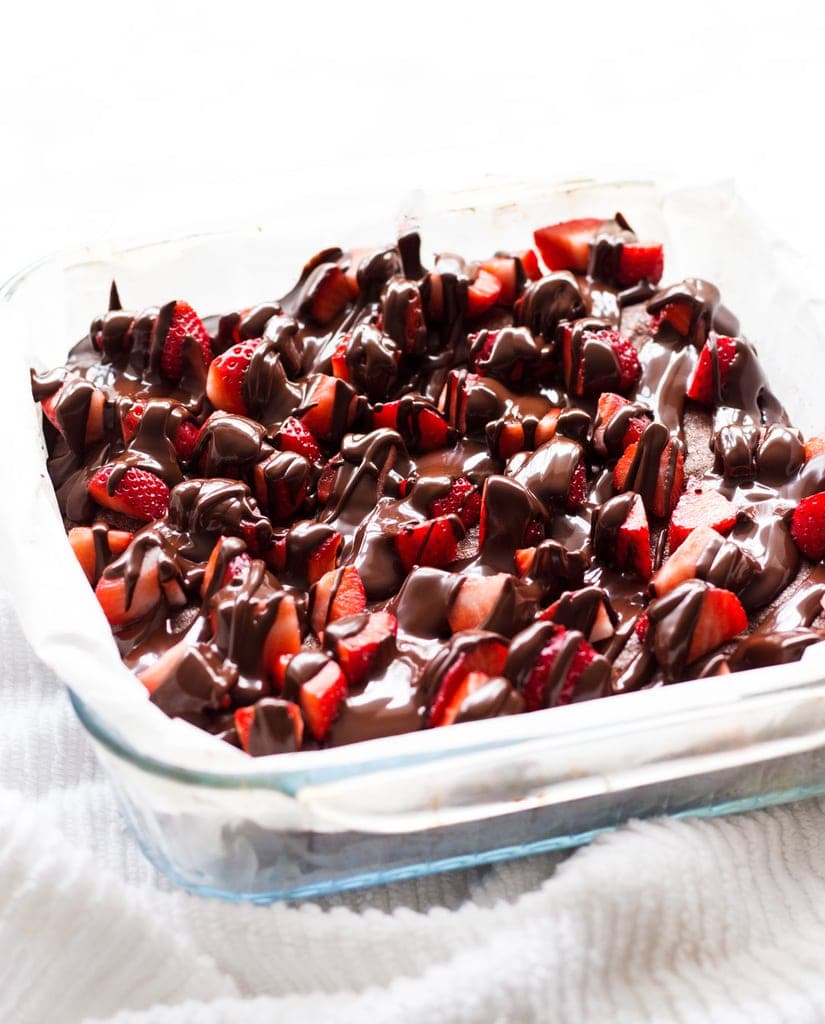 And you will be happy to hear that they are ridiculously easy to make. I used by fudgy chocolate brownies recipe and simply topped the cooled brownies with chopped strawberries and melted chocolate. Yes, it's that simple!
The most important step is letting the brownies cool completely so the strawberries don't get all hot and bothered 🙂 I also suggest waiting about five to ten minutes once you drizzle the melted chocolate on top of the strawberries so it hardens slightly.
That's the trick to keep the drizzled chocolate look in place once you start cutting the strawberry brownies !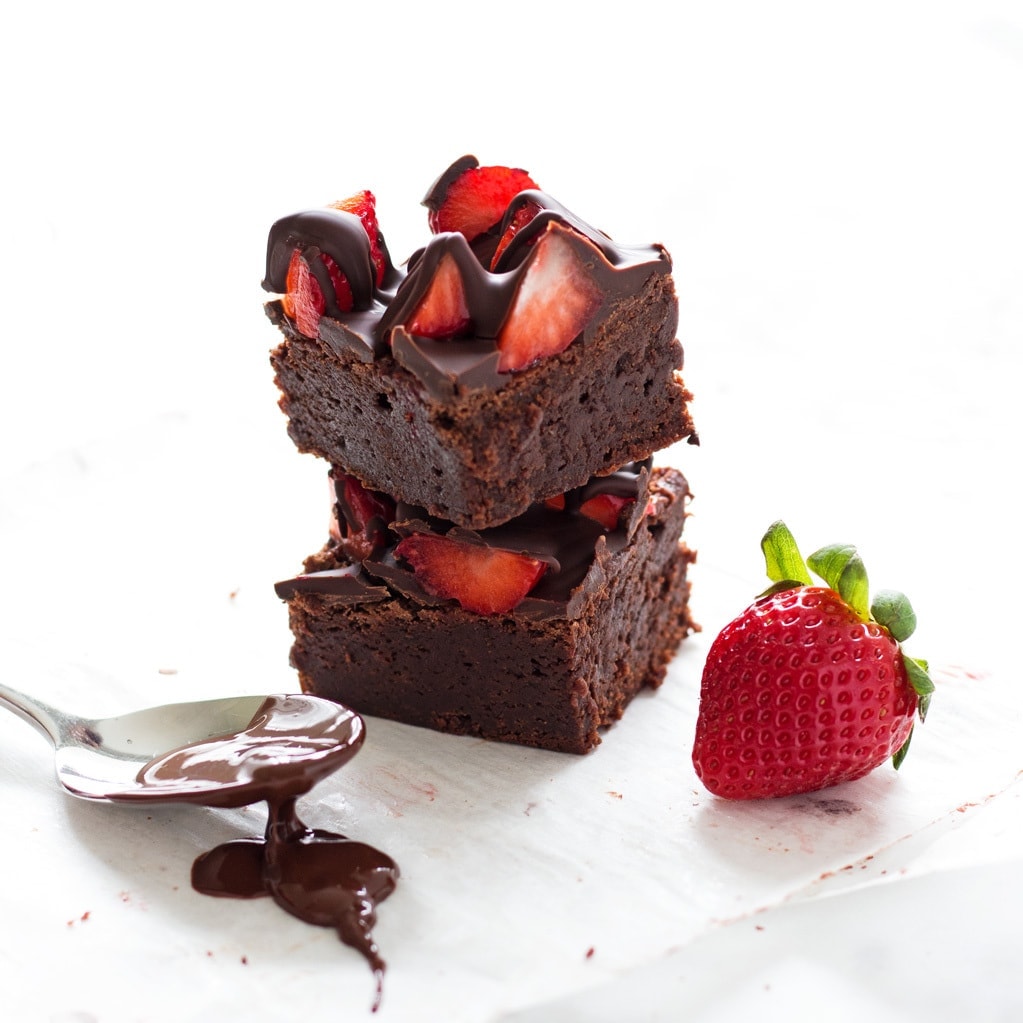 And just like that you will have chocolate-covered strawberry brownies ready to eat. Aren't they the perfect treat for Valentine's Day?
But to be honest, I will most likely make these brownies whenever I have a craving for chocolate-covered strawberries.
Tools you need to make chocolate-covered strawberry brownies:
Chocolate-Covered Strawberry Brownies
Chocolate-covered strawberry brownies are a decadent dessert made with fresh strawberries on top of fudgy chocolate brownies.
Total Time
2
hours
50
minutes
Ingredients
Fudgy Brownies
7

ounces

(200 g) semisweet or bittersweet chocolate, chopped

(or about 1 cup plus 2 tablespoons chocolate chips)

1/2

cup

(113 g or 1 stick) unsalted butter,

cut into quarters

3

tablespoons

(18 g) cocoa powder

3

large eggs

1 1/4

cups

(250 g) granulated sugar

2

teaspoons

vanilla extract

1

cup

(125 g) unbleached all-purpose flour

1/2

teaspoon

salt
Topping
1

cup

(150 g) fresh strawberries,

diced

1/2

cup

(90 g) chocolate chips

1

tablespoon

shortening
Instructions
Preheat oven to 350 F. Spray an 8-inch square baking pan with non-stick cooking spray, set aside.

Using a double boiler, or a medium heatproof bowl set over a pan of almost simmering water, melt the chocolate and butter, stirring occasionally until smooth (see

tips for melting chocolate

). Whisk in the cocoa. Set aside to cool.

Whisk together the eggs, sugar, vanilla and salt in a medium bowl until combined, about 30 seconds. Whisk the warm chocolate mixture into the egg mixture, then stir in the flour with a wooden spoon until just combined.

Pour the mixture into the prepared pan, spread into the corners and level with a offset spatula. Bake 35 to 40 minutes, or until slightly puffed and a toothpick inserted into the center comes out with a small amount of sticky crumbs clinging to it. Cool on a wire rack to room temperature, about 2 hours.

When the brownies are completely cooled, spread the strawberries evenly over the brownies. Melt the chocolate chips and shortening together in a double boiler or microwave at 50% power level (refer to

tips for melting chocolate

). Pour evenly over the strawberries. Refrigerate for at least 1 hour.

When ready to serve, cut brownies into one-inch squares.
Recipe Notes
Store brownies in an airtight container in the refrigerator for up to four days. Best when eaten within 24 hours.
Inspired by Bakerita.
If you like this recipe, try these recipes…
Pin it for later!