26 Angel Wing Cookies
This post may contain affiliate sales links. Please see my
privacy policy
for details.
25 Days of Baking:  Day 14
One year ago my finals studying came to an abrupt halt.  The news was suddenly exploding as an armed man entered Sandy Hook Elementary in Newtown, Connecticut.  As the number of deaths rose so did the tears in my eyes.  I instantly thought of my siblings, friends, and children I babysit for.  I thought of the children petrified and confused as their teachers protected them.  I couldn't believe something so tragic was happening in my home state.  I knew people in Newtown who I'm sure had friends and loved ones affected by this tragedy.  It has been a year since the shooting, but everyone still remembers.
The other night I was at home when I suddenly heard loud noises in the distance.  Outside, fireworks were going off over the water.  I watched the show and wondered what they were for.  I later found out the firework display was for one of the Newtown victims.  Her playground was opened that day in Bridgeport;  it is the 15th playground built by The Sandy Hook Ground Project.  They intend to build a total of 26 "Where Angels Play" playgrounds, each dedicated to one of the Sandy Hook victims.
To remember the innocent lives lost one year ago, I dedicate this post to 26 angels, you will never be forgotten.  Prayers go out to their family and friends.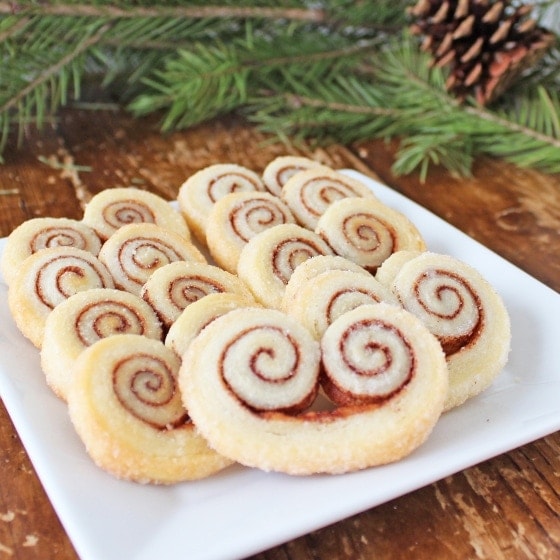 Get the Recipe:
26 Angel Wing Cookies
Ingredients
1

cup

2 sticks cold butter, cubed

11/2

cups

all-purpose flour

¼

teaspoon

salt

½

cup

sour cream

¾

cup

sugar

,

divided

3

teaspoons

ground cinnamon

,

divided
Instructions 
In a large bowl combine butter, flour, and salt until the mixture resembles a grainy texture. Don't over beat! Stir in sour cream and vanilla.

Lightly flour surface. Knead dough 6 to 8 times on floured surface until dough holds together.

Divide kneaded dough into 4 equal sized balls and flatten slightly. Wrap each separately in plastic wrap and refrigerate for 4 hours or overnight.

When ready to make cookies, remove dough from refrigerator. Unwrap one of the balls and sprinkle with 2 tablespoons sugar, coating all sides. On top of a piece of wax paper, roll ball into a 5-inch by 12-inch rectangle, coating surface with sugar when necessary.*

Sprinkle rolled out dough with 3/4 teaspoon cinnamon. Lightly mark dough down the center to create two 6-inch by 5-inch rectangles.

Starting with the 5-inch end, roll dough to the center mark. Repeat with other short side. Wrap in plastic wrap and freeze for 30 minutes. Repeat with remaining 3 balls of dough.

While dough is in the freezer, preheat oven to 375° F. Line a cookie sheet with parchment paper.

Remove dough from freezer, cut into 1/2-inch slices and dip each side in sugar. Place 2 inches apart on cookie sheet.

Bake for 10 minutes or until golden brown. Flip the cookies over and bake 5 minutes longer. Remove to wire racks to cool.
Notes
* I taped down the wax paper to my counter to keep it from slipping.  Original recipe instructed the dough to be rolled between two pieces of wax paper, but it seemed to be more difficult to remove the dough from the paper.  Sprinkling the surface and dough with sugar will help the dough from sticking.
Recipe adapted from Taste of Home
Step-by-step photos