Easy Chocolate Chip Scones
This post may contain affiliate sales links. Please see my
privacy policy
for details.
Chocolate chip scones are quick and easy to make from scratch. These soft scones are packed with chocolate chips without being overly sweet.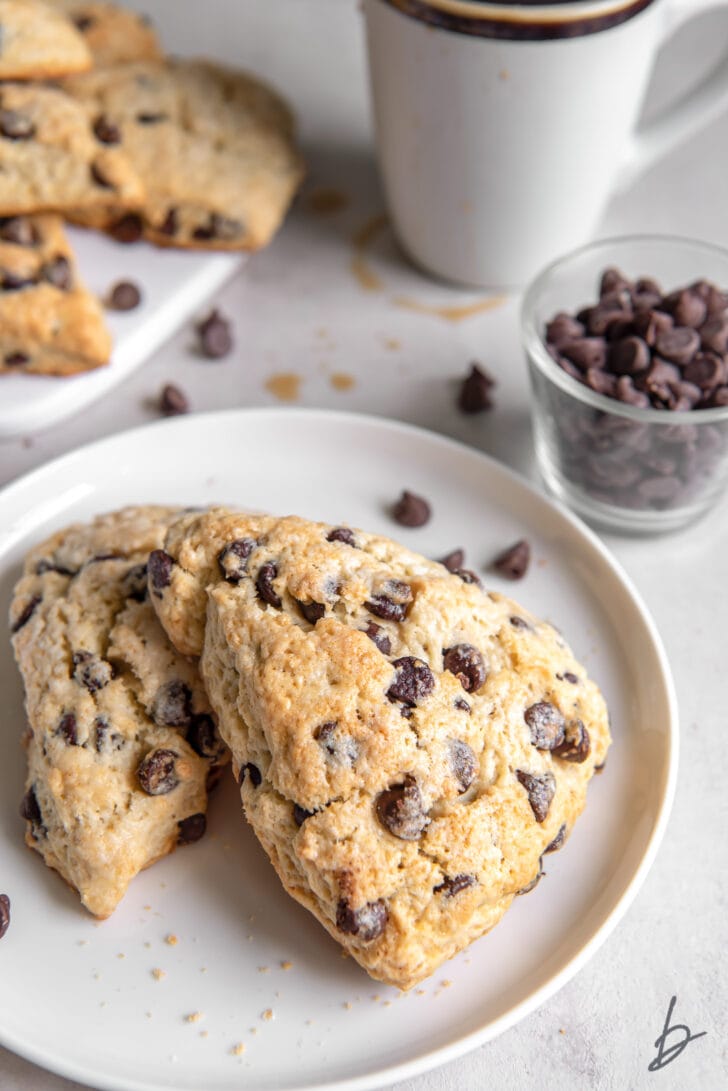 Who here loves scones? This girl! I love how buttery and tender they are without being overly sweet. These quick and easy chocolate chip scones have the perfect texture and loads of chocolate chunks. In this post I'll guide you through some tips on make the perfect scones and then load them up with chocolate chips.
Why this recipe works: Chocolate chip scones use both heavy cream and cold butter to make them rich and flavorful (this is the secret to making good scones). Then the scones are kept cold right up until they go into the oven so they get the proper rise to turn out fluffy and tender.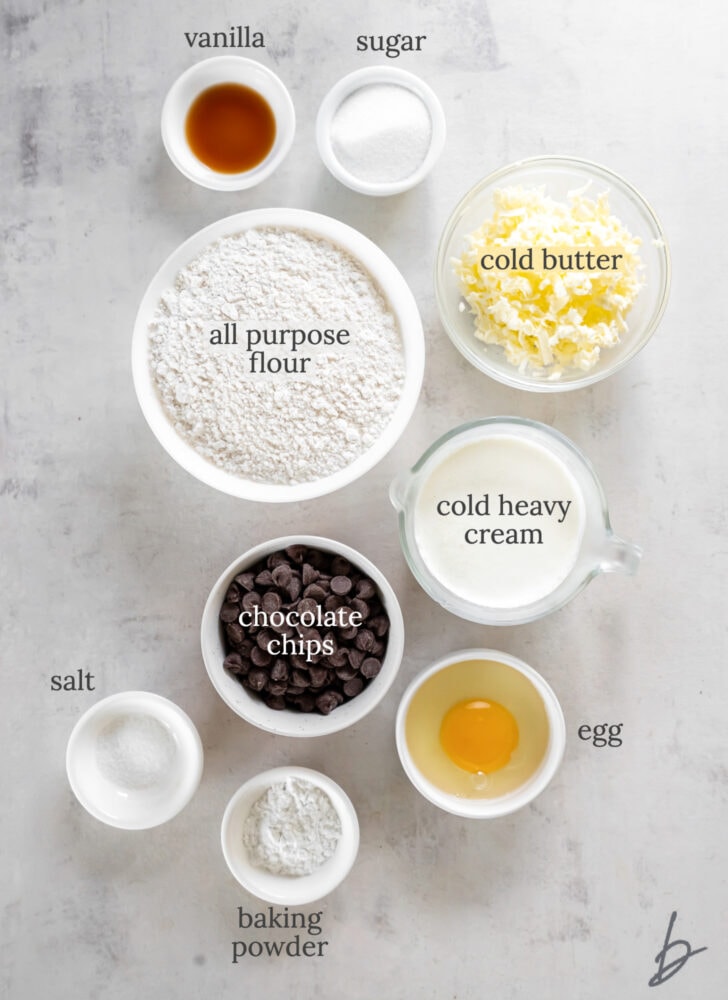 Ingredient notes
All purpose flour should be used (I like King Arthur Flour). I have not tried this recipe with gluten-free flour. I believe whole wheat flour may make the scones too tough due to the higher protein content.
Granulated sugar adds sweetness, but this recipe only uses 3 Tablespoons. You can also use brown sugar if you prefer.
Baking powder helps the scones rise.
Unsalted butter gives scones their buttery taste.
Heavy cream makes the scones rich, but you can also use whole milk in a pinch.
Egg binds the ingredients together.
Pure vanilla extract provides sweetness and flavor.
Semisweet chocolate chips gives each bite a bit of chocolate. You can also use dark chocolate or milk chocolate chips.
How to make chocolate chip scones
Whisk together dry ingredients—flour, baking powder, salt and sugar.
Grate butter and add to dry ingredients. Use a box grater or cut butter into 1/4-inch pieces. Add it to flour mixture and cut it into the dry ingredients using a pastry cutter.
Mix cream, egg and vanilla together in a separate bowl.
Add wet ingredients to dry ingredients. Stir together until large clumps form. Stir in chocolate chips.
Form dough into a loose ball. Transfer dough to a floured work surface.
Press into an 8-inch disc and use a bench scraper or knife to cut dough into 8 triangles. Place scones on parchment-lined baking sheet.
Brush scones with heavy cream and sprinkle with sugar. Place baking sheet in the refrigerator so scones can stay cold while the oven preheats to 400° F.
Bake scones at 400° F for 20 minutes or until golden. Cool 10 minutes before serving.
You can cut these scones smaller to make mini chocolate chip scones. Baking time will be shorter.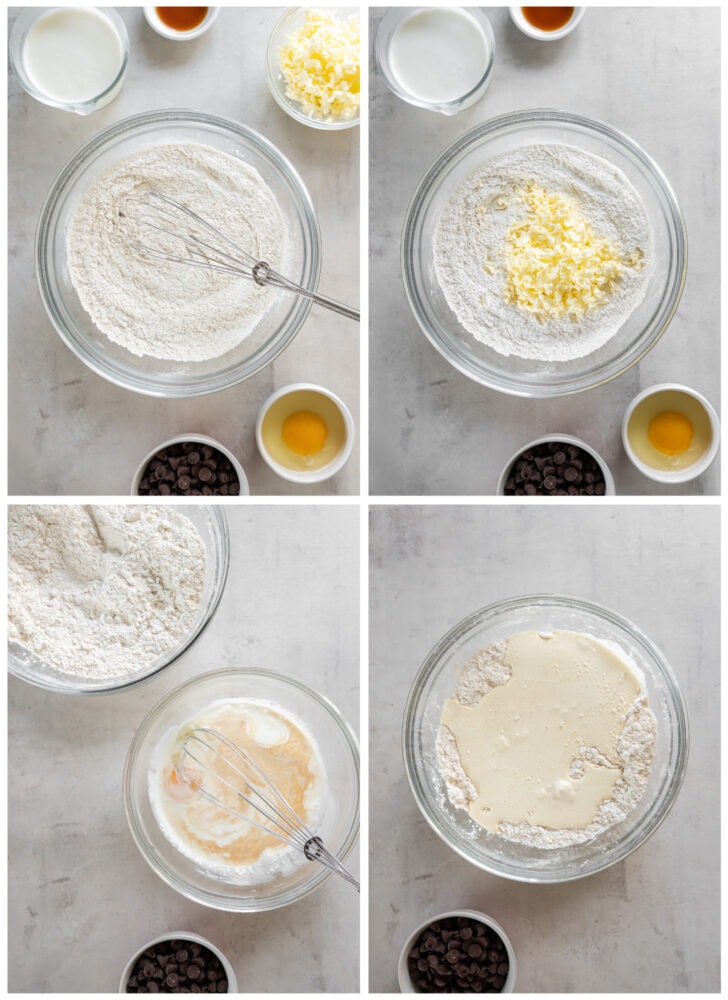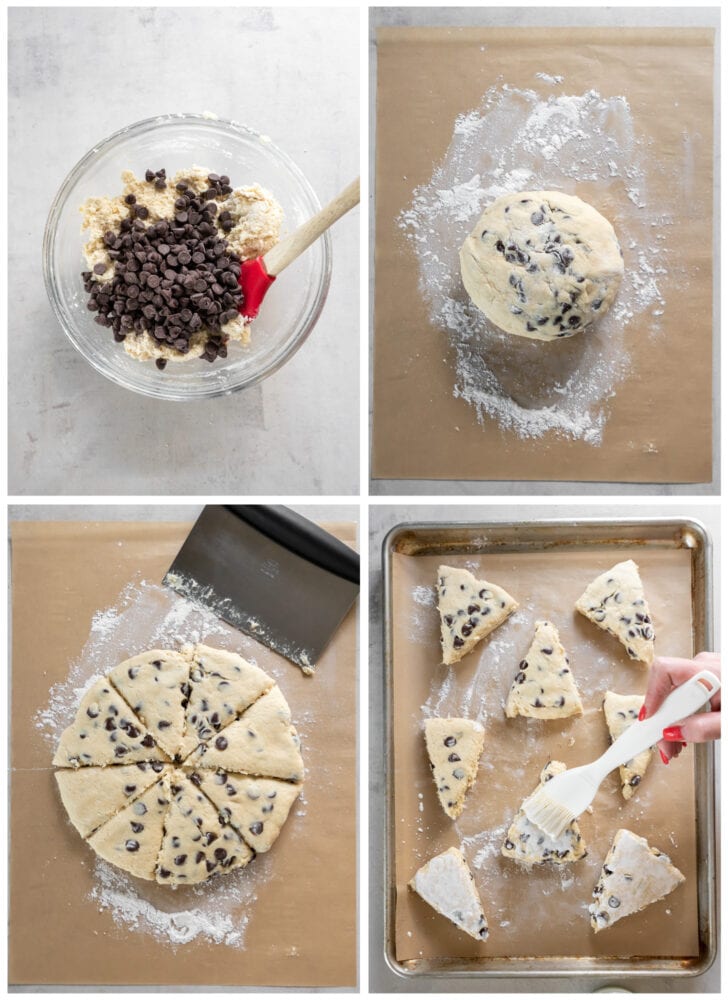 What to brush scones with before baking
Brushing scones with milk or cream will add a nice shine to the outside of your scones. It also encourages browning for a pretty finish. A sprinkle of coarse sugar on top of the cream gives a glisten as well.
Alternatively, you can do an egg wash like I did for my chocolate pecan scones. Simply whisk together an egg and two tablespoons water or cream. Brush on top of scones to encourage browning. Without a wash, scones would be pale and dull on top.
Helpful recipe tips
Use cold ingredients – keeping dough cold will make the scones extra flakey and buttery. When the butter gets too warm, the gluten in the flour will form and make tough scones. I use cold heavy cream and frozen butter. If it's summer, I even put my flour in the refrigerator for 20 minutes.
Avoid overworking the dough – this is key! Use a pastry cutter to keep the heat of your hands away from the dough. Only use your hands to quickly form the dough into a disc. It's okay if the dough is a little crumbly. Overworking the dough will result in tough scones.
Weigh your ingredients – I say this for all baking recipes. It's crucial to getting accurate measurements! This is the kitchen scale I use every day.
Make sure your oven is hot – Once the oven is preheated, I wait 5 to 10 more minutes. You can also use an oven thermometer to double check your oven temperature is correct.
Make ahead tips
You can keep unbaked scones in the refrigerator for up to 24 hours. Cover them with plastic wrap if keeping them in the fridge for more than one hour.
Chocolate chip scones freeze very well unbaked since they have a low moisture content. Once you cut the scone dough into triangles, place them on a parchment-lined baking sheet and in the freezer for one hour. Once frozen, wrap the scones individually in plastic wrap, then place all the scones in an airtight container or freezer bag.
When ready to bake, remove the frozen chocolate chip scones from the freezer, unwrap them and place on a baking sheet. Brush with heavy cream and a sprinkle of sugar. Preheat the oven. By the time the oven is preheated, the scones should have slightly defrosted, but will still be cold. Bake according to recipe.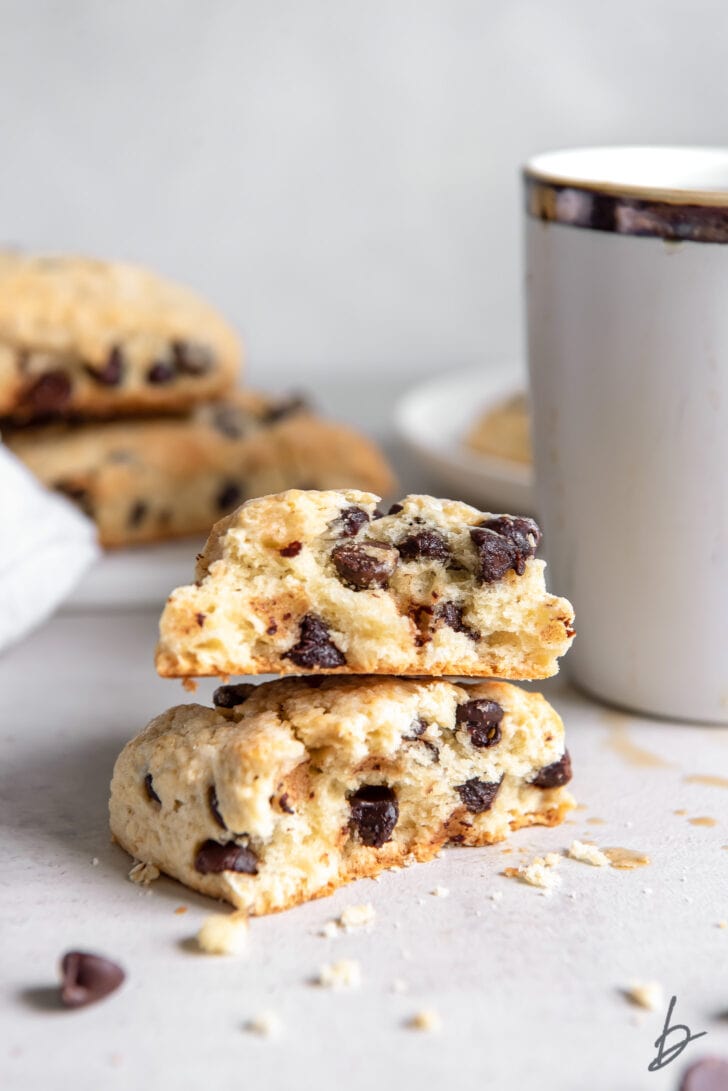 Frequently Asked Questions
How to store scones
Chocolate chip scones are best when eaten the day they are baked. However, they will keep in an airtight container in a dry cool place for 2 or 3 days.
Can you freeze baked scones?
You can also freeze baked scones for up to 3 months. Let them cool completely, then wrap individually and place in a freezer bag to prevent freezer burn. Remove as much air from the bag as you can. Defrost in the refrigerator before bringing to room temperature and serving.
Why did the bottom of my scones burn?
It's most likely your baking pan. If your cookie sheet is dark in color it will absorb more heat and bake the bottom of the scones more quickly. If the baking pan is thin, then the heat will transfer through the pan more quickly as well. Check your oven temperature and if necessary move the scones to a higher rack.
Why didn't my scones rise?
If the oven is not hot enough, the scones will not rise at the proper rate. Once preheated, wait 5 to 10 minutes before putting your scones in the oven. It also helps to put scones closer to each other because it will force the scones to rise upwards.
More scone recipes
Once you get the hang of it, making scones is easy! Next try my cinnamon scones or these Starbucks copycat pumpkin scones. Both have a generous sprinkle of cinnamon sugar on top! In winter, I suggest baking these zesty and sweet cranberry orange scones and, in summer, try lemon raspberry scones with fresh berries.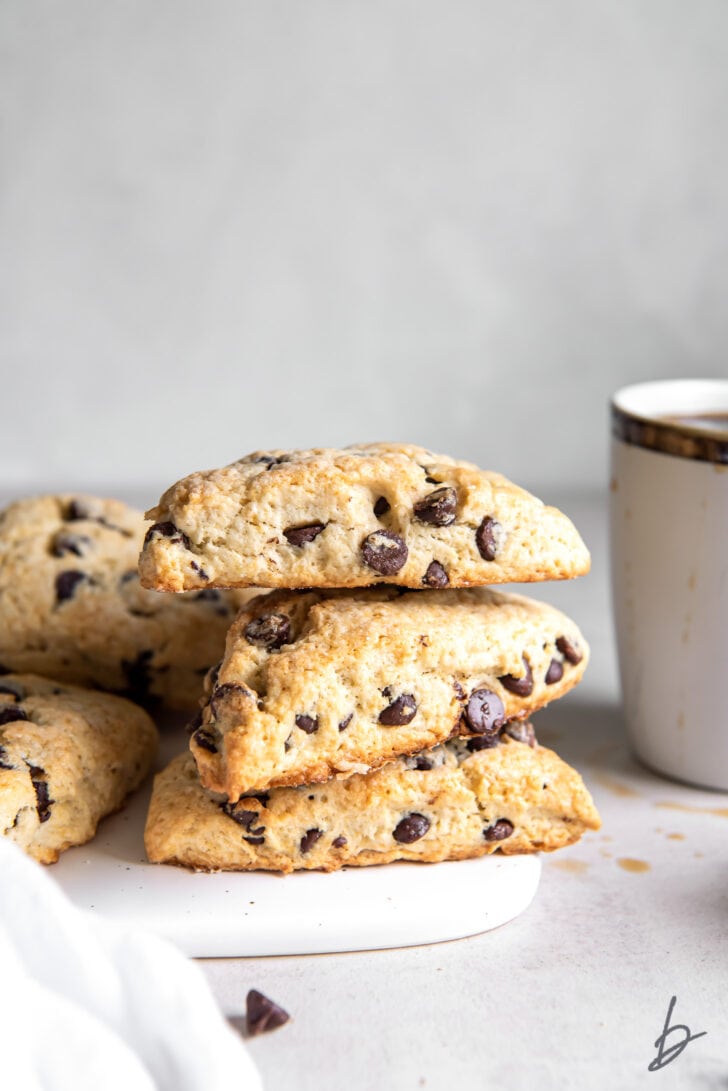 Homemade chocolate chip scones pair perfectly with your morning cup of coffee or afternoon tea. They have a tender, buttery crumb nestled with melted chocolate chips. If you like you chocolate chip scones warm, you can reheat them in the oven for 10 minutes at 350 F.
I believe these are the best chocolate chip scones. I could eat them for breakfast, snack or dessert! If you make this recipe, be sure to tap the stars to leave a review and tag @ifyougiveablondeakitchen on social media so I can see your creation!
Get the Recipe:
Chocolate Chip Scones
Chocolate chip scones are quick and easy to make from scratch. These soft scones are packed with chocolate chips without being overly sweet.
Ingredients
2

cups

(250 g) all purpose flour

,

plus more for dusting work surface

3

Tablespoons

granulated sugar

,

plus more for sprinkling on top

1

Tablespoon

baking powder

½

teaspoon

salt

4

Tablespoons

cold, unsalted butter

¾

cup

cold heavy cream

,

plus more for brushing on top

1

large egg

1

teaspoon

pure vanilla extract

,

optional

1

cup

semisweet chocolate chips
Instructions 
Line a baking sheet with parchment paper. Set aside.

In a large bowl, whisk together flour, sugar, baking powder and salt.

Use a box grater to shred butter into small pieces (it's best if the butter is frozen, refer to video). Alternatively, cut butter into small 1/4-inch pieces. Add butter to flour mixture and cut butter into the mixture by using a pastry cutter or your hands.

In a separate bowl or measuring cup, whisk together heavy cream, egg and vanilla. Pour the heavy cream mixture into flour mixture.

Use a wooden spoon or silicone spatula to mix ingredients together until large dough crumbles form (avoid over mixing!) Stir in chocolate chips just until incorporated.

Use your hands to form dough into a loose ball. If the dough is too dry and doesn't come together, add another Tablespoon of cream. If the dough is too wet (like cookie dough), add another Tablespoon of flour. Transfer dough ball to a floured work surface and press into an 8-inch round disc. Use a bench scraper or sharp knife to cut dough into 8 triangles.

Place scones on prepared baking sheet. Brush the scones with cream and sprinkle with additional sugar if desired. Place baking sheet in the refrigerator to keep the scones cold while the oven preheats (about 15 minutes).

Preheat oven to 400° F. Once the oven beeps, wait 5 more minutes so ensure it is at 400 and hot!

Remove scones from the refrigerator and transfer them to the oven. Bake for 20-22 minutes or until the edges are golden brown. Let scones cool on the pan for a few minutes before transferring to a wire rack. Serve scones warm or at room temperature.
Notes
Store scones in an airtight container at room temperature for 2 days. Scones are best when they are eaten the day they are baked. Freeze in a ziplock bag for up to 2 months. When ready to bake, place chocolate chip scones on a parchment-lined baking sheet at room temperature. As the oven preheats, the scones will loose some of their chill and will be ready to bake according to recipe. High altitude adjustments: Use only 2 teaspoons of baking powder. When forming the dough ball, you may need an additional tablespoon or two of cream if your flour is extra dry.
Serving:
1
scone
,
Calories:
399
kcal
,
Carbohydrates:
42
g
,
Protein:
6
g
,
Fat:
23
g
,
Saturated Fat:
14
g
,
Cholesterol:
67
mg
,
Sodium:
167
mg
,
Potassium:
337
mg
,
Fiber:
3
g
,
Sugar:
13
g
,
Vitamin A:
544
IU
,
Vitamin C:
1
mg
,
Calcium:
103
mg
,
Iron:
3
mg