Zucchini Galette with Ricotta
This post may contain affiliate sales links. Please see my
privacy policy
for details.
Three cheese zucchini galette is a savory freeform tart layered with a ricotta-based cheese spread and garden zucchini tossed in garlic olive oil.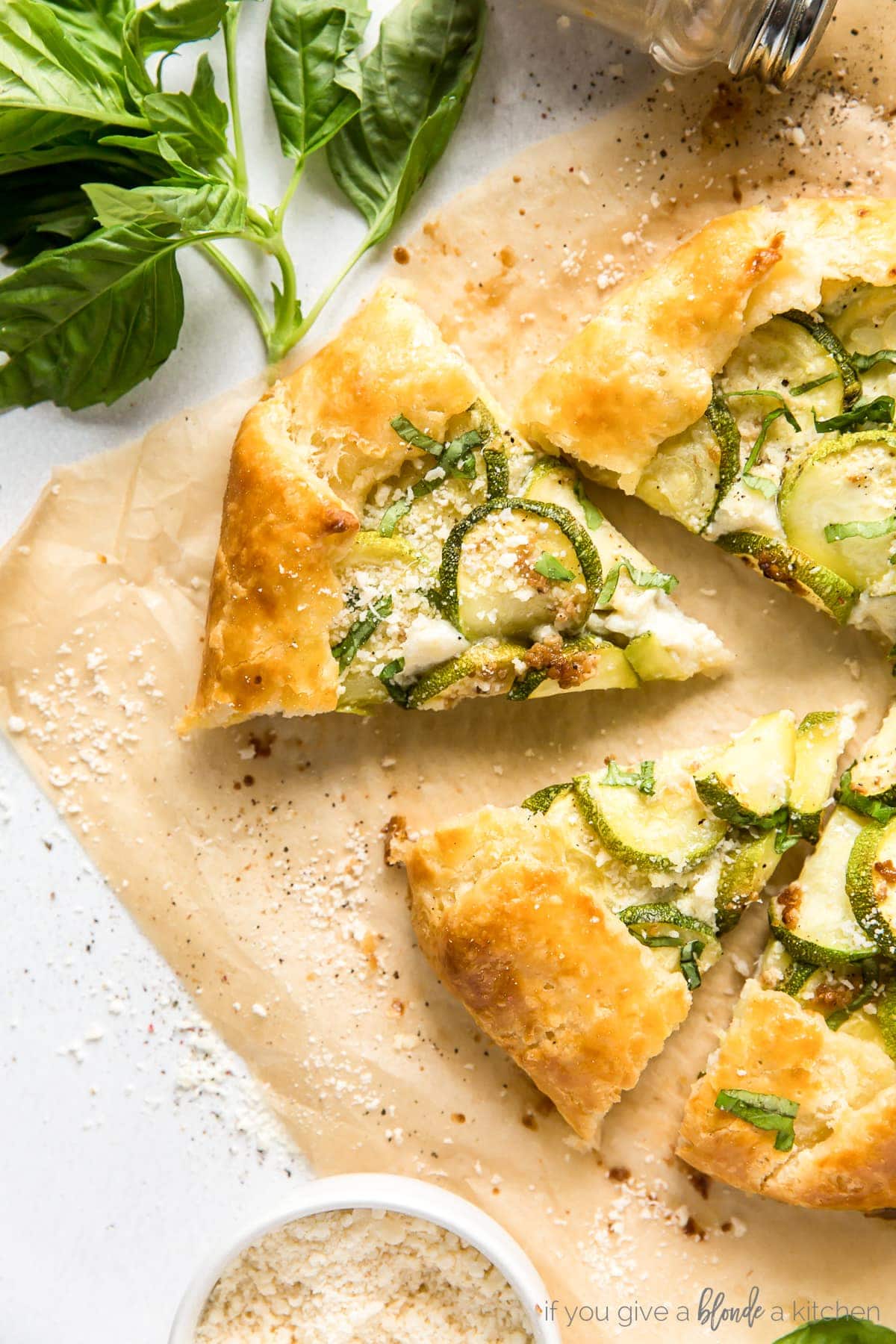 You all know that I'm one for baked goods (my sweet tooth never rests), but every now and then I have to make a savory dish. And a savory dish for me almost always has cheese—just check out my mushroom tart with goat cheese.
I stumbled across this recipe on Smitten Kitchen and it was the exact savory dish I've been craving to make. I love galettes for their rustic, blasé appearance. You can layer anything on top of a galette crust and it's as if the dish is saying, "What this old thing? I just through this on."
What is a galette? A galette is like a freeform tart. It is a French pastry made with pastry dough and baked on a baking sheet in the oven. It is often made with a savory filling, but fruits also make an appearance in galettes.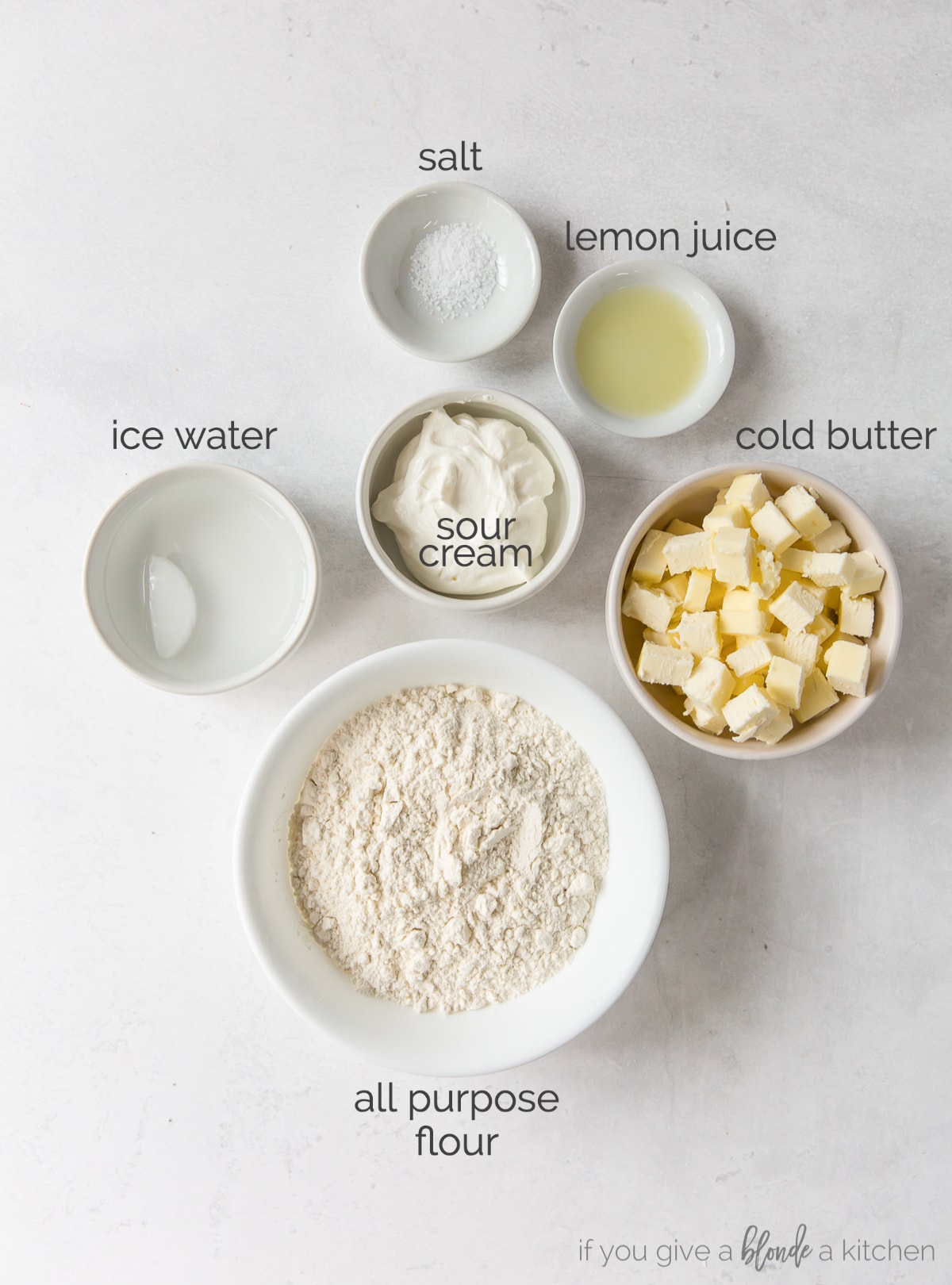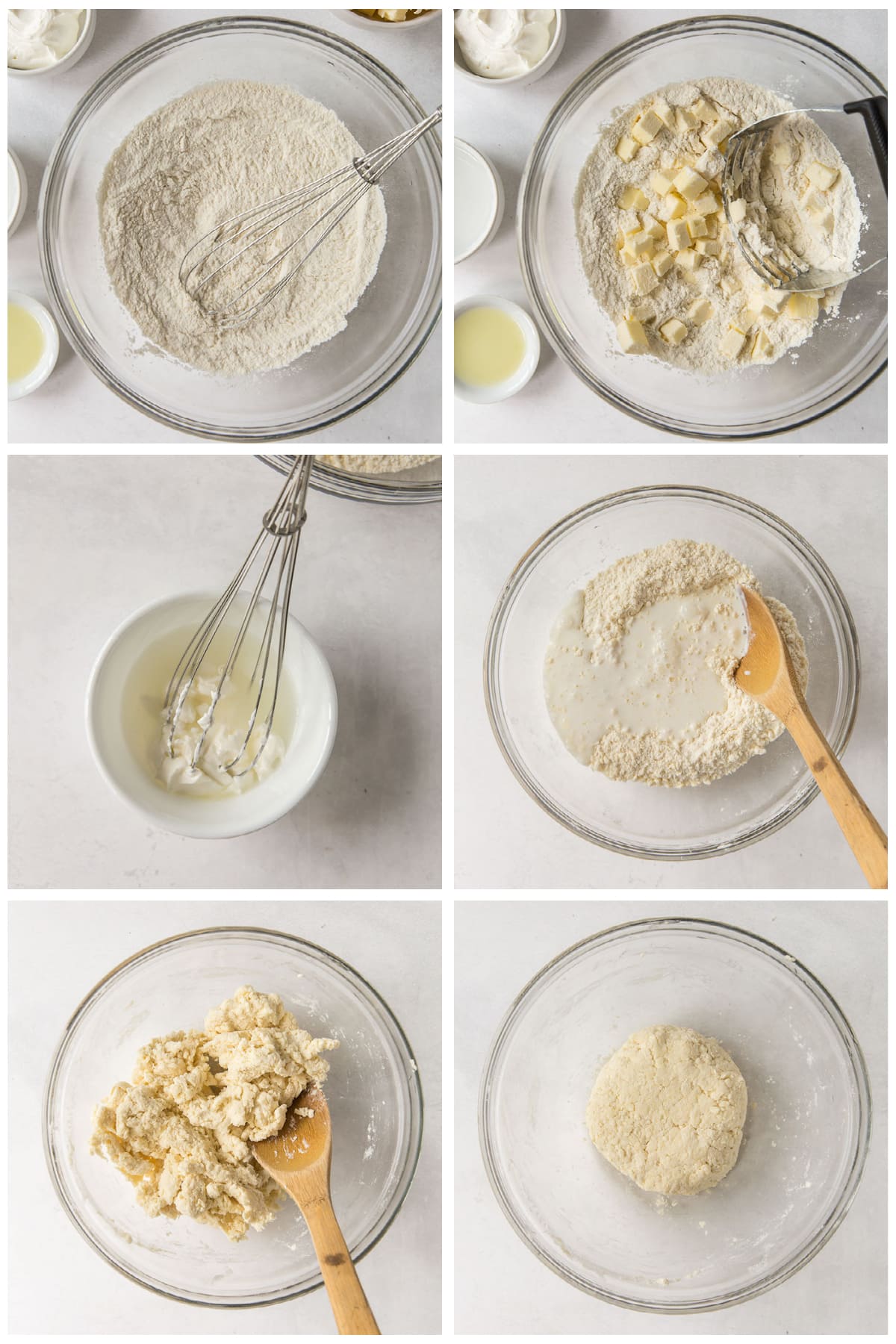 How to make galette pastry dough
To make a galette you need pastry dough (this is the same dough I use for my tomato galette). Homemade pastry dough is the best because it is buttery and flaky. Cut the butter into the flour until the mixture has pea-sized clumps. Add the wet ingredients and mix just until combined. Always avoid overworking pastry dough. Press dough into a disc and chill in the refrigerator for 1 hour. On a floured work surface, roll dough into a 12-inch circle and transfer to a parchment-lined baking sheet. Prepare the filling.
How to make zucchini galette
A marvelous mix of ricotta, parmesan and mozzarella is spread across this zucchini galette. It also calls for a garlic olive oil, which is simply minced garlic stirred in a tablespoon of olive oil. Combine all three cheeses and 1 teaspoon of the garlic olive oil in a bowl. Evenly spread the cheese mixture across the pastry dough leaving a 2-inch border. Top the cheese with the zucchini discs and drizzle with remaining garlic olive oil. Fold edges of pastry dough over the filling (the center will be open).
Egg wash for galette
Do you want that golden glow on your galette when it comes out of the oven? It's easy to do with an egg wash. Simply whisk together an egg yolk and a teaspoon of water. Use a pastry brush to brush the crust with the egg wash. That's it!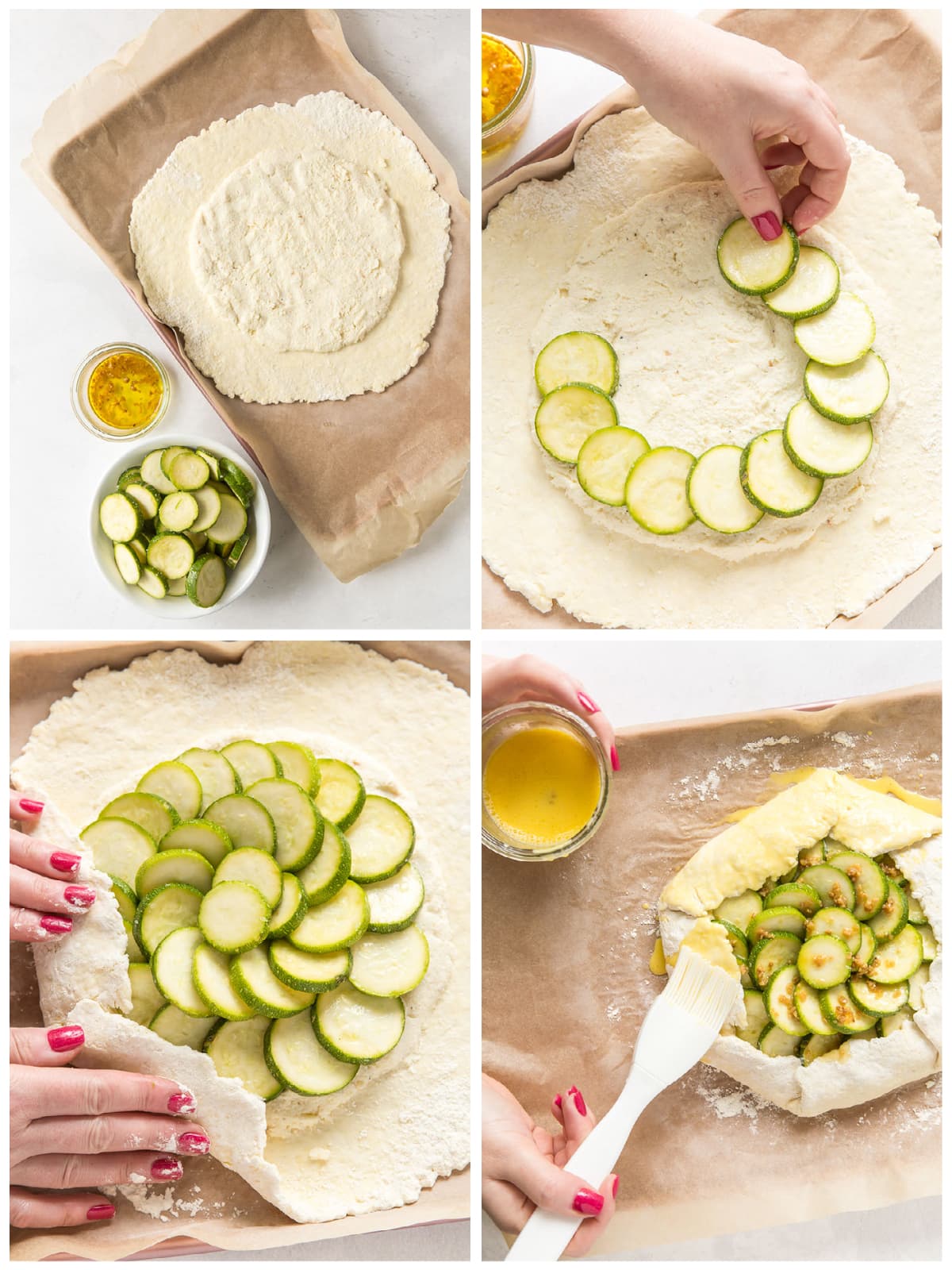 Frequently Asked Questions
Can I use store-bought pie crust for this recipe? Yes, store-bought pie crust can work in a pinch, but homemade crust tastes a lot better in my opinion.
Can I use yellow squash in this recipe? Yes, I think alternating yellow and green squash would look lovely in this galette.
How long does zucchini galette last? Zucchini galette tastes best when it is eaten shortly after baking, but it can be stored in an airtight container in the refrigerator for 2 days. Reheat in the oven or toaster oven at 300 F for 15 minutes.
More zucchini recipes
This summer squash is in abundance this time of year. Luckily I have plenty of recipes for you to choose from! Zucchini bread is a classic summer quick bread. Carrot zucchini muffins are a sneaky way to get your vegetables in. Chocolate zucchini banana bread will satisfy your sweet tooth.
This zucchini galette creates an aroma that spreads throughout the house. The kind of aroma that lures people into the kitchen eagerly waiting to be served. That is the exact affect this three cheese zucchini galette has on people. Lures them in and leaves them wanting more (my parmesan herb quick bread has a similar effect).
It's pretty hard to resist garlicky roasted zucchini on top of a cheesy spread and flaky crust. Going back for seconds isn't even a question. I strongly recommend making a three cheese zucchini galette this summer (sorry zucchini bread). The savory freeform tart is just what your summer menu needs! If you try this recipe, be sure to tap the stars to leave a review.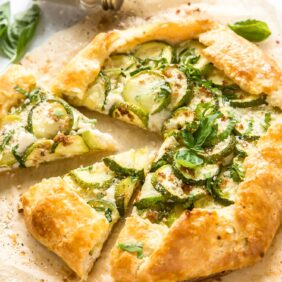 Get the Recipe:
Zucchini Galette
Three cheese zucchini galette is a savory freeform tart layered with a ricotta-based cheese spread and garden zucchini tossed in garlic olive oil.

Ingredients
Pastry Dough
1 ¼

cups

all-purpose flour

,

chilled in the freezer for 30 minutes

¼

teaspoon

salt

½

cup

(113 g 1 stick) cold unsalted butter, cut into pieces and chilled again

¼

cup

sour cream

2

teaspoons

fresh lemon juice

¼

cup

ice water
Filling
2

small zucchinis,

,

sliced into 1/4 inch thick rounds

1

tablespoon

plus 1 teaspoon olive oil

1

medium garlic clove

,

minced (about 1 teaspoon)

½

cup

ricotta cheese

½

cup

(about 1 ounce) grated Parmesan cheese

¼

cup

(1 ounce) shredded mozzarella

1

tablespoon

slivered basil leaves
Egg wash
1

egg yolk beaten with 1 teaspoon water
Instructions 
Pastry Dough
Whisk together the flour and salt in a large bowl. Sprinkle bits of butter over dough and using a pastry blender, cut it in until the mixture resembles coarse meal, with the biggest pieces of butter the size of tiny peas.

In a small bowl, whisk together the sour cream, lemon juice and water and add this to the butter-flour mixture.

With your fingertips or a wooden spoon, mix in the liquid until large lumps form. Pat the lumps into a ball; do not overwork the dough. Cover with plastic wrap and refrigerate for 1 hour.
Zucchini Ricotta Filling
Spread the zucchini out over several layers of paper towels. Sprinkle with 1/2 teaspoon salt and let drain for 30 minutes. Gently blot the tops of the zucchini dry with paper towels before using.

In a small bowl, whisk the olive oil and the garlic together; set aside. In a separate bowl, mix the ricotta, Parmesan, mozzarella, and 1 teaspoon of the garlicky olive oil together and season with salt and pepper to taste.
Assembly
Preheat oven to 400° F. On a floured work surface, roll the dough out into a 12-inch round. Transfer to a baking sheet lined with parchment paper.

Spread the ricotta mixture evenly over the bottom of the galette dough, leaving a 2-inch border. Shingle the zucchini attractively on top of the ricotta in concentric circles, starting at the outside edge. Drizzle the remaining tablespoon of the garlic and olive oil mixture evenly over the zucchini. Fold the border over the filling, pleating the edge to make it fit. The center will be open. Brush crust with egg yolk glaze.

Bake the galette until the cheese is puffed, the zucchini is slightly wilted and the galette is golden brown, 30 to 40 minutes. Remove from the oven, sprinkle with basil leaves, let stand for 5 minutes, then slide the galette onto a serving plate. Cut into wedges and serve hot, warm or at room temperature.
Notes
Storing zucchini galette: This galette is best when eaten the day it is made. However, it may be covered and stored in the refrigerator for 2 or 3 days. Reheat in the oven at 300 F for 15 minutes or until heated through.
Recommended tools:
Serving:
1
serving
,
Calories:
377
kcal
,
Carbohydrates:
24
g
,
Protein:
11
g
,
Fat:
27
g
,
Saturated Fat:
15
g
,
Cholesterol:
100
mg
,
Sodium:
288
mg
,
Potassium:
244
mg
,
Fiber:
1
g
,
Sugar:
2
g
,
Vitamin A:
919
IU
,
Vitamin C:
13
mg
,
Calcium:
192
mg
,
Iron:
2
mg

Recipe adapted from Smitten Kitchen.