No bake peanut butter balls are made with only five ingredients. So easy to make and the best treat for peanut butter chocolate lovers!
25 Days of Christmas: Day 17 Pete Schweddy over at Season's Eatings inspired me to make these no bake peanut butter balls. The dynamic duo of peanut butter and chocolate is irresistible, especially with the sweet and salty combination going on.

You know the SNL skit I'm talking about, right? The one with Alec Baldwin. Definitely one of the top 10 skits in my opinion and these peanut butter balls are one of my top 10 recipes.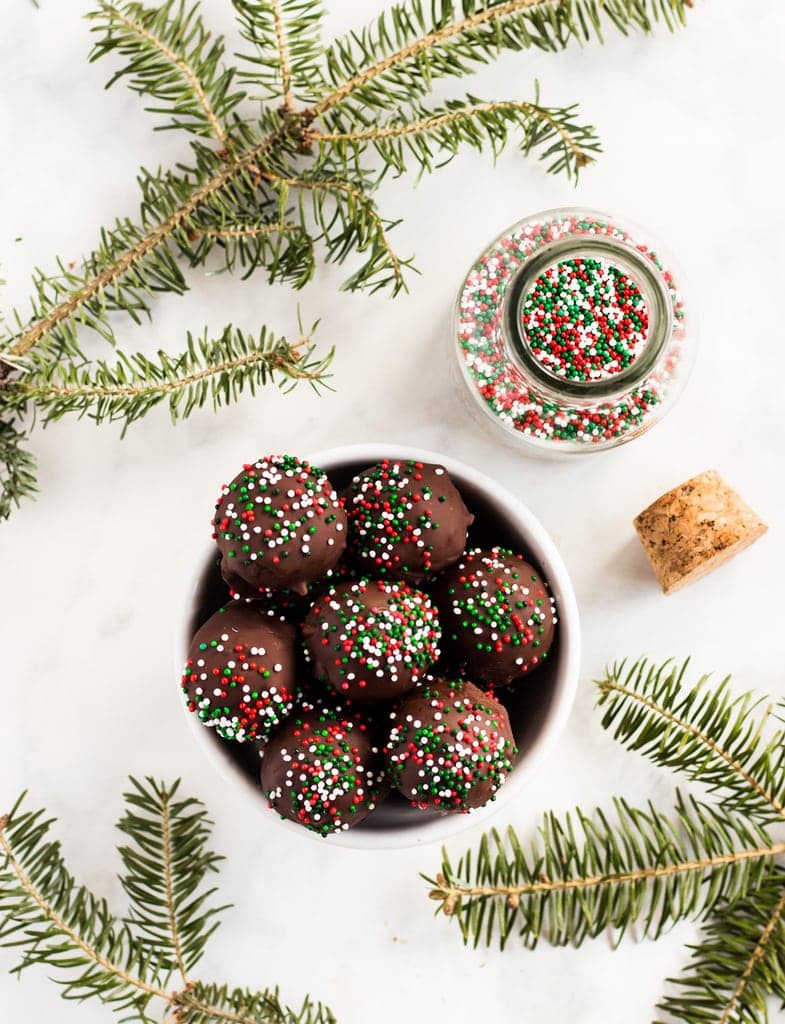 The balls' smooth chocolate finish perfectly compliments the salty peanut butter. With only five ingredients, they are easy to make and simply delicious. No bake peanut butter balls will surely satisfy all your holiday guests!
Are my descriptors on the Schweddy level yet? 😉
This recipe actually originates from my mother (like many of my best recipes do). She makes peanut butter balls every year and gifts them to her neighbors. The recipe makes about 75 balls so there are more than enough to go around!
I personally like the idea of putting a handful of the peanut butter balls in a goodie bag and tying it with a ribbon. It gives the no bake treat a festive touch around the holidays!
These no bake peanut butter balls store well in the refrigerator and the freezer (although I like eating them at room temp!) They always seem to disappear within days. If that is any indication of how good they are, then I highly recommend making them for Christmas!
Don't forget to save a handful for yourself. Trust me, you will want them!
Peanut Butter Balls
Ingredients
1 1/2

cups

(400 g) creamy peanut butter

(one 16 ounce jar)

4

cups

(454 g or 1 lb) confectioner's sugar

1/2

cup

(113 g or 1 stick) unsalted butter,

room temperature

2

cups

(50 g) Rice Krispies

3

cups

(525 g) chocolate chips

for dipping
Instructions
In a stand mixer fitted with a paddle attachment, combine peanut butter and butter. Slowly add confectioner's sugar and then Rice Krispies. Mixing just until combined.

Place mixture in refrigerator until firm, about 45 minutes.

Take chilled mixture and scoop a full tablespoon. Roll into 1-inch balls and place on baking sheet. Place in freezer for at least an hour to prevent misshaped balls.

When ready to dip balls, prepare a baking sheet lined with parchment paper. Melt chocolate in a double boiler or microwave (

see tips here

).

Dip balls in melted chocolate and transfer to lined baking sheet. Once all the balls are covered in chocolate, place in fridge to firm up. Store in an air tight container in the fridge or at room temperature.
Recipe Notes
I've done this recipe with sifted and unsifted confectioners' sugar—both work well! Just be sure to measure before sifting.
Peanut butter balls can be stored in an airtight container at room temperature or in the fridge.