These no-bake sugar cookie truffles are little balls of cookie goodness dipped in white chocolate and sprinkled like snowballs!
Anybody else on a no-bake kick? It seems those recipes make the best gifts during the holiday season. My new obsession are these sugar cookie truffles dipped in white chocolate. They are delectable balls of joy that keep you coming back for more.
I've done the oreo truffles, shared my mom's apricot coconut bites, and my peanut butter balls are a fan-favorite. However, I must say these sugar cookie truffles are out of this world.
The cream cheese holds together the cookie crumbs and creates a smooth consistency while the white chocolate adds a shell that is oh-so satisfying to bite into.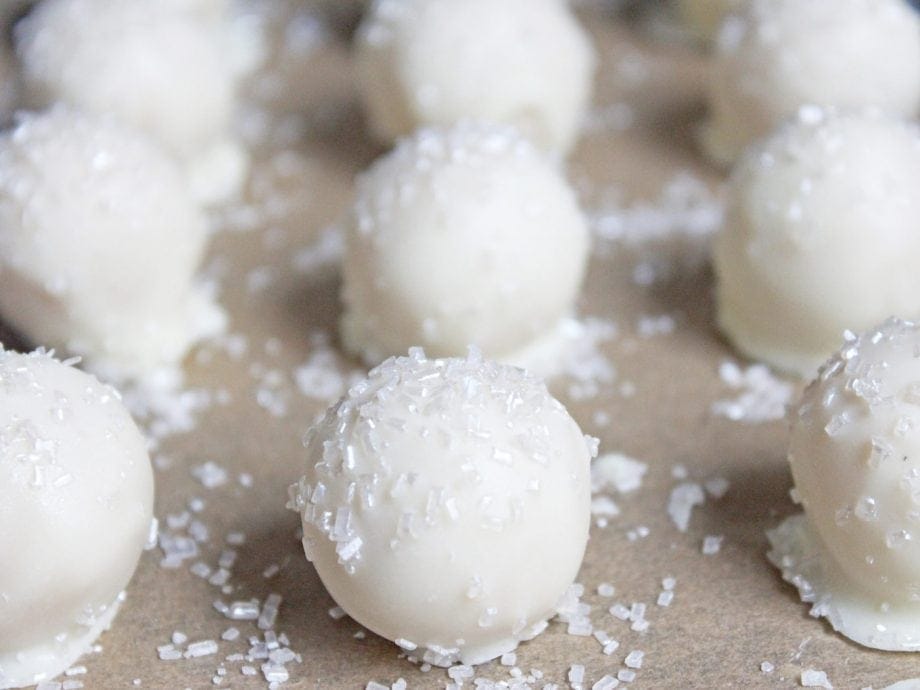 The process is pretty simple. Take sugar cookies, process them until you have fine crumbs, add cream cheese and voila there's the dough. Just roll them into balls, chill and dip in melted chocolate. I added some crystal sprinkles on top to make them look like snowballs. Cute, no?
I used my sugar cookie recipe to make the cookies, but store bought can do the trick too. A dry sugar cookie is key though (none of those chewy soft batch cookies). Dry sugar cookies pulverize well in the food processor into a dry crumbly texture, which makes the cream cheese a good binding ingredient.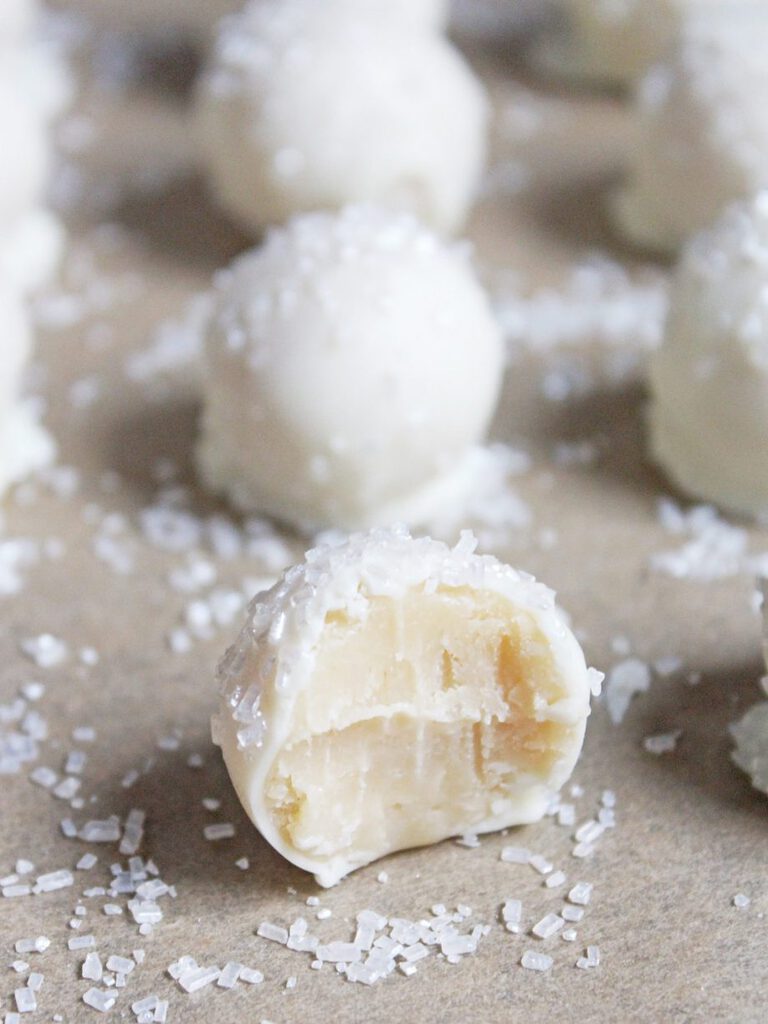 If you're not a big white chocolate fan, then white candy melts are a good substitution. You can also dip the sugar cookie truffles in dark chocolate or milk chocolate if that is your preference.
You can also get creative with your sprinkles. Try red and green for Christmas, blue for Chanukah or gold for New Year's Eve! You could even sprinkle crushed candy canes or cookie crumbs on top if you're short on sprinkles. The possibilities are endless!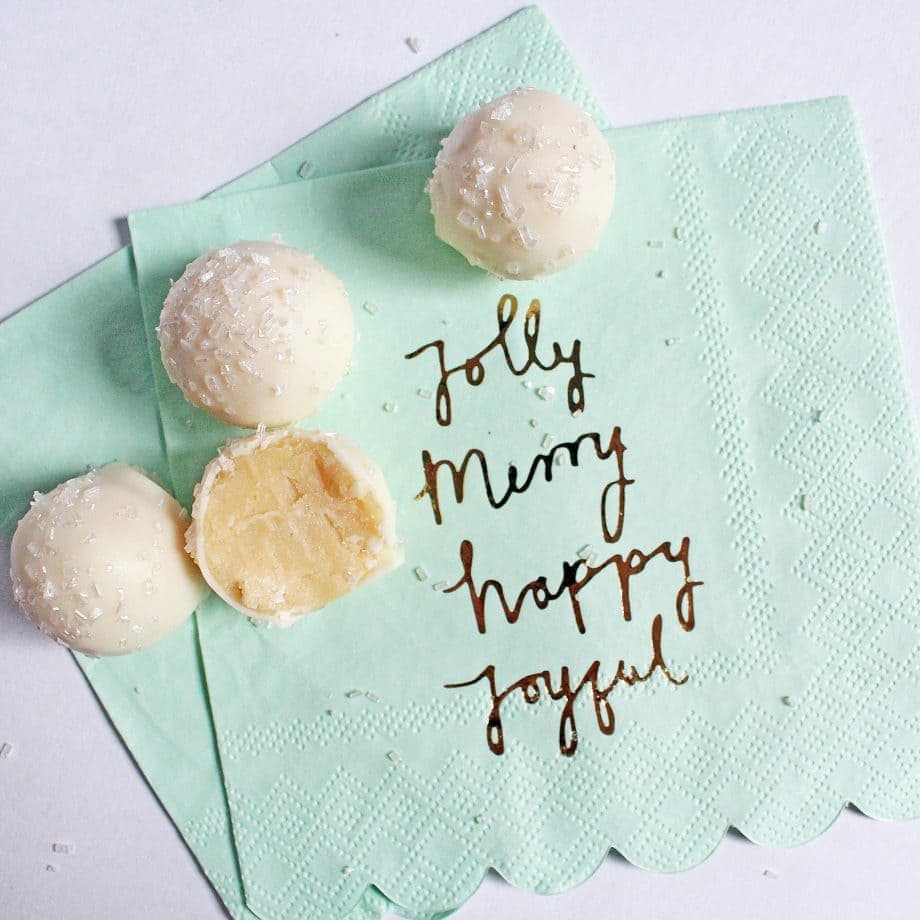 These dessert bites are also perfect for entertaining because they can be made ahead of time. Either make these sugar cookie truffles three days before an event and store the refrigerator or a week in advance and store them in the freezer.
If you take the freezer option, be sure to defrost them in the refrigerator before serving to avoid any condensation on the beautiful chocolate shell!
The recipe makes about 18 truffles and doubles really well. No matter what the size of your party, these truffles will be a hit. I mean, who can say no to a a truffle that tastes like sugar cookie dough?
At the end of the day these truffles are sugar cookies rolled up into a bite-sized ball. Try to tell me that won't satisfy your sweet tooth.
Tools you need to make sugar cookie truffles:
Sugar Cookie Truffles
Ingredients
12

sugar cookies

about 2-inches in diameter

3

tablespoons

cream cheese

room temperature

2

cups

white chocolate for melting

or candy melts

Sprinkles for decoration
Instructions
Place sugar cookies in a food processor and process until cookies turn into fine crumbs. Add cream cheese and process again until well-combined and mixture can be pressed into a ball, 1 to 2 minutes.

Shape cookies into balls about 1-inch to 1 1/2-inches in diameter. Place on a cookie sheet lined with parchment paper and place in the freezer for 15 minutes or the refrigerator for 1 hour.

Remove the cookie balls from refrigerator. Using a spoon or two forks, dip and roll chilled cookie balls, one at a time, in coating. Return to lined cookie sheet and immediately top with sprinkles. Repeat process for remaining cookie balls. Store in an airtight container in the fridge for up to a week.
Recipe Notes
If the sugar cookie truffle dough is not firm enough, add another tablespoon of cream cheese.
If you like sugar cookie truffles, you may also like…