Overnight oats have arrived on If You Give a Blonde a Kitchen—video included! Whoever is the mastermind behind this idea I would like to personally thank them. This easy breakfast saves me time in the morning when I'm rushing out the door. My go-to overnight oats recipe is simple and flavorful—Maple and Brown Sugar Oatmeal.
Who else ate instant oatmeal as a kid before rushing off to school? I remember those mornings. As I grew up and attempted eating instant oatmeal in college I found that the little packets didn't quite fill me up as much as they used to. I turned to overnight oats and it changed my morning routine and gave me energy for the entire day!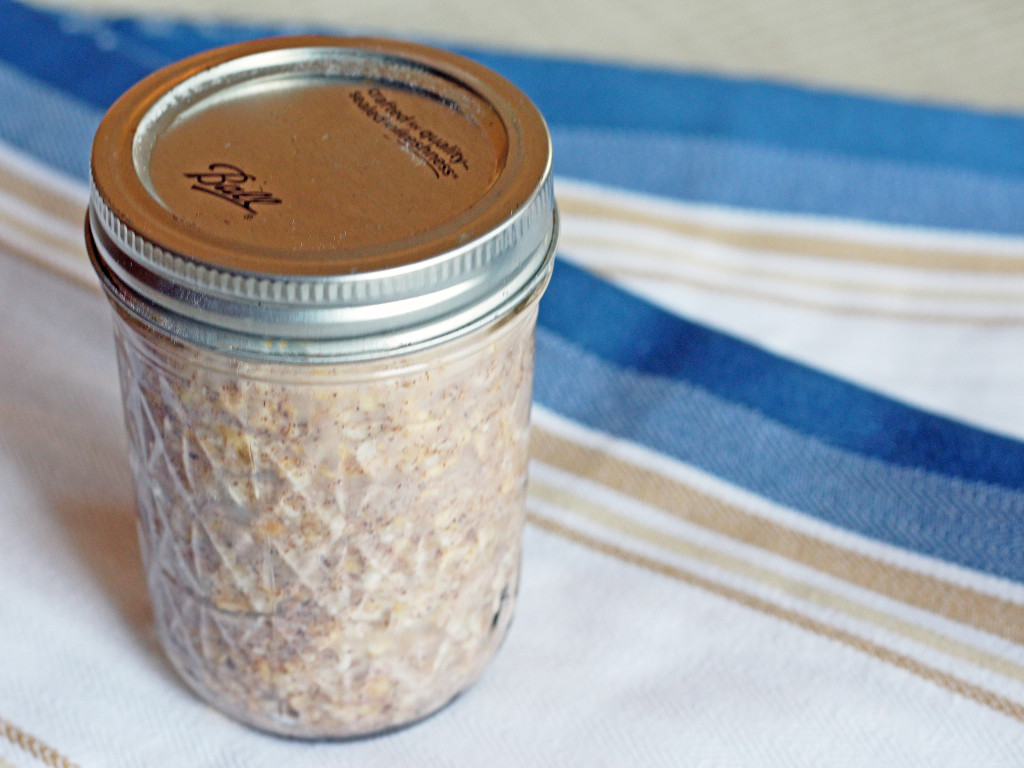 Three types of oats are up for the overnight challenge: Quick oats, rolled oats and steel-cut oats. Quick oats is quickly out of the race because there will have plenty of time to expand overnight (also, quick oats are also the most processed of the three, so let's avoid that!) I find that rolled oats are the best bet for this recipe as they absorb ingredients and expand in size quite well. Steel-cut oats will also do (and are marginally healthier), but I personally prefer the texture of rolled oats.
Add a few simple ingredients to the jar—milk, maple syrup, cinnamon, nutmeg—let them spend the night with the oats and by morning you have a flavorful and filling breakfast ready to-go. You know how some foods taste better after a day? There's no doubt in my mind that these overnight oats can be added to that list.
Haley D. Williams
Yields 1
Maple Brown Sugar Overnight Oats Recipe
5 minPrep Time
8 hrCook Time
8 hr, 5 Total Time
Ingredients
1/2 cup rolled oats
1/2 cup nonfat milk
1 tablespoon pure maple syrup
1/2 teaspoon cinnamon
1/4 teaspoon nutmeg
1 teaspoon brown sugar
Instructions
Combine oats, milk, syrup, cinnamon and nutmeg in mason jar, refrigerate overnight. In the morning you can either eat the oats cold or reheat in the microwave for 45 seconds. Sprinkle with brown sugar and enjoy!
7.6.4
87
https://www.ifyougiveablondeakitchen.com/2016/01/03/how-to-make-overnight-oats-video/
If You Give a Blonde a Kitchen