Try a bite-sized derby pie for the Kentucky Derby! These mini treats have pecan pie filling with bourbon and semisweet chocolate chips. Yum!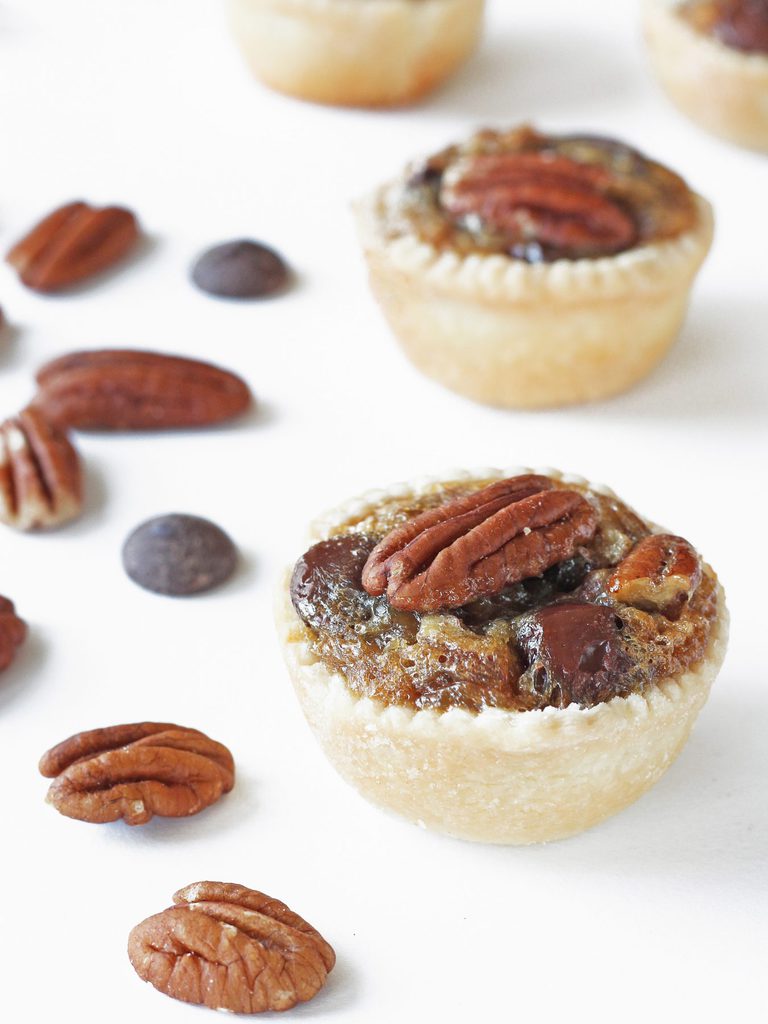 Thee next few days are back-to-back holidays. We have Cinco de Mayo on Thursday, the Kentucky Derby on Friday and Saturday, then Mother's Day on Sunday!
Yesterday I shared my recipe for no bake margarita cheesecake bites and today I'm sharing a recipe for these mini derby pies.
Is anyone wondering what a derby pie is? I can explain. A derby pie is a chocolate and walnut tart in a pie shell and it was created by George Kern in Kentucky around 1950.
So naturally this dessert was adopted by Kentucky Derby fans and quickly became their go-to treats during the horse race.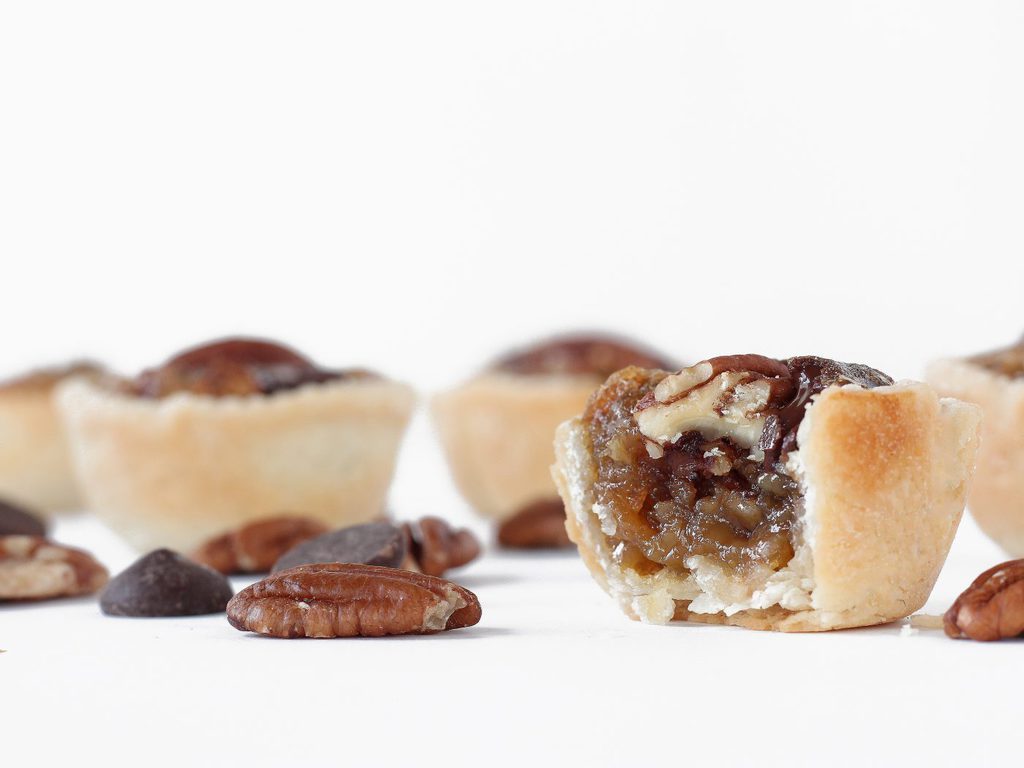 Instead of using walnuts for the derby pie I used pecans—they have more flavor in my opinion. It's also very common in derby pies. The pecan filling mixed with a few semi-sweet chocolate chips really take these little pies over the top.
The savory, nutty pecan filling sits next to a few melted chocolate chips and together they nestle in a buttery, flaky crust. Excuse me, I have to go have another…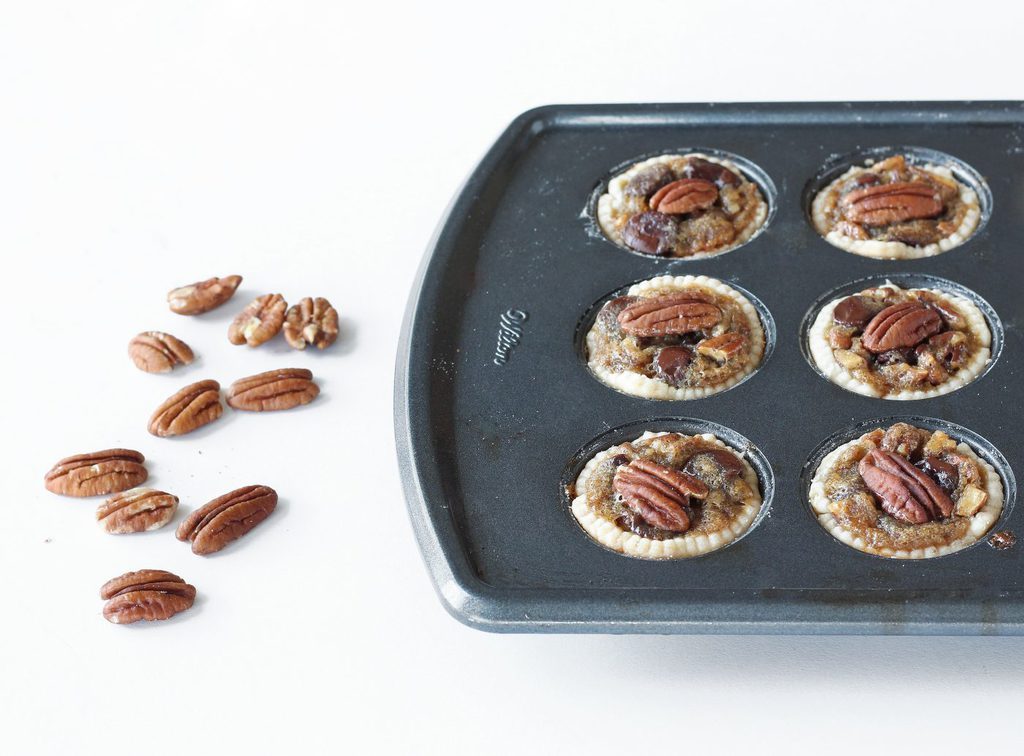 I love these mini derby pies not only because they are bite-sized, but also because of the gooey, crunchy filling. Pecan pie is my absolute favorite at Thanksgiving time, so it's no surprise I like derby pie!
I will say I was hesitant to have chocolate in my pecan pie. I figured it had enough flavor, especially with the bourbon, but I was wrong!
Chocolate tastes so good in a pecan pie. The chocolate chips get all melty, which blends perfectly with the pie filling.
Okay, now if that description didn't leave you wanting a mini derby pie, I'm not sure what will.
Whether you watch the Kentucky Derby every year or you are attending your first derby-themed party with friends, I promise you these mini derby pies will be a hit.
Tools you need to make mini derby pies…
Mini Derby Pie
Ingredients
2

packages

4 pie crusts refrigerated pie crusts

1 1/2

cups

chopped pecans

48

pecan halves for topping pies

1

cup

6 ounces semisweet chocolate morsels

1

cup

dark corn syrup

1/2

cup

granulated sugar

1/2

cup

firmly packed brown sugar

1/4

cup

bourbon

substitute water if you prefer

4

large eggs

1/4

cup

butter

melted

2

teaspoons

cornmeal

2

teaspoons

vanilla extract

1/2

teaspoon

salt
Instructions
Preheat oven to 325° F. Spray mini muffin pan with nonstick spray. Using a 2 or 3-inch round cookie cutter, cut out circles of pie crust dough and place in the muffin pan.

Sprinkle pecans and chocolate evenly in bottom of each piecrust; set aside.

Combine corn syrup, sugar, brown sugar and bourbon in a large saucepan, and bring to a boil over medium heat. Cook, stirring constantly, for 3 minutes. Remove from heat.

Whisk together eggs, butter, cornmeal, vanilla and salt. Gradually whisk about one-fourth hot mixture into egg mixture; add to remaining hot mixture, whisking constantly.

Pour filling into prepared pie crusts, taking care not to overfill, since overfilling will make the mini pies harder to remove from the muffin pan. Fill about halfway full (a 1-ounce cookie scooper is a good measurement). Once filled, top each pie with a pecan half.

Bake at 325° for approximately 25 minutes or until pies are set. Cool in pan 5 – 10 minutes, then remove pies from muffin pan to cool completely on wire rack.
Recipe Notes
*If some of your egg bits solidify, pour your filling through a fine mesh strainer before adding into your pie shells.
This recipe can be halved if necessary.
Recipe adapted from Home Is Where the Boat Is.
If you like mini derby pies, try these recipes…