Apple Crisp Bars are easy to make from scratch—promise. This recipe uses a basic shortbread crust topped with apple slices and a simple flavorful crisp.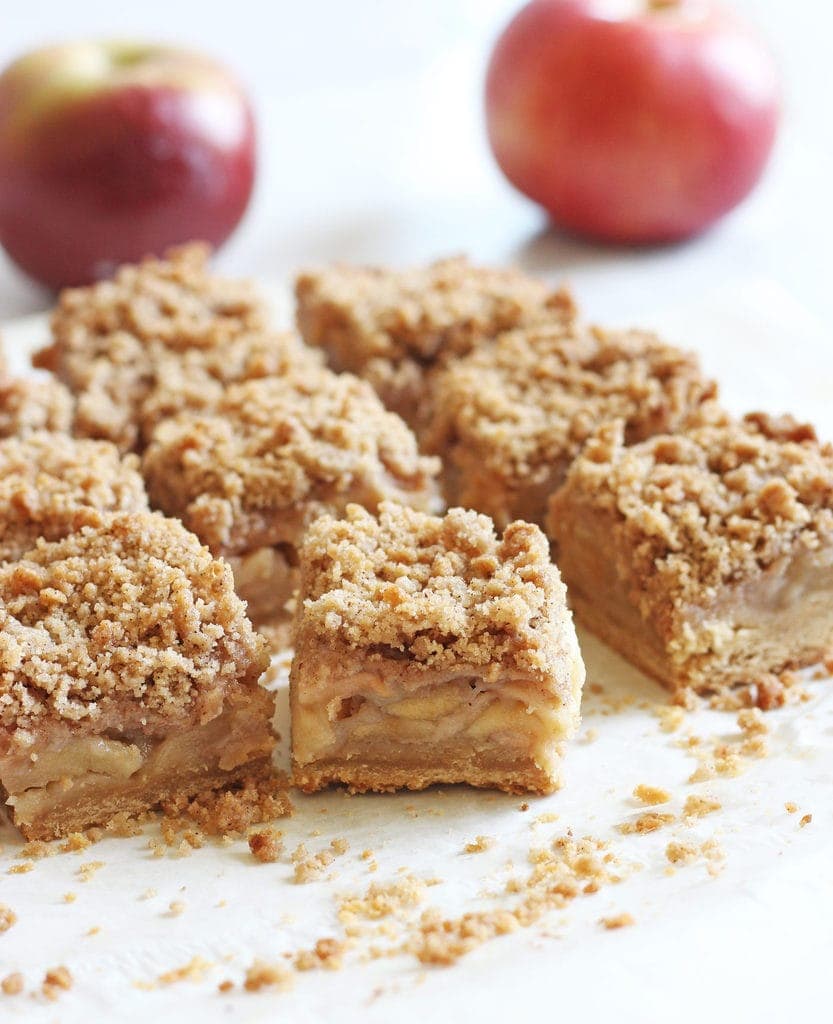 Sliced apples and crumble topping with a shortbread crust—now that's a dessert I can get behind. This recipe for apple crisp bars is one of my go-to's. Warm, cold, with ice cream, for breakfast, any way you eat them, they are delicious.
I love apple desserts because you can eat them any time of year (sorry, fall). Seriously though, think about it. Apple pie is the all-American dessert and it is served year-round.
With this logic, I say apple crisp bars fall into that same category. They're pretty similar to apple pie, but swap out the pie crust for shortbread crust and top it with some crumbly crisp topping. And who doesn't like crumbly crisp topping? It is the best part.
And for those of you who usually reach for the boxed apple crisp topping, I think it's worth trying to make it from scratch. Crisp topping is pretty much sugar, flour, cinnamon and cold butter crumbled together.
As for the the rest of the recipe, don't be intimidated by the multiple steps… it's pretty simple to layer one thing on top of the other!
Also, apple crisp bars are nearly impossible to mess up—they almost always result in apple-cinnamony goodness. Worse case scenario, they're not picture-perfect, but still taste hella good.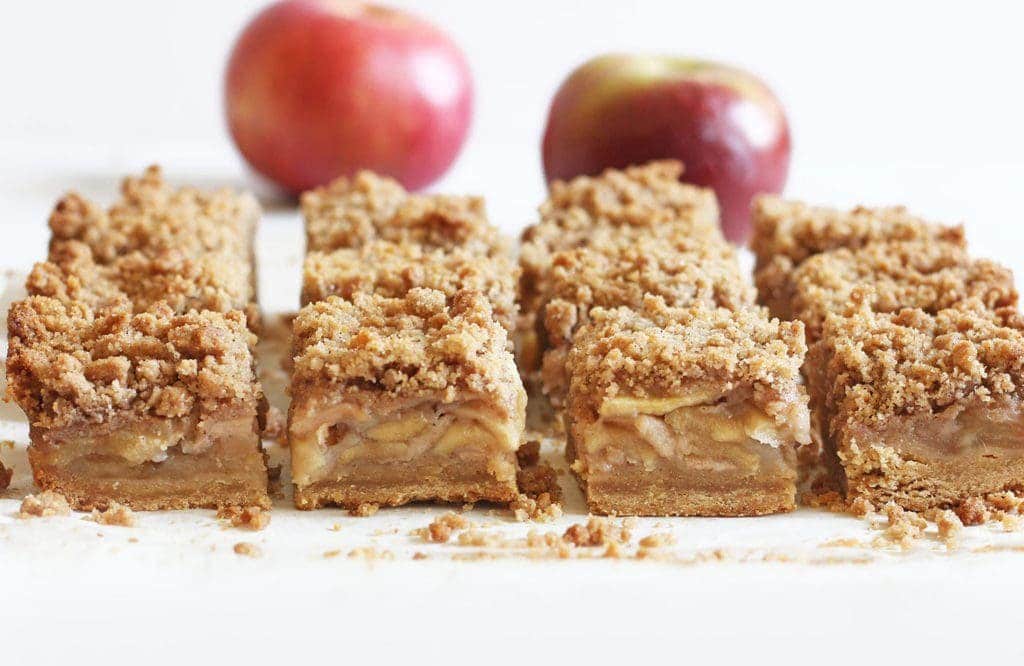 The shortbread crust is easy to make too. It's only four ingredients (butter, sugar, vanilla and flour) combined and baked for 12 minutes before you add the rest. Once the crust is baked, you layer on the sugar-coated apple slices and sprinkle the crisp topping. Stick the dish in the oven for 40 minutes or so and there you have it!
See, I told you it was an easy recipe. By the way, this is the apple peeler/corer/slicer I use that makes the job ten times faster.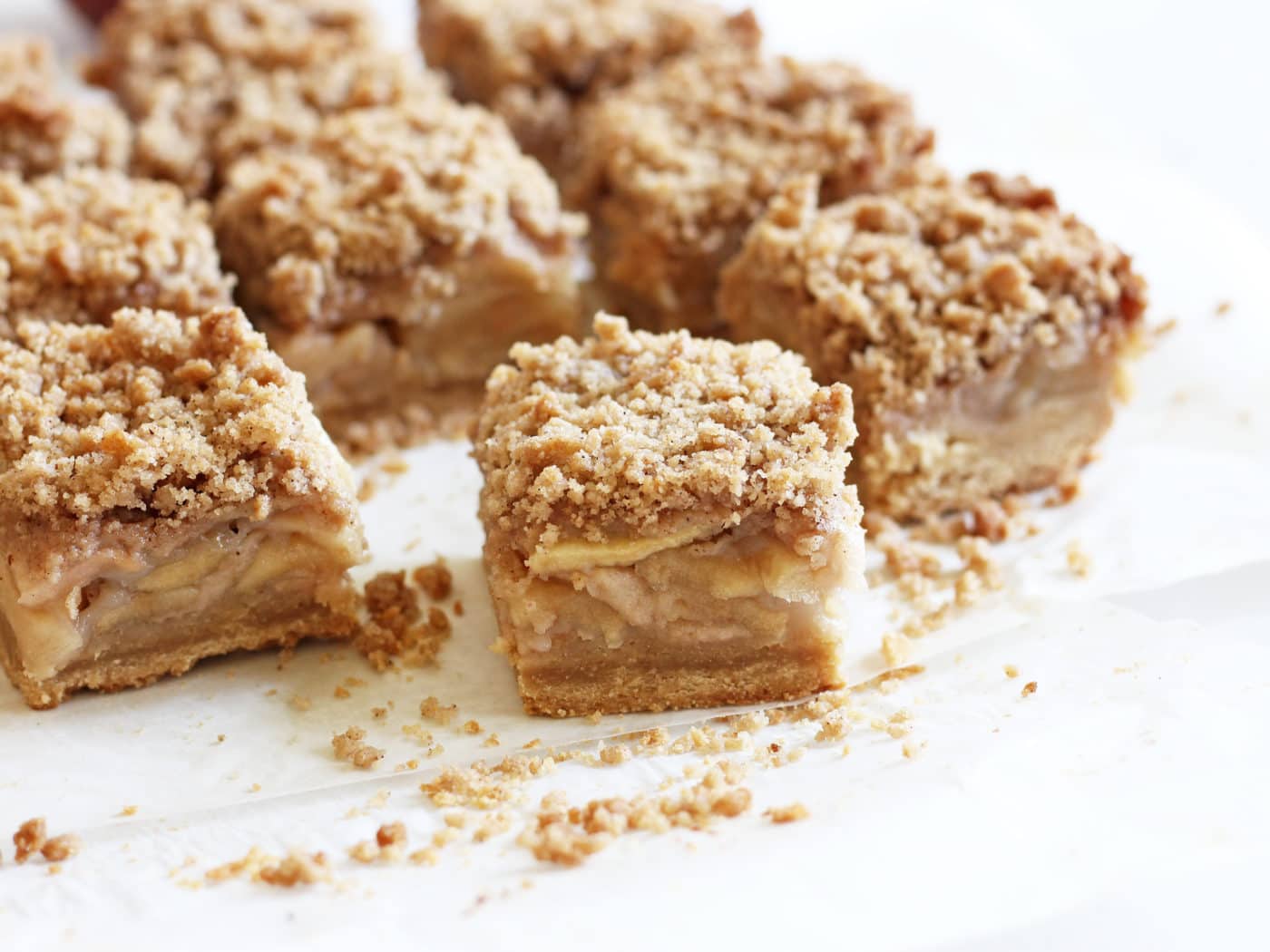 And not only are apple crisp bars good to eat year-round, they are also good to eat any time of day. Snack-time, after-dinner dessert… heck, I've been known to eat a bar for breakfast. If you have it with yogurt, it's healthy right?
Suggested tools to bake easy apple crisp bars…
Easy Apple Crisp Bars
Apple Crisp Bars are easy to make from scratch—promise. This recipe uses a basic shortbread crust topped with apple slices and a simple flavorful crisp.

Ingredients
Shortbread Crust
1/2

cup

(113 g or 1 stick) unsalted butter,

room temperature

1/4

cup

(50 g) brown sugar

packed

1/2

teaspoon

vanilla extract

1 1/4

cups

(147 g) all-purpose flour
Apple Filling
4

cups

(500 g) apples

peeled, cored and thinly sliced (about four medium apples)

2

Tablespoons

flour

1/4

cup

(50 g) sugar
Crisp Topping
1/2

cup

(100 g) brown sugar

packed

1/4

cup

(50 g) sugar

3/4

cup

(94 g) flour

1

teaspoon

cinnamon

1/2

teaspoon

salt

6

tablespoons

(85 g) chilled butter

cut into 1/2-inch cubes
Instructions
Shortbread Crust
Preheat oven to 350º F. Line a 8x8 pan with parchment paper, leaving extra hanging over the ends, spray with cooking spray.

In a large mixing bowl, beat together the butter and sugar until light and fluffy, about 2-3 minutes. Add vanilla and mix until combined. Add flour and mix until combined and dough is crumbly.

Press dough evenly into bottom of prepared pan. Bake for 12-14 minutes, until dough is slightly puffed. Remove from oven and set aside, maintain oven temperature.
Apple Filling
In a large bowl, combine apples, flour and sugar. Mix until apples are thoroughly coated. Arrange apples on baked crust.
Crisp Topping
In a medium bowl, mix together first five ingredients. With a pastry blender or two knives, cut in butter until mixture is crumbly. Spread topping over apples in an even layer.

Bake uncovered at 350º F for 45 minutes, or until topping is golden and apple mixture is bubbly. Let cool, lift apple crisp using the extra parchment paper at the ends as handles, and cut into bars.
Recipe Notes
*I suggest avoiding sweeter apples (like Macintosh) and using crisp or tart apples (or mix them!). I used Gala and Honey Crisp.
Recipe adapted from The Merry Thought.