Easy Apple Galette
This post may contain affiliate sales links. Please see my
privacy policy
for details.
If you're looking for a fall dessert that is easy to make, then try this homemade apple galette. It has a beautiful, rustic appearance with exposed cinnamon apples in the center. It is easier than pie and you can use homemade pie crust or store-bought pie dough!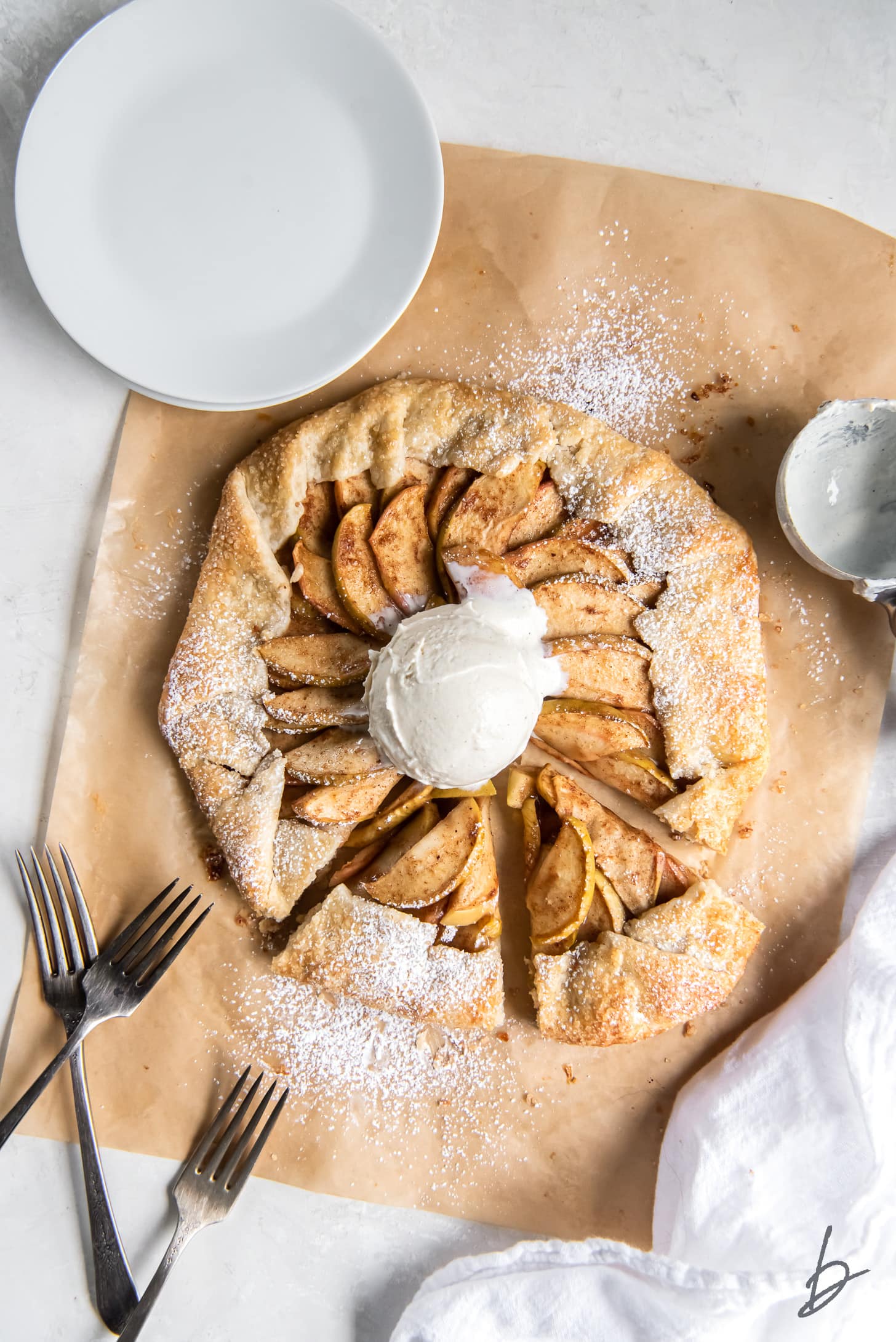 I love galettes because they appear impressive, but are actually quite simple to make. They are basically a freeform pie filled with seasoned fruits or vegetables. This fall, try making a rustic apple galette with pie crust. It is the perfect use of apples when they are in season!
Why This Recipe Works
Easier than pie. No pie plate, no finagling a top crust and no crimping the edges.
Ready in an hour. Only 40 minutes of baking time and 10 minutes of prep!
Rustic and French. Galettes originate from Brittany region of France. The pastry's simple, freeform appearance makes a humble statement on a dessert table.
Delicious fall flavors. Fresh apples are sliced thin then tossed with cinnamon and nutmeg for the perfect texture and taste.
Holiday dessert. Swap out one of your pies this Thanksgiving for an apple galette instead!
Ingredient Notes
Pastry dough: You can make your own using my homemade pie crust recipe (save the other half for another recipe) or use store-bought pie dough.
Apples: Granny Smith, Honeycrisp or Braeburn apples are best for baking because they hold their texture and flavor in the high heat of baking. During the fall, you can also find Jonagold, Pink Lady and Northern Spy varieties.
Egg: The egg is whisked with water and brushed on the crust for a golden finish. Alternatively, you can brush milk on the crust and sprinkle with sugar. The crust won't be as golden, but taste just as delicious.
Spices: For some cozy fall flavors, add cinnamon and nutmeg to the apples. Check that they are fresh and not expired.
Refer to the recipe card for ingredient details and measurements.
Recipe Variations
Add different fruit. Add 1 cup fresh cranberries for a tart flavor. If you have pears on hand, try swapping out one of the apples with a pear (make sure it is firm, but ripe). Peaches, strawberries or blueberries also work well!
Sprinkle on some nuts. Another option is to sprinkle 1/4 cup chopped almonds or pecans on top of the galette 10 minutes before it is done baking. They will get toasty and add a little crunch!
Add a topping. A scoop of vanilla ice cream is classic, but you can also drizzle it with caramel sauce, dust with confectioners sugar or add a dollop of whipped cream.
Make a glaze. For a vanilla glaze, whisk together 1/2 cup confectioners' sugar, 1 tablespoon milk and 1 teaspoon vanilla. Drizzle over the galette before serving. For an apricot glaze, whisk together 3 Tablespoons apricot preserves and 1 tablespoon water. Heat in the microwave and brush over the warm apples.
How to Make an Apple Galette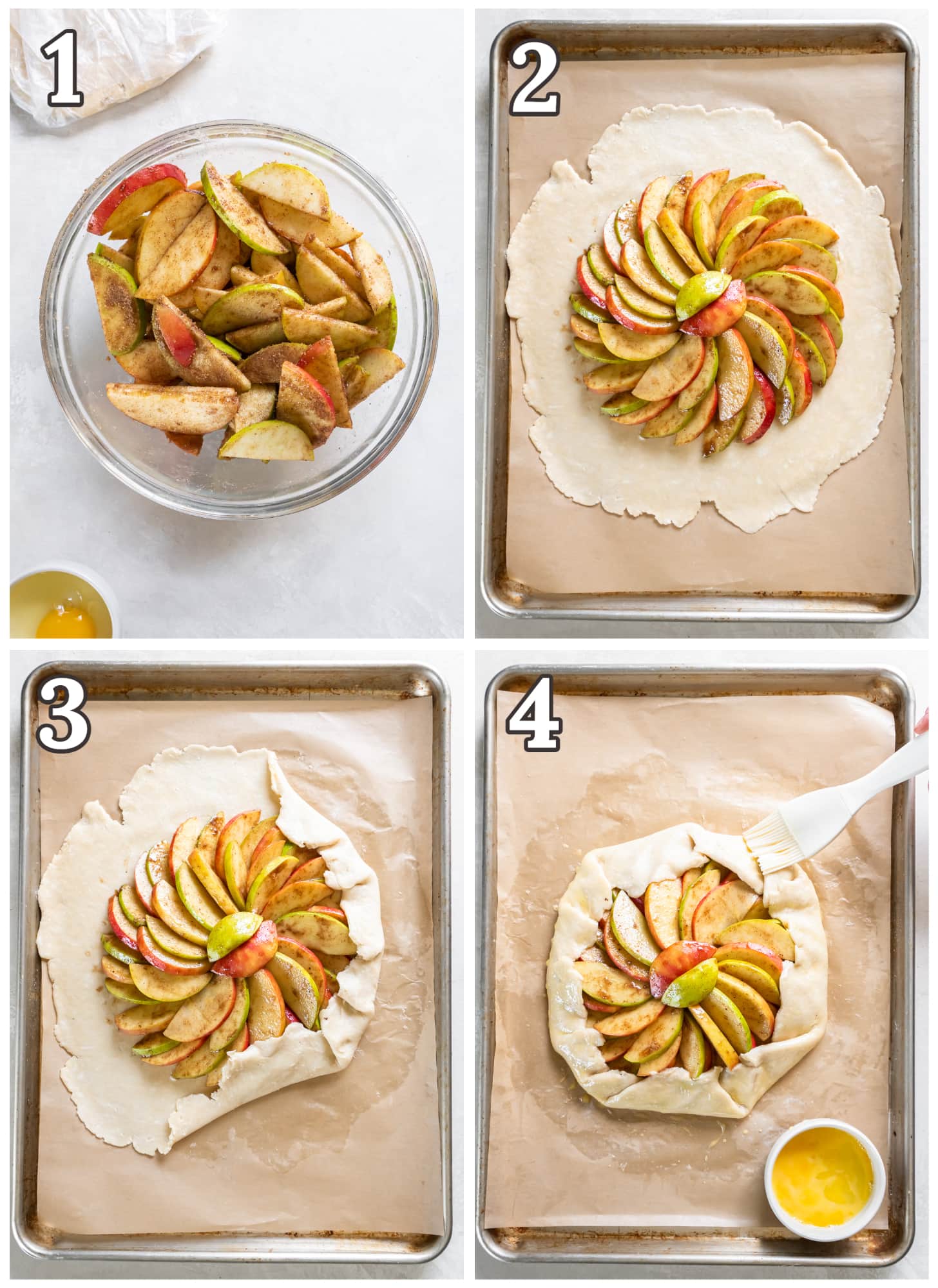 Combine apple filling ingredients. Toss sliced apples, flour, brown sugar, cinnamon, nutmeg and salt in a bowl. Set aside.
Prepare pastry dough. Remove dough from refrigerator and roll it to a 12-inch diameter. Transfer it to a baking sheet.
Arrange apples in a concentric circle on pastry dough. Leave a 2-inch boarder around the edge, then fold it over the apples leaving the center open.
Brush egg wash on galette crust and sprinkle with sugar. Bake galette at 400℉ for 35 to 40 minutes.
Expert Tips
Whenever you make a galette, it is important to keep the pastry dough cold. Do not overwork with your hands or let it sit on the counter too long. Keeping the dough cold will ensure a flaky crust.
To prevent a soggy crust, add a sprinkle of flour (about 1 tablespoon) before layering on the apples.
Use the right apples for the best results. Crisp apples, such as Granny Smith and Honeycrisp, maintain their structure in the high heat of the oven. Northern Spy and Braeburn are also good options.
Also, slice the apples thin (at most 1/4-inch) so they become tender during the baking process. Use any extra to make apple fritters.
Make Ahead and Storage Tips
Store the apple galette covered in the refrigerator for up to 3 days. Galettes are best when they are eaten the day they are baked.
Freeze the galette after it has completely cooled, wrap it in plastic wrap and aluminum foil to prevent freezer burn. Store in the freezer for up to 2 months. Defrost in the refrigerator or reheat in the oven.
Reheat at 325℉ for 10 minutes or, if frozen, 15 to 20 minutes. I suggest covering in aluminum foil to prevent the crust from browning too much.
Make ahead the galette without the egg wash. Assemble and flash freeze for an hour, then wrap in plastic wrap and aluminum foil. When ready to bake, remove wrapping, add egg wash and bake at 400℉ for 45 to 50 minutes.
Recipe FAQ
Do I have to peel apples for a galette?
No. The beauty of galettes is that they have a rustic appearance so keeping the skin on the apples adds to that aesthetic. If you prefer apples without the skin, you can certainly peel them.
Why is the bottom of my galette soggy?
Most likely the pastry dough was too warm when assembling the galette. The dough should be cold to ensure a flaky pie crust. Also, make sure your oven temperature is accurate.
Is galette crust same as pie dough?
When galettes were invented, the crust commonly used buckwheat. However, nowadays, they are more often made with pie dough. I use my homemade pie crust recipe for galettes, but you can also use store-bought refrigerated pie crust.
What's the difference between a pie and a galette?
A pie is baked in a pie plate oftentimes with a top crust or crumble. A galette is baked on a baking sheet with the crust folded over the edges and the center filling exposed.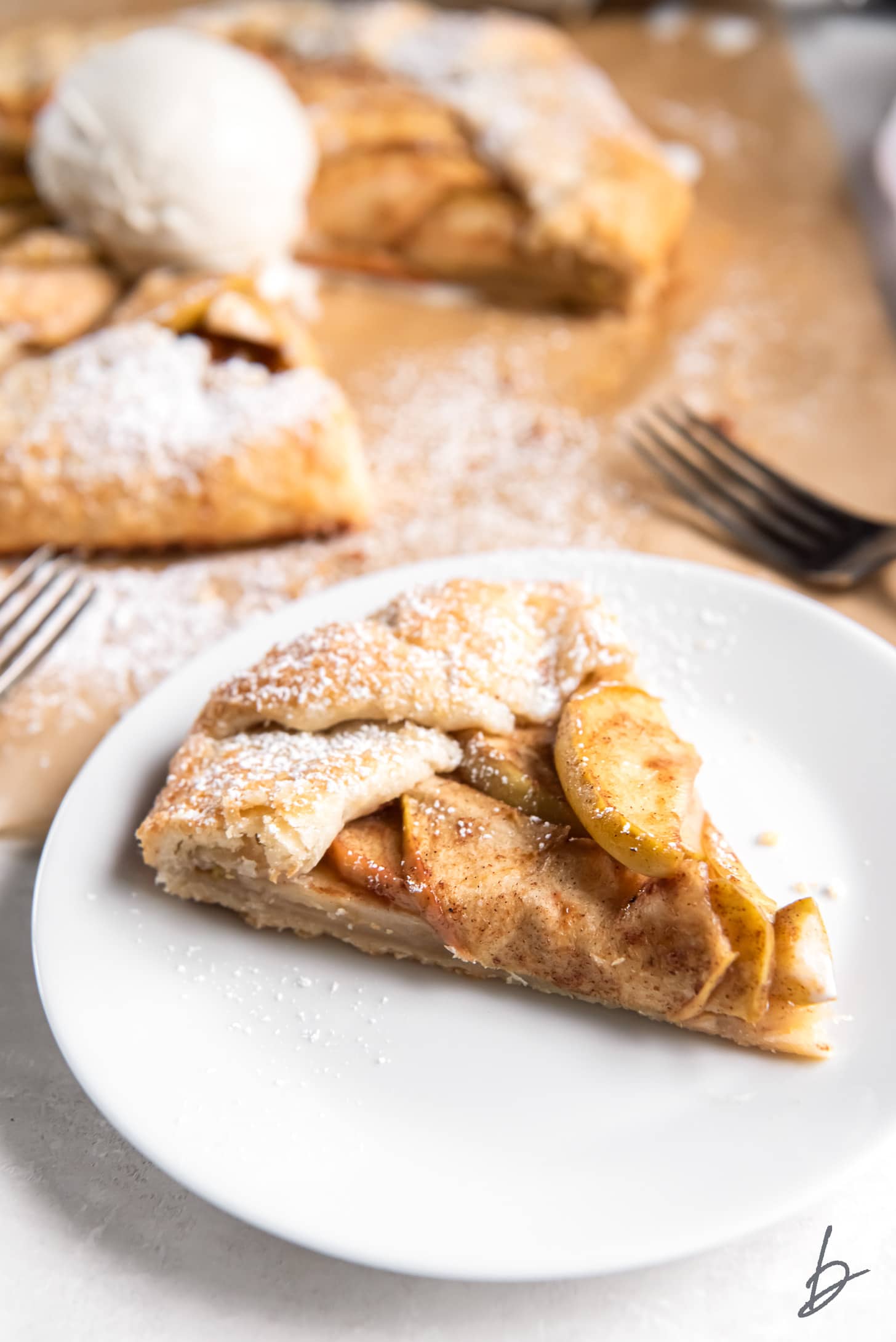 Related Recipes
Give these recipes a try if you have more apples to bake with or want to try your hand at another galette.
Did you love this recipe? Please leave a 5-star 🌟🌟🌟🌟🌟 rating in the recipe card below and if you REALLY loved it, consider leaving a comment further down the page.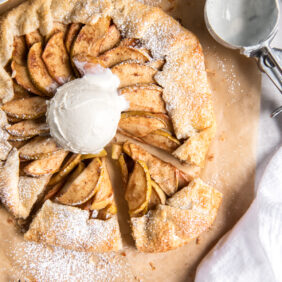 Get the Recipe:
Easy Apple Galette
This apple galette has a beautiful appearance with the exposed cinnamon apples in the center. It is an easy showstopper dessert!
Ingredients
1

homemade pie crust

,

(only need half recipe)

1

pound

about 3 large or 6 small fresh apples, about 4-5 cups slices

¼

cup

light brown sugar

1

Tablespoon

flour

,

plus extra for work surface

1

teaspoon

ground cinnamon

¼

teaspoon

ground nutmeg

Pinch

of salt

1

egg whisked with 1 Tablespoon water

,

(for egg wash)

Coarse sugar for sprinkling
Instructions 
Preheat the oven to 400° F.

Slice apples into ¼-inch thick slices and place them in a bowl. Add brown sugar, flour, cinnamon, nutmeg and pinch of salt. Toss to combine. Cover the bowl and let the apples sit while prepping the pie dough.

Remove the dough from the refrigerator and let it sit on the counter for 10 minutes until it's malleable. On a lightly floured work surface, roll out the dough into a 12-inch round circle (it doesn't have to be perfect).

Line a baking sheet with parchment paper and carefully transfer dough to the baking sheet. Add a light sprinkle of flour to the dough, then arrange apples (not the juices) in a concentric pattern starting in the center and working your way out. Leave about a 2 to 3 inch border of dough around the edges.

Fold the border over the filling, pleating the edge to make it fit. The center will be open. Brush crust with egg wash and sprinkle with sugar.

Bake galette at 400℉ for 35 to 40 minutes or until the crust is golden brown. Let the galette cool for about 10 minutes before serving warm with a scoop of ice cream.
Notes
Pie crust: You can make your own using the recipe from my homemade pie crust recipe, of which you only need half, or use store-bought pie crust.
Apples: Granny Smith, Honeycrisp or Braeburn are best for baking. You can leave the peel on or remove the peel. Up to you!
Store in an airtight container for up to 3 days.
Freeze the galette after it has cooled completely. Wrap in plastic wrap and aluminum foil to prevent freezer burn. Freeze for up to 2 months. Defrost in the refrigerator before serving.
Serving:
1
slice
,
Calories:
220
kcal
,
Carbohydrates:
35
g
,
Protein:
3
g
,
Fat:
8
g
,
Saturated Fat:
3
g
,
Polyunsaturated Fat:
1
g
,
Monounsaturated Fat:
4
g
,
Trans Fat:
0.003
g
,
Cholesterol:
27
mg
,
Sodium:
130
mg
,
Potassium:
134
mg
,
Fiber:
3
g
,
Sugar:
17
g
,
Vitamin A:
82
IU
,
Vitamin C:
3
mg
,
Calcium:
25
mg
,
Iron:
1
mg