Butter spritz cookies are perfect for any holiday, especially Christmas! These tree-shaped cookies are buttery, sweet and easy to make.
The air is getting chilly and the Christmas Day is in sight, which of course means more baking! I use all the red and green decorations in my baking repertoire and go to town. Today I made tree and wreath-shaped butter spritz cookies with plenty of sprinkles!
Butter spritz cookies have got to be one of my favorite cookies. My mom would make them all the time when I was growing up. It didn't matter if it was Christmas, Valentine's Day or just an ordinary Tuesday, butter spritz cookies are always a good idea.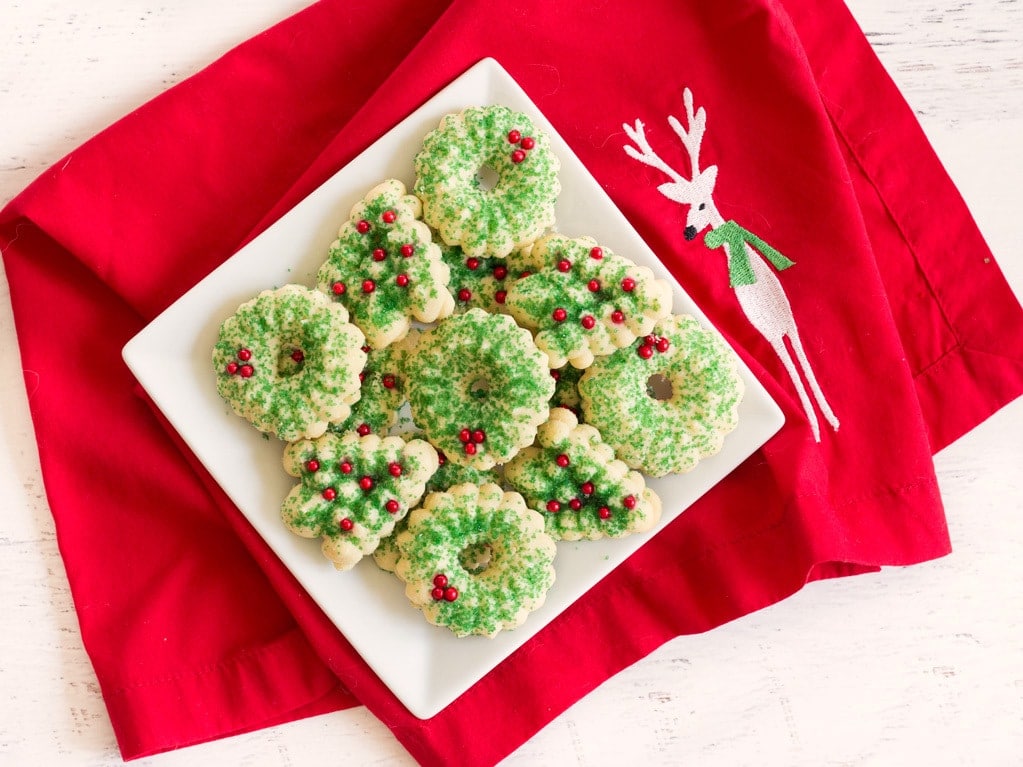 I suppose what makes butter spritz cookies a year-round treat are all the different shapes. Cookie presses come with discs that you press the dough through and each disc has a different shape. At Christmas time I like to use the wreath shapes, for Valentine's Day the hearts, and in the spring the flowers.
With such a variety of shapes, there's no excuse… you can make butter spritz cookies any time you'd like! When I'm feeling really ambitious in the kitchen, I dye the dough a different color. Wouldn't red or green by fun for Christmas?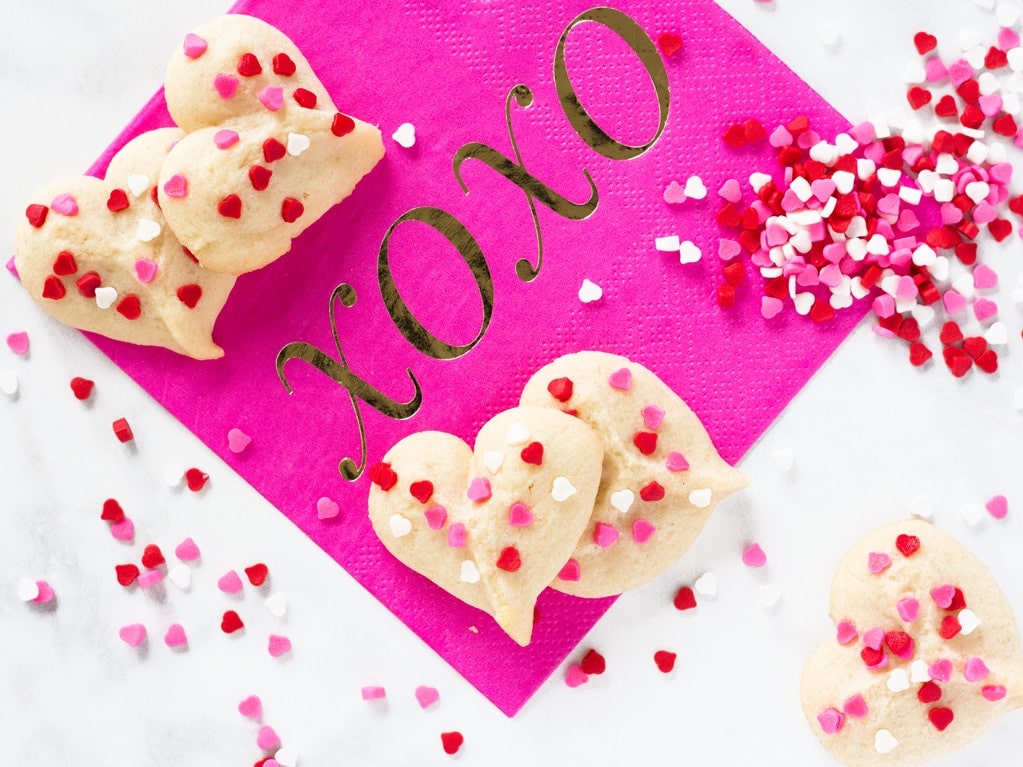 As for making the dough, it couldn't be simpler. Spritz cookies use a basic butter cookie dough with only five ingredients: butter, sugar, egg yolks, vanilla extract and flour. Mix them all together, transfer the dough to a cookie press and you are well on your way to a fresh batch of spritz cookies.
I do however have a secret ingredient in my butter spritz cookies—almond extract. It is by far my favorite flavor when it comes to cookies and it makes these buttery bites even more irresistible.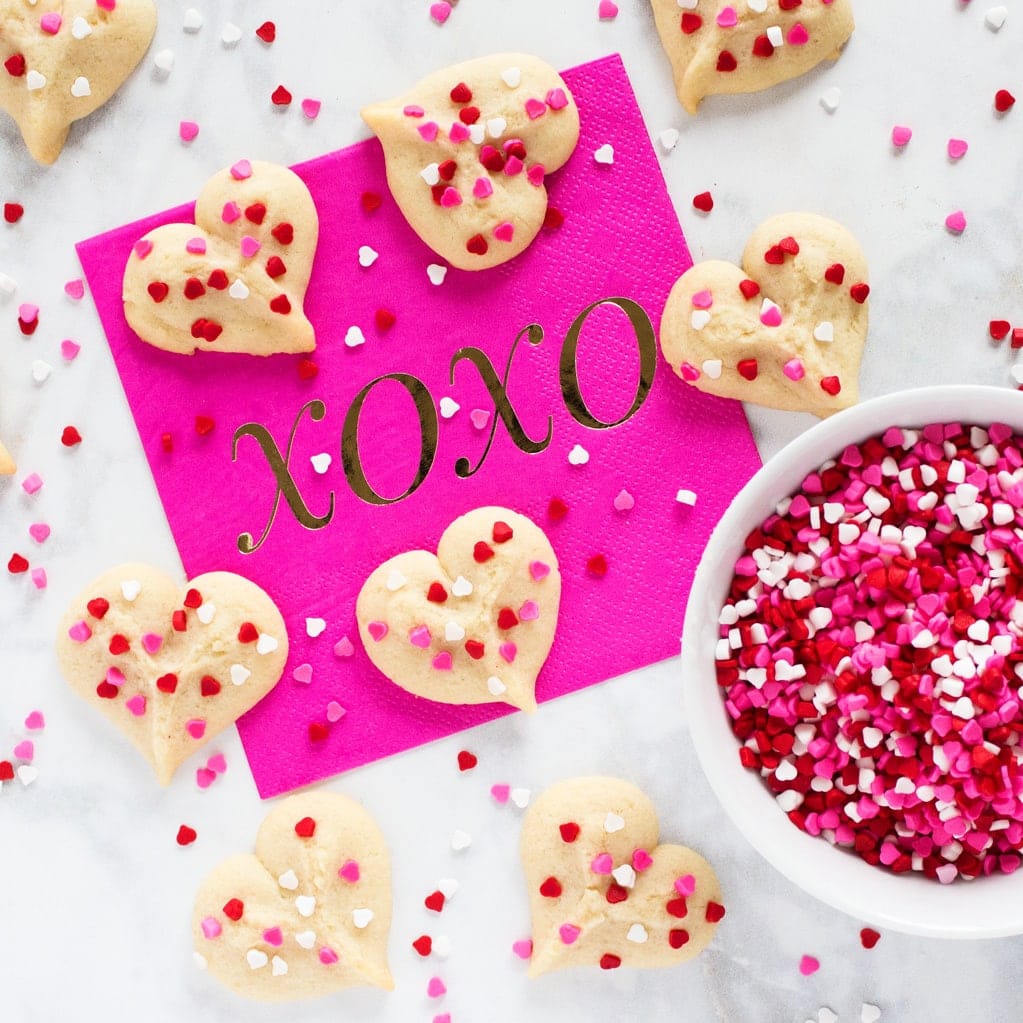 Side note: if you don't have a cookie press, I highly recommend getting one (I like this one). It's incredibly fun to use (even for kids) giving you yet another reason to bake butter spritz cookies!
So head to the kitchen and start baking! And don't forget the sprinkles—any will do!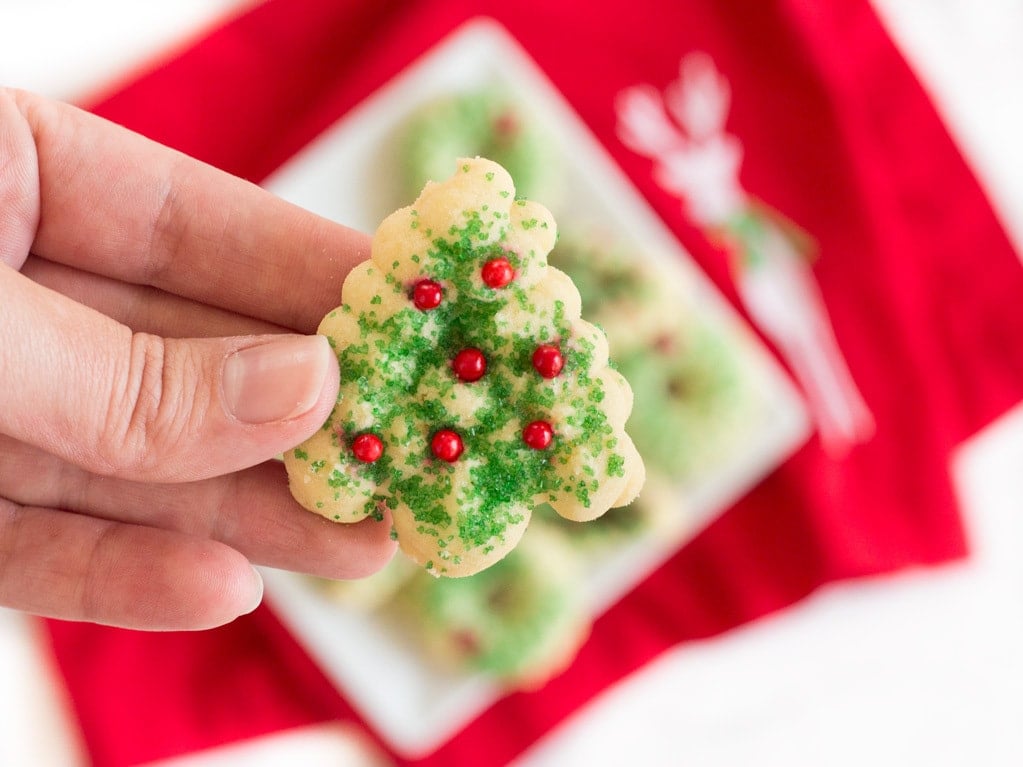 Tools you needs for butter spritz cookies:
Holiday Butter Spritz Cookies
Butter spritz cookies are perfect for any holiday, especially Valentine's Day! These heart-shaped cookies are buttery, sweet and easy to make.
Ingredients
1

cup

(227 grams) unsalted butter,

room temperature

1/2

cup

(100 grams) granulated white sugar

2

large egg yolks

1 1/2

teaspoons

pure vanilla extract

3/4

teaspoon

almond extract

optional

2

cups

(250 grams) all purpose flour,

sifted

1/4

teaspoon

salt

Holiday sprinkles
Instructions
Preheat your oven to 350° F. Grease two baking sheets and set aside.¹

In the bowl of your electric mixer, or with a hand mixer, beat the butter and sugar until fluffy (2-3 minutes). Add the egg yolks and vanilla extract. Beat until incorporated. Scrape down the sides of the bowl as needed.

With the mixer on low, slowly add the flour and salt. Beat until incorporated, about 1 minute.

Scrape some of the dough into your cookie press that has been fitted with a decorative disc (follow manufacturer's instructions). Hold the cookie press perpendicular to your baking sheet, and press out the cookies.² Continue to press out the cookies, spacing about 2 inches apart. Decorate with desired sprinkles.

Bake cookies for 10 to 12 minutes or just until the edges of the cookies are turning golden. Gently transfer the cookies to a wire rack to cool completely. Store cookies in a covered container for up to a week.³
Recipe Notes
¹ For this recipe I suggest greasing cookie sheets as opposed to lining them with parchment paper. When I used parchment paper, the pressed cookie dough wouldn't release from the cookie press.
² If you find the dough is too soft, because the shape of the cookies is not clearly defined, then chill the dough.
³ Dough can be refrigerated for up to three days or stored in the freezer for up to a month. Allow frozen dough to defrost in the refrigerator then bring it to room temperature.