Triple Berry Pie from Scratch
This post may contain affiliate sales links. Please see my
privacy policy
for details.
Choose your favorite medley of summer berries to bake this flavorful triple berry pie. You can use fresh or frozen berries depending on the season! The juicy, sweet filling is complemented by the buttery flaky crust. Serve each slice with a scoop of vanilla ice cream and you're in for a treat!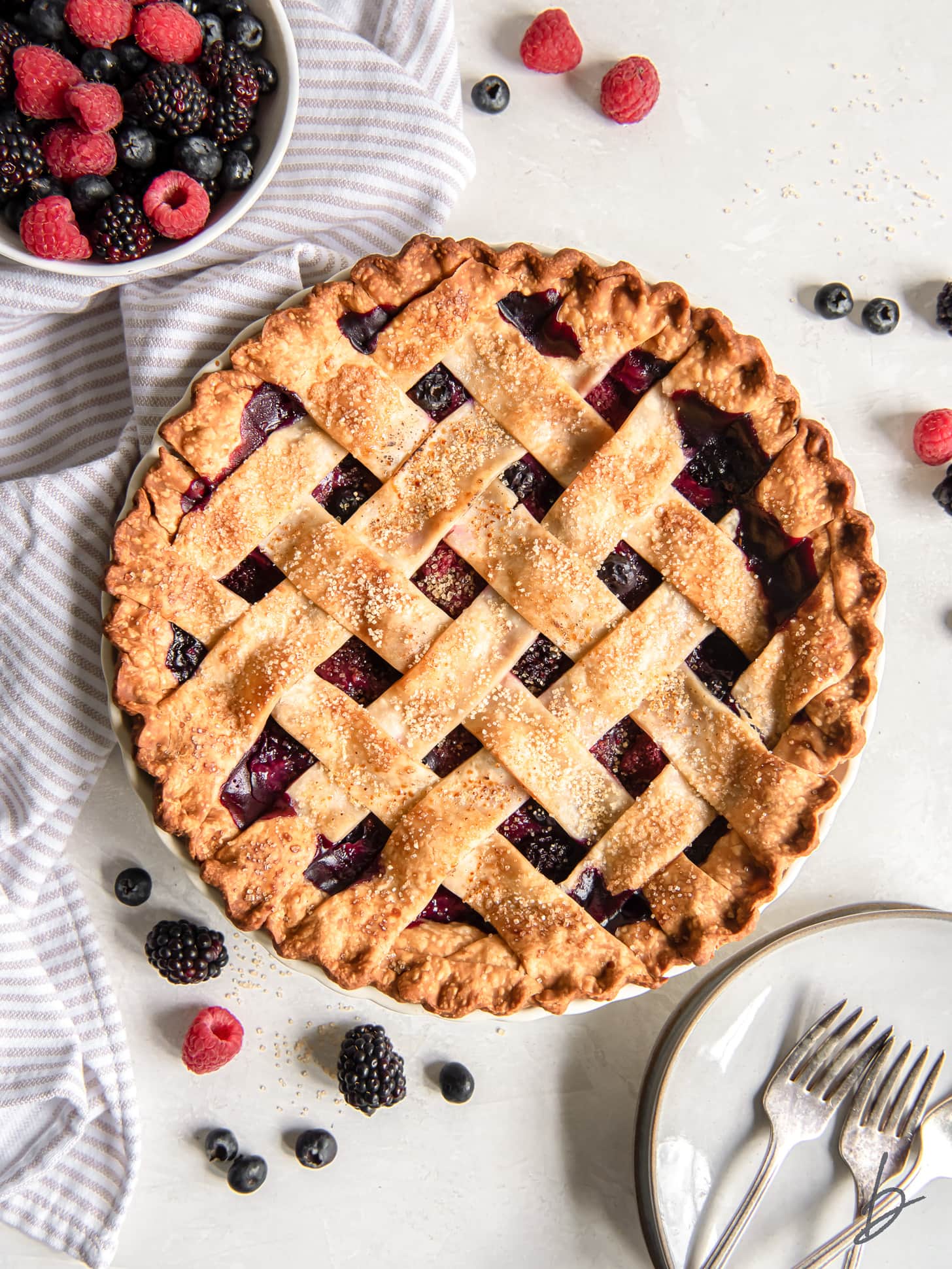 And the berry baking continues. I can't help myself. With so many fresh summer berries, what else to do but bake with them? On today's menu was a triple berry pie. Raspberries, blueberries and blackberries make up the filling for this summer pie. It's sweet and tart with a buttery, flaky homemade crust.
Why You'll Love This Recipe
You only need 6 ingredients for the filling.
Versatile recipe! You can use fresh or frozen berries while a homemade pie crust can easily be substituted with store-bought.
This pie can be made ahead of time and frozen for up to 3 months, which is perfect for Thanksgiving prep!
It's the perfect summer dessert for entertaining. Who doesn't love a warm berry pie with a scoop of vanilla ice cream?
Ingredient Notes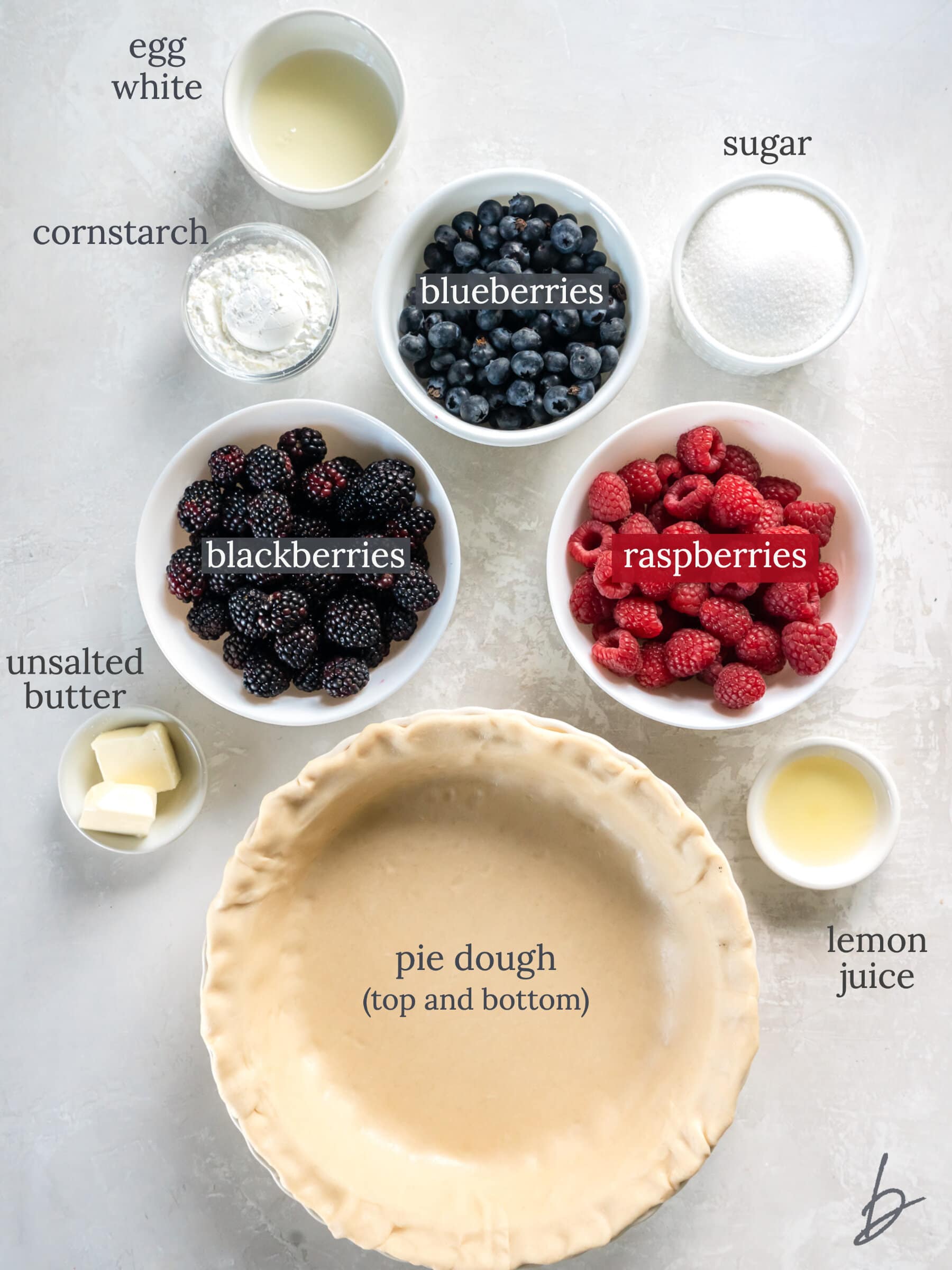 Berries: Two cups of each berry is a good ratio. I suggest fresh fruit for the best flavor, but in a pinch, frozen mixed berries may be used.
Cornstarch: This thickening agent helps keep the filling together and make the juices less watery.
Lemon juice: A little fresh lemon juice helps bring out the flavor of the berries.
Egg white: For a little shine on your crust, brush it with a lightly beaten egg white before baking.
Pie crust: This recipe calls for two pie crusts (bottom and lattice top). I used my homemade pie crust recipe, but you can also use store-bought.
Refer to the recipe card for exact measurements and detailed ingredient information.
Recipe Variations
Use different berries. Diced strawberries, cherries or cranberries are good additions or substitutions. You can even add some apple! Aim for about 6 cups of fruit total for the filling.
Add some spices. Sprinkle in some cinnamon, nutmeg or cardamom for more flavor. About 1/2 teaspoon of either spice is plenty. You can also add 2 teaspoons freshly grated ginger or lemon zest for a more prominent flavor.
Try a graham cracker crust to complement the berry flavors. Whisk together 1 1/2 cups graham cracker crumbs, 1/4 cup sugar and 1/3 cup melted butter. Press into pie plate and bake at 375 F for 8 to 10 minutes. Cool before adding the filling.
If you want a crumble topping, whisk together 3/4 cup flour, 1/2 cup rolled oats, 1/3 cup brown sugar, 1/3 cup granulated sugar and 1/2 teaspoon cinnamon. Cut in 1/2 cup cold, unsalted butter until crumble form. Sprinkle on top of the berry filling right before putting it in the oven.
Serve with your favorite topping! A simple dollop of whipped cream goes a long way. Of course, vanilla ice cream is always a crowd favorite! A sprinkle of chopped nuts on the ice cream is a nice addition too.
How to Make Triple Berry Pie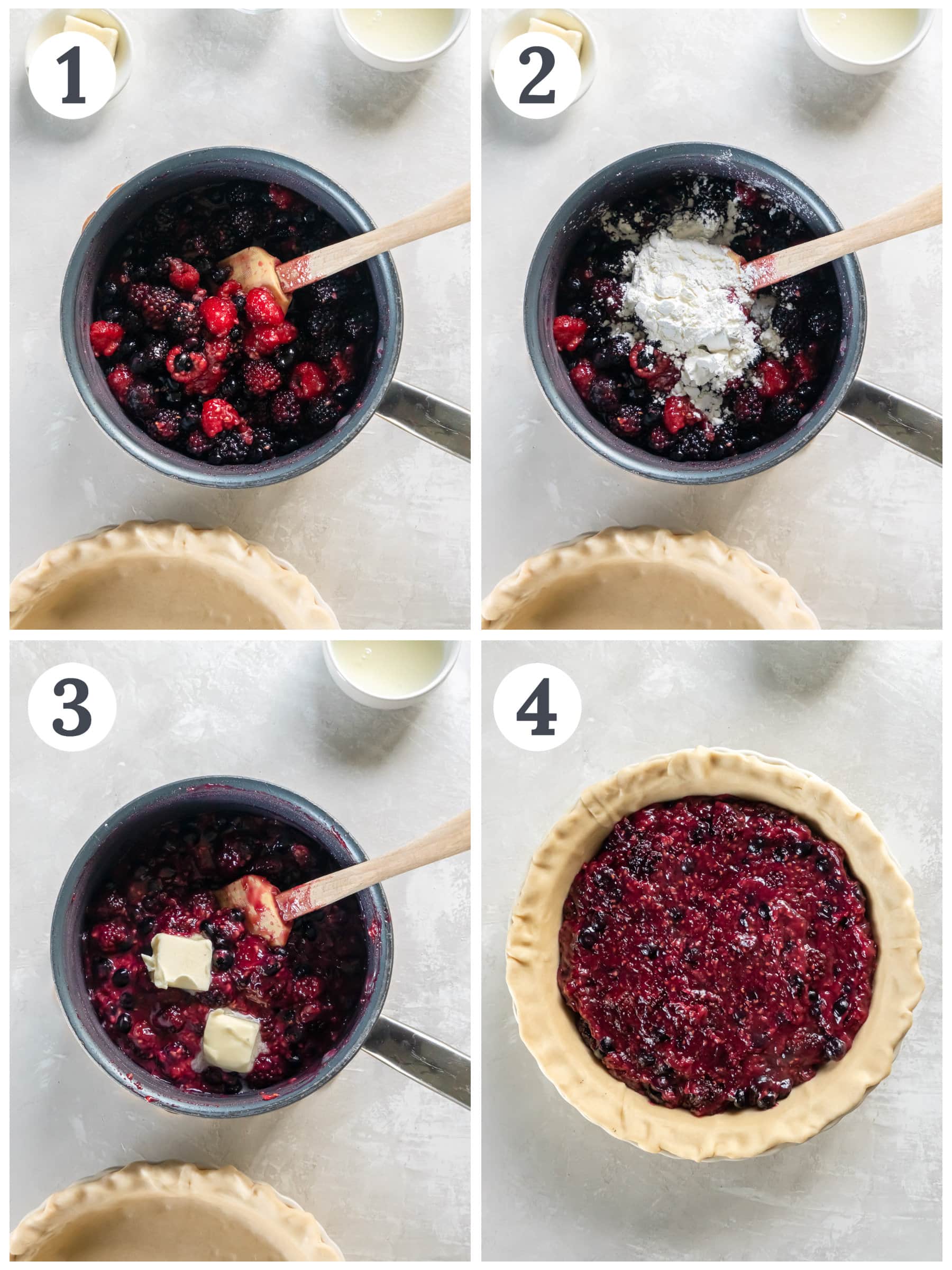 Cook berries: Toss raspberries, blueberries and blackberries with sugar and lemon juice until evenly coated. In a medium sauce pan, warm berries over medium heat. Simmer for 5 to 10 minutes.
Thicken filling: Stir in cornstarch and simmer for 5 more minutes. If the filling doesn't thicken, sprinkle in a little more cornstarch.
Remove the pan from the heat and stir in butter. Let mixture cool for 15 minutes.
Pour into pie shell: Pour filling into prepared crust.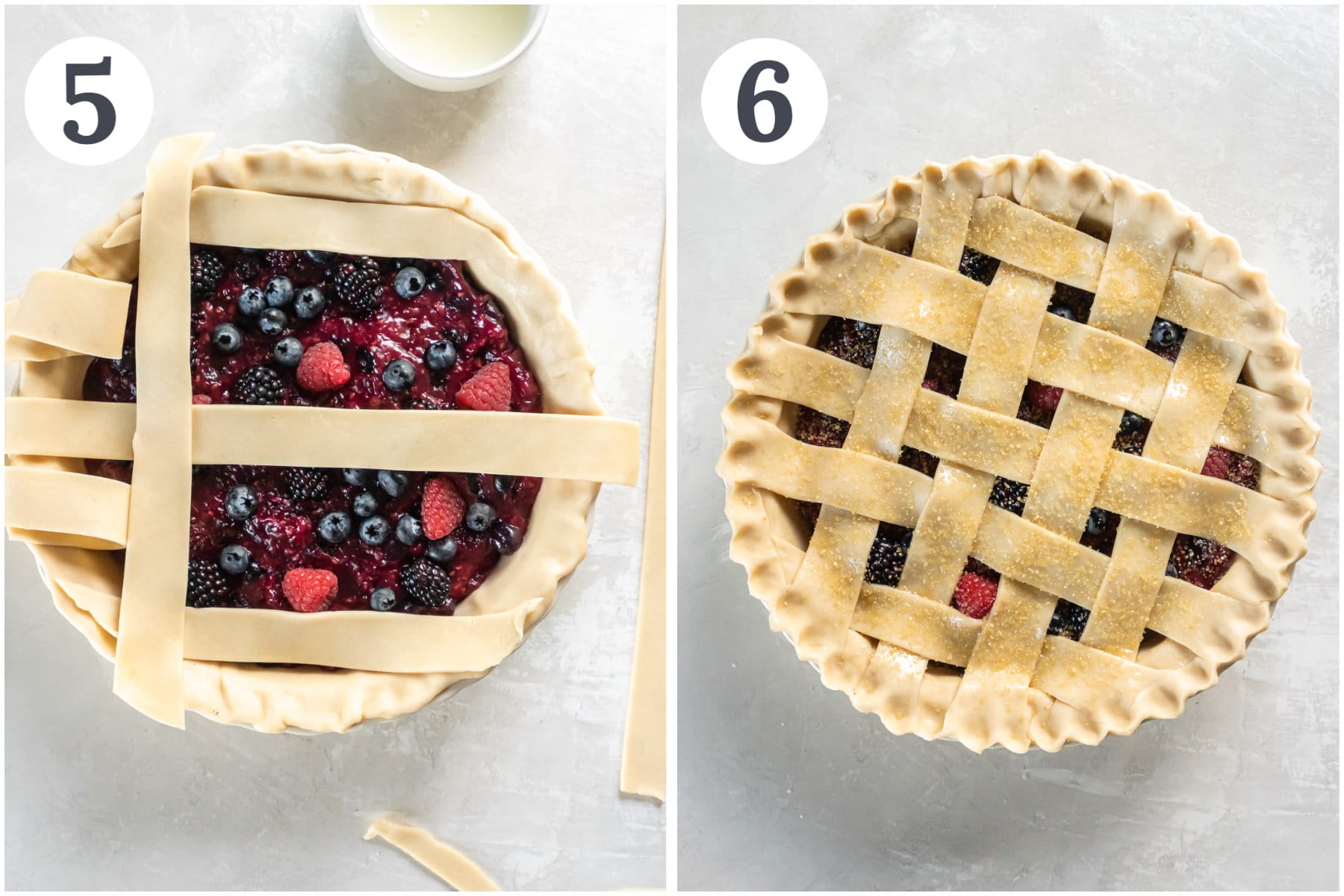 Add lattice top or simply put second pie crust on top with a few slits to remove steam. Crimp the edges. Add egg wash:

Brush beaten egg white on top crust and sprinkle sugar over the crust as well (this adds a pretty finish).

Bake the pie

at 400° F for 40 to 45 minutes total. After 25 minutes place aluminum foil over the pie to prevent the crust from burning. The pie is done when the juices are bubbling. Cool completely before serving.
Expert Tips
Choose ripe berries that are in season. This will provide the most flavor! Alternatively, you can use frozen berries. Thaw them just slightly, about 10 minutes, before using in the recipe.
Be gentle with the filling. Stir slowly and carefully so you don't crush the berries! It's also important to keep a close eye on the consistency. You want the mixture to thicken, but not burn. Adjust the cornstarch as necessary, but keep in mix too much will create a gummy texture.
Keep the crust in the refrigerator until ready to use. The dough has to be cold in order for it to be flaky.
Check on the pie half way through baking. If the top looks like it's baking too quickly, use a pie shield or sheet of aluminum foil to protect it from browning too much. It's done when the filling is bubbling and crust is golden brown.
Finally, let the pie cool completely! This is super important because it allows the filling to set and thicken. If you cut into the pie while it's still hot, the filling will lose its structure and spill out.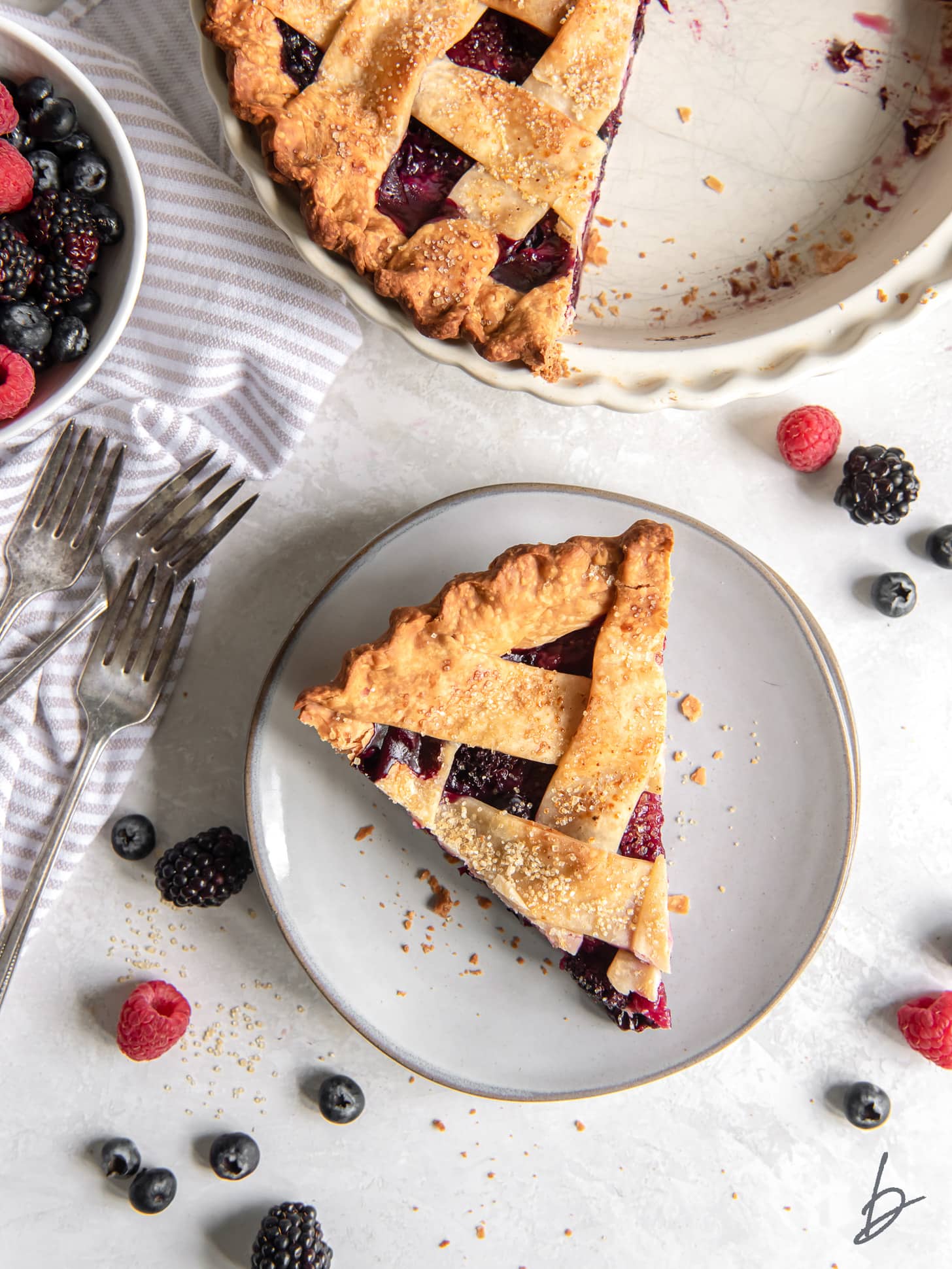 Make Ahead and Storage Tips
Make ahead: This pie can be made one day ahead of time and stored in the refrigerator (after it has cooled completely). Alternatively, you can make the filling and store it in an airtight container in the refrigerator for 3 days or in the freezer for 3 months. Bring to room temperature before assembling and baking the pie.
Freezing: Once the pie has cooled completely, wrap the whole dish in plastic wrap, then a layer of aluminum foil. Freeze for up to 3 months. Defrost in the refrigerator before cutting and serving.
Reheat: Preheat oven to 300 F. Place the pie in oven for 10 to 15 minutes or until heated through. If reheating from frozen, baking time will be 25 to 30 minutes. I suggest topping with aluminum foil to prevent browning.
Frequently Asked Questions
Can I use frozen berries?
Yes! Frozen berries work in this recipe. Let the berries sit at room temperature for 10 minutes before following the recipe. You do not need to thaw completely or discard the juices.
Can I use different types of berries?
Yes, I have used strawberries in this recipe and it worked great! Cherries would also be a good choice. Keep the same ratio of berries (2 cups each of 3 types of berries).
Can I make the filling without cornstarch?
Yes, you can use flour instead. Other options include tapioca starch and arrowroot powder, but the measurements may vary depending on the strength of the powder.
How do you make a berry pie not soggy?
A thickener, like cornstarch, helps bind the ingredients. You can also use this trick my mom shared with me: Bake the pie in a hot cast iron pan. The heat of the pan will cook the bottom so the crust isn't soggy.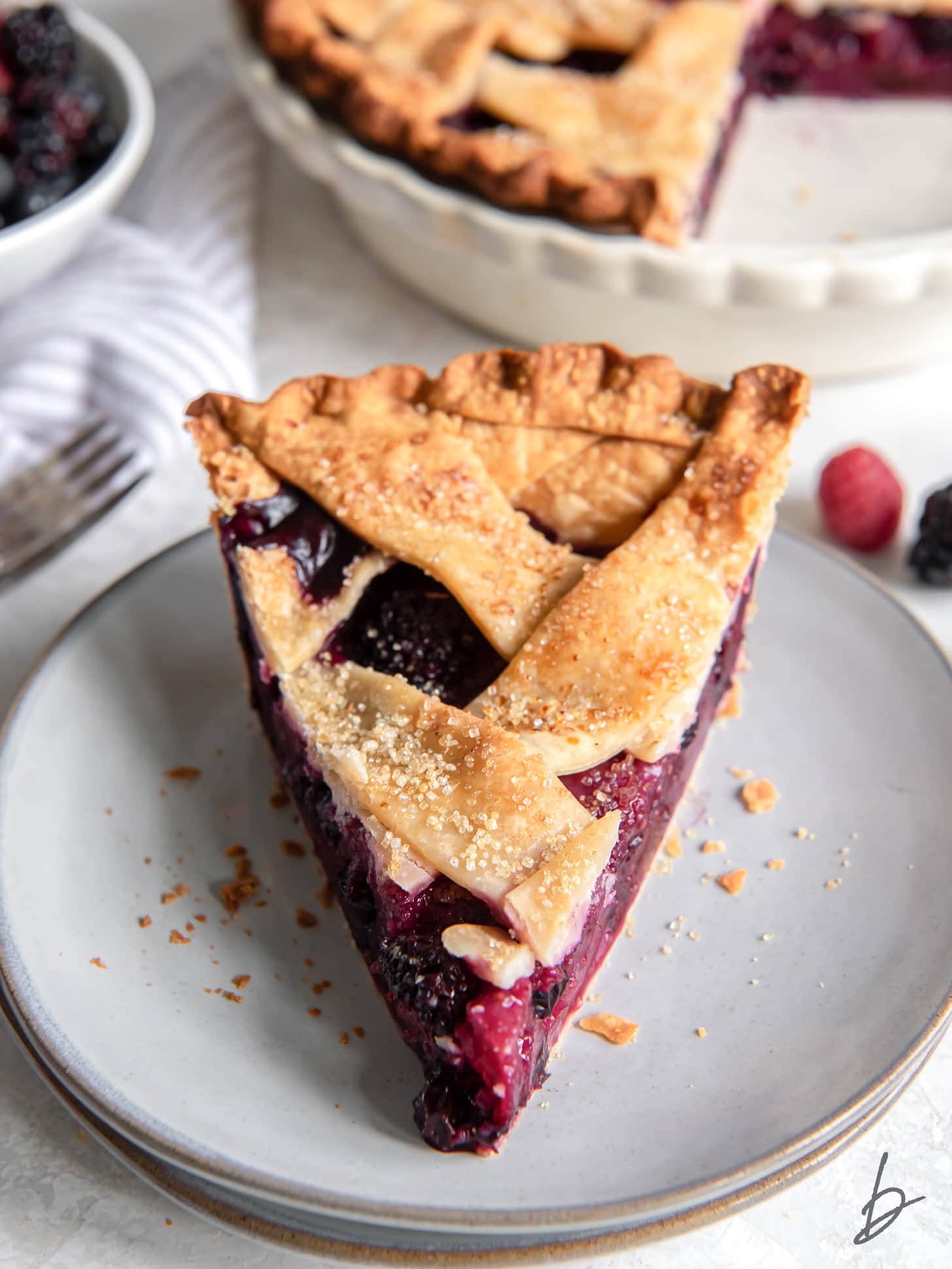 Related recipes
Whether you're making a summer pie or preparing for Thanksgiving, I have a few recipes for you to try!
Did you love this recipe? Please leave a 5-star 🌟🌟🌟🌟🌟 rating in the recipe card below and if you REALLY loved it, consider leaving a comment further down the page.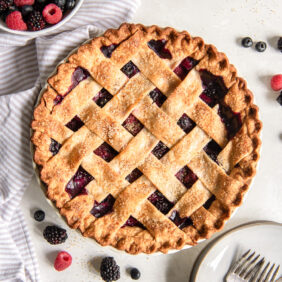 Get the Recipe:
Triple Berry Pie
Triple berry pie is made with fresh summer berries and a flaky homemade crust. The filling uses raspberries, blueberries and blackberries for flavorful dessert!
Ingredients
Homemade Pie Crust
2 ½

cups

(312 g) unbleached all-purpose flour

2

tablespoons

granulated sugar

1

teaspoon

salt

⅔

cup

(126 g) shortening

,

chilled

6

tablespoons

(85 g) cold unsalted butter, cut into 1/2-inch cubes

4-6

tablespoons

ice cold water
Triple Berry Filling
2

cups

(250 g) fresh raspberries

2

cups

(200 g) fresh blueberries

2

cups

(280 g) fresh blackberries

⅔

cup

to 3/4 cup (133 – 150 g) granulated sugar

,

plus extra for sprinkling on top

1

tablespoon

fresh lemon juice

4 to 5

tablespoons

cornstarch

2

tablespoons

unsalted butter

1

egg white beaten with a fork
Instructions 
Homemade Pie Crust
In a large bowl, whisk together flour, salt and sugar.

Add the chilled shortening and using a pastry cutter, or two forks, cut the shortening into the flour mixture until it resembles coarse sand. Ddd the cold butter cubes and use the pastry blender, or two forks, to cut the butter into the mixture until it resembles coarse crumbs, with bits about the size of small peas. If there are a few larger bits, no worries, that bite of pie will be extra good.

Sprinkle the ice-cold water, one tablespoon at a time, into the bowl. With a rubber spatula, use a folding motion to mix. Once large clumps start to form, do not add any more water. I typically use about 4 tablespoons.

With your hands, form the dough into a large ball and transfer to a lightly floured work surface. Divide the dough into two equally-sized disks. Wrap tightly in plastic wrap and refrigerate for at least 1 hour, or up to 2 days, before rolling.

Sprinkle flour on the counter and roll out one dough. If the dough was kept in the refrigerator longer than 1 hour, wait 5 to 10 minutes until dough is malleable enough to roll. Roll the dough about 2 inches past the rim of a 9-inch pie pan.

Lay the crust in the pie pan and press down lightly on the bottom and up the sides of the pan. Roll out the other crust and set on a separate plate. Place both crusts in the refrigerator while you make the pie filling.
Triple Berry Pie Filling
Place berries, sugar and lemon juice in a large saucepan over medium heat. Simmer, until warm and juicy, about 5 to 10 minutes, stirring occasionally.

Gently stir 4 tablespoons cornstarch into berries and simmer until thickened, about 5 minutes. If the mixture is still runny, add another tablespoon of cornstarch and simmer for 1 minute longer. You want the berry mixture to be slightly thick.

Remove from heat and stir in the butter. Let filling cool for 15 minutes (it will thicken a bit more).

Remove pie plate from the refrigerator and pour warm berry mixture into unbaked pie shell. I like to add a few fresh berries on top for appearance. Use second pie crust to make a lattice top. Alternatively, layer a full crust on top and add slits to let steam escape. Crimp the crust edges. 

Brush a thin layer of beaten egg white over the top of the pie and sprinkle lightly with sugar.

Bake at 400° F for 40 to 45 minutes. Check pie after about 20 minutes and place a piece of aluminum foil loosely over the top to prevent the crust from burning.

Remove pie to a wire cooling rack and allow to cool. Once cooled completely, cut into slices and serve.
Notes
My homemade pie crust recipe includes step-by-step photos and tips, which you may find helpful if this is your first time making pie crust from scratch.
Frozen berries may be used in place of fresh berries. You may need a little more cornstarch to thicken the filling.
Sugar: Taste your berries before cooking. If they are extra sweet, then reduce sugar to 2/3 cup. If they are on the tart side, I suggest using 3/4 cup.
Storage tips: Once cooled, store pie in the refrigerator for up to 3 days.
Freezing instructions: Once cooled, cover the entire pie and the plate with a layer of plastic wrap as well as aluminum foil to prevent freezer burn. Freeze the pie for up to 3 months. Uncover and defrost in the refrigerator before serving.
Serving:
1
slice
,
Calories:
431
kcal
,
Carbohydrates:
59
g
,
Protein:
5
g
,
Fat:
20
g
,
Saturated Fat:
8
g
,
Cholesterol:
24
mg
,
Sodium:
242
mg
,
Potassium:
151
mg
,
Fiber:
5
g
,
Sugar:
23
g
,
Vitamin A:
365
IU
,
Vitamin C:
16
mg
,
Calcium:
24
mg
,
Iron:
2
mg