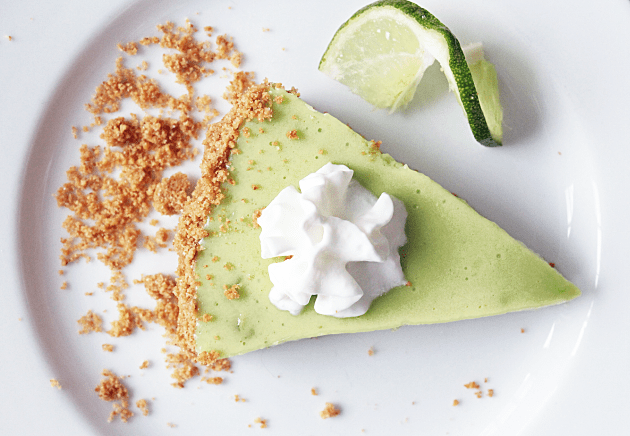 Pi Day: π ≈ 3.1415 = 3/14/15 = March 14, 2015. Of course this means every baker uses pi day as a reason to bake a pie and I am no exception. Today I chose a key lime pie (pretty close to perfect) with a graham cracker crust (which could use some perfecting).
Ok, so the crust needs a little tweaking. I think there could be a little extra butter to help hold it together. I also think the standard pie plate I used was too large/sides were too high for the amount of filling so you can adjust the recipe accordingly. I suggest using a smaller pan or not pressing the crust all the way up the side of the pie plate.
With that said, I would like to get a little nerdy up in here considering it is Pi Day. I always wondered how key lime pie filling gets that gelatin-like texture/consistency with it simply consisting of egg yolks, lime juice and sweetened condensed milk. Turns out the acidity in the lime juice causes the protein in both the egg yolks and sweetened condensed milk to coil up and bond together. It is vital to use sweetened condensed milk (as opposed to regular milk) because it has a lower moisture content and is thick enough to stiffen into sliceable filling. #themoreyouknow
So here's to learning more on Pi Day 2015. Try out the recipe and enjoy some key lime pie!

Key Lime Pie with a Graham Cracker Crust
Total Time
1
hour
15
minutes
Ingredients
Graham Cracker Crust
8

full graham crackers

processed to fine crumbs (1 cup)

2

tablespoons

granulated sugar

5

tablespoons

unsalted butter

melted and warm
Lime Filling
4

teaspoons

grated zest plus 1/2 cup strained juice from 3 to 4 key limes

4

large egg yolks

1 14-

ounce

can sweetened condensed milk
Whipped Cream Topping
3/4

cup

heavy cream

1/4

cup

confectioners' sugar

1/2

key lime

sliced paper thin and dipped in sugar (optional)
Instructions
For the crust
Adjust oven rack to center position and heat oven to 325° F. In a food processor, pulverize graham crackers until evenly fine. Add sugar and pulse a couple times until combined. Continue to pulse while adding warm, melted butter in a steady stream; pulse until the mixture resembles wet sand. Transfer the crumbs to a 9-inch pie plate and evenly press the crumbs into the pie plate. Bake the crust until it is fragrant and beginning to brown, 15 to 18 minutes. Transfer to a wire rack and cool completely.
For the filling
Whisk zest and yolks in medium bowl until tinted light green, about 2 minutes. Beat in milk, then juice; set aside at room temperature to thicken, about 30 minutes.

Pour lime filling into crust and bake until center is set, yet wiggly when jiggled, 15 to 17 minutes. Return pie to wire rack and cool to room temperature. Refrigerate until well chilled, at least three hours.
For the whipped cream
Up to 2 hours before serving, whip cream in medium bowl to very soft peaks. Adding confectioners' sugar 1 tablespoon at a time. Continue whipping to until stiff peaks form. Decoratively pipe whipped cream over filling or spread evenly with rubber spatula. Garnish with optional sugared lime slices and serve.
Recipe Notes
Pie can be covered with lightly oiled or oil-sprayed plastic wrap laid directly on filling and refrigerated up to one day.
Recipe from
Baking Illustrated.