Key Lime Pie Bars
This post may contain affiliate sales links. Please see my
privacy policy
for details.
Key lime pie bars are made with graham cracker crust and a zesty creamy key lime custard. These bars are easy to make and full of flavor!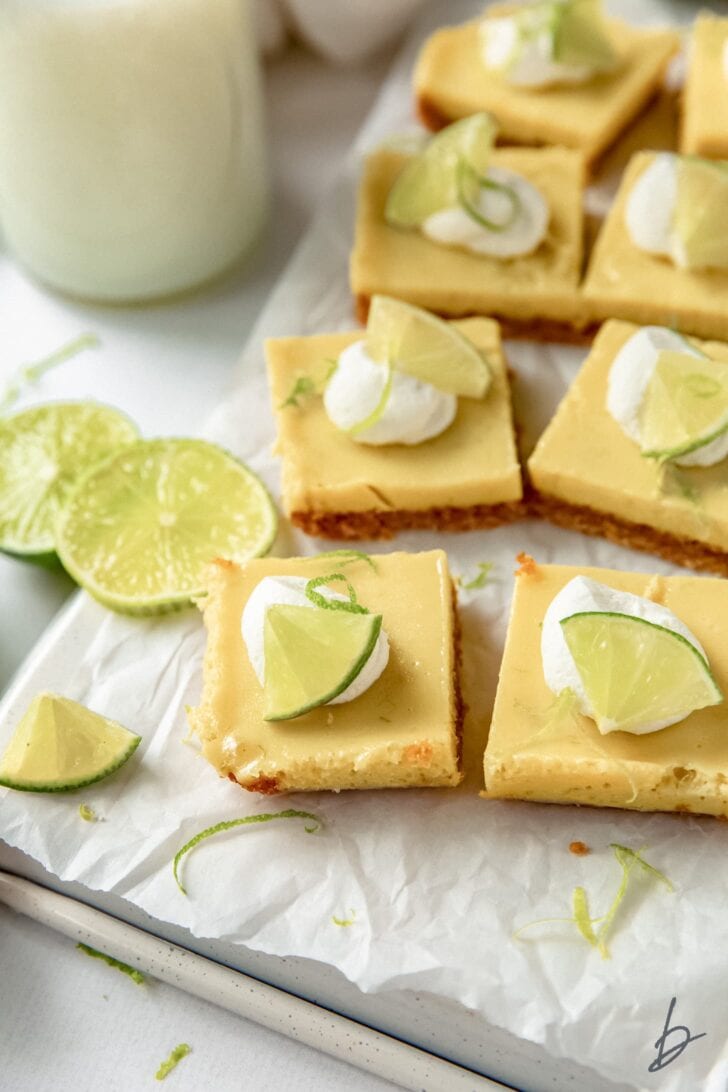 Key lime pie bars are such a simple, yet flavorful dessert bar. I love the contrast of zesty lime custard against a buttery graham cracker crust. Each bite has a kick of flavor with just the right amount of sweet and tart flavor.
Why this recipe works: This is an adaptation of my authentic key lime pie recipe. Is has a soft, but sturdy graham cracker crust with a creamy, zesty key lime filling. The crust requires only 3 ingredients and the filling only has 4 ingredients!
Overview: How to make key lime pie bars
Preheat oven to 325° F. Prepare an 8-inch square baking pan.
Make the graham cracker crust: In a food processor, crush graham crackers, then add sugar until combined. Finally add melted butter and pulse until absorbed. Press mixture into prepared pan and bake for 15 minutes.
Make key lime filling: Whisk egg yolks and zest together. Stir in sweetened condensed milk, then the key lime juice. Let mixture sit for 30 minutes, then pour filling over crust.
Bake bars: Bake for 15 minutes until center is set. Cool completely, then chill for at least 3 hours. Cut and garnish with whipped cream and lime slices.
Don't have a food processor? You can also crush the graham crackers in a zip-top bag, then combine the crumbs with sugar and melted butter in a mixing bowl.
Key lime pie bars are the perfect treat to serve on warmer days. The chilled zesty lime filling is rich and creamy, which makes this dessert very refreshing. Be sure to use my homemade whipped cream recipe as garnish on top! If you tried this recipe, leave a review below and tag @ifyougiveablondeakitchen on social media!