Step up your ice cream game with s'mores dipped cones made with marshmallow creme, melted chocolate and crushed graham crackers. A delicious summer treat!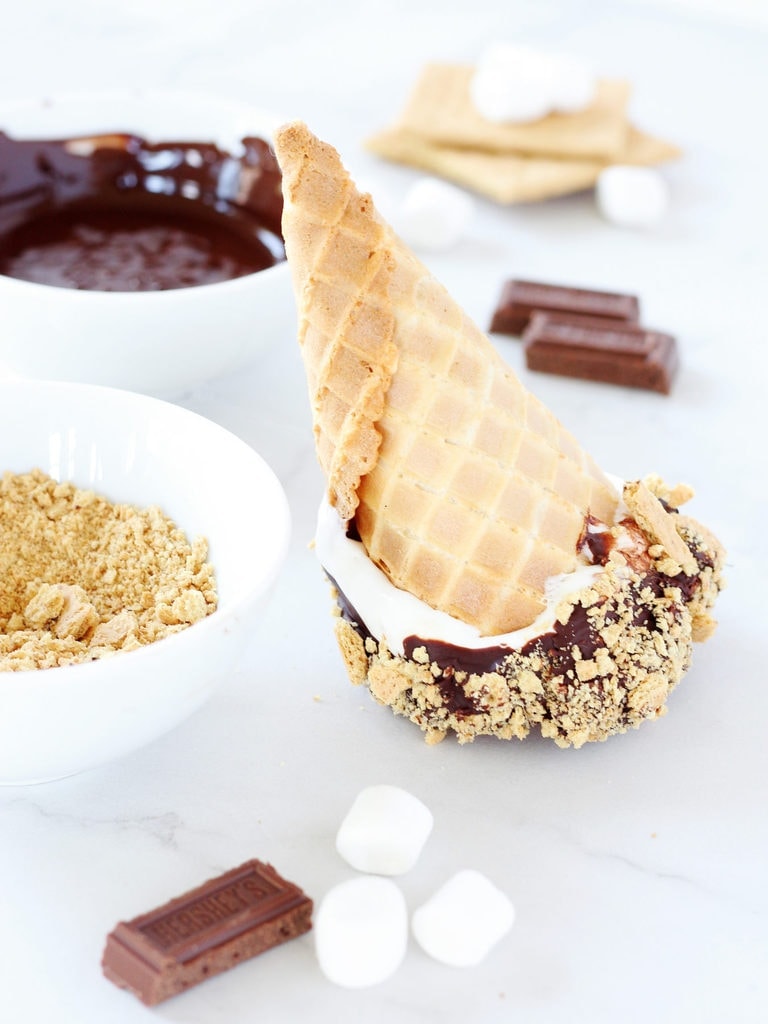 Summer's favorite treat.. s'mores! With so many variations for this campfire treat, it's difficult to choose which one to try next. The heat wave inspired me to up my ice cream cone game and make s'mores dipped cones.
Some ice cream shops have chocolate dipped cones with sprinkles on it, which is nice and all, but why not make those waffle cones even better?
Yep, let's layer on some marshmallow creme and graham cracker bits.
It's a s'mores on an ice cream cone! Two of summer's favorite desserts in one and it's so easy to make. Four ingredients and 15 minutes is all you need.
Step one: Get some waffle cones. Step two: Melt your marshmallow creme in one bowl, chocolate in another, and put some crushed graham cracker pieces into a third bowl. Step three: Dip your cone in the marshmallow creme and wait a few minutes to set. Stick the dipped cone in the melted chocolate and then into the crushed graham cracker.
There you have it. S'mores dipped cones ready to eat with your favorite ice cream! Mine happens to be Tipsy Scoop's Spiked S'mores 😉
S'mores dipped cones are so easy I made a gif of each step. And I may or may not have eaten that cone immediately after photographing it. It is very difficult for me to resist s'mores anything. Especially when I put s'mores ice cream inside a s'mores dipped cone.
Aaaaand… It was also 11 a.m. when I made this. As Michael Scott once said, "It's never too early for ice cream, Jim."

S'mores Dipped Cones
Ingredients
4

waffle cones

3/4

cup

mini marshmallows

3/4

cup

semisweet chocolate chips

1/2

cup

crushed graham crackers
Instructions
Place marshmallows in a microwave safe bowl and add 1 teaspoon of water. Microwave on high in intervals of 15 seconds, stirring between each time, until marshmallows are melted and smooth.

Take one waffle cone and dip it into the marshmallow creme, rim side down, until the top 1 1/2-inch of the cone is covered. Place cone onto a greased baking sheet (or an

ice cream cone holder

) and allow to set for about 10 minutes or until marshmallows have become firm. Repeat with remaining cones.*

Place chocolate chips in a microwave safe bowl and microwave on medium-high for about 1 minute to start. Remove from the microwave and stir. Repeat heating at shorter intervals, 15 seconds, stirring in between, until the chocolate is completely melted and has a smooth consistency.

Dip cones, marshmallow side down, into melted chocolate and then into crushed graham crackers. Leave a small amount of marshmallow showing on the cone. Transfer to baking sheet to allow chocolate to harden.

Once the cones are set, add scoops of your favorite ice cream and enjoy!
Recipe Notes
*Speed up the process by letting the marshmallow cream layer set in the freezer for 3-5 minutes.
Tip for melting chocolate
here
!
Inspired by Jelly Toast Blog.