S'mores Truffles
This post may contain affiliate sales links. Please see my
privacy policy
for details.
S'mores truffles are no-bake summertime treats made with crushed graham crackers, marshmallow fluff, melted chocolate and a mini marshmallow hiding inside!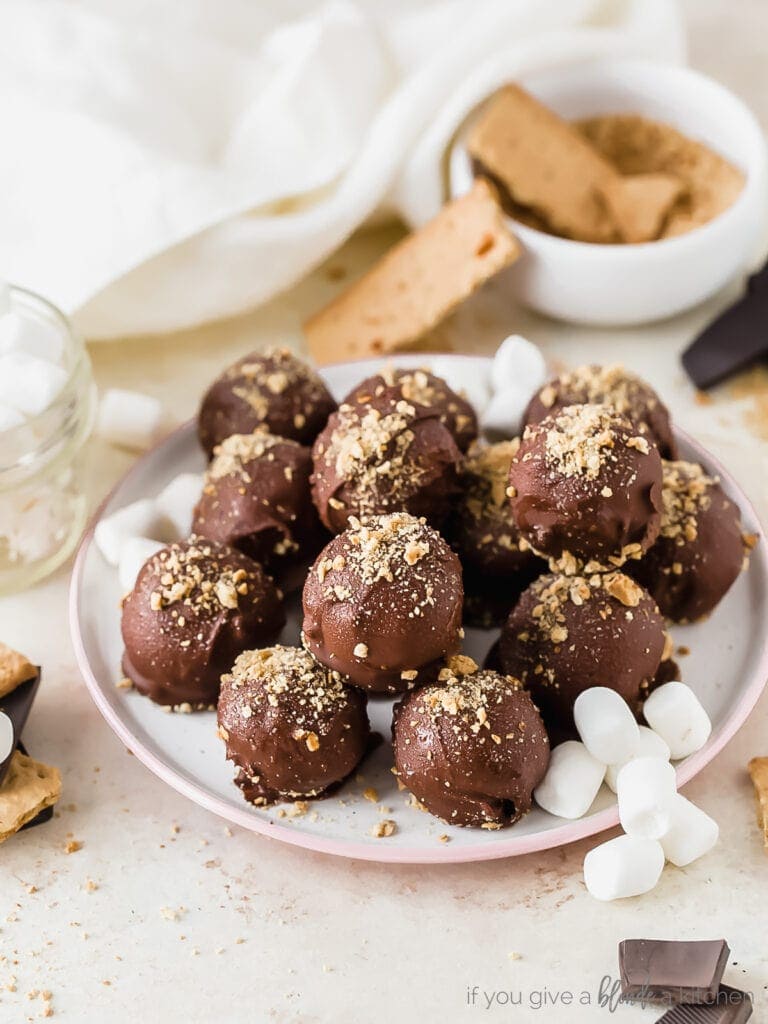 Summer wouldn't be complete without s'mores, right? The campfire treat is reimagined in truffle form for my next no-bake dessert. A mini marshmallow is wrapped up in a crushed graham crackers and marshmallow fluff then coated in a chocolate shell. Everything s'mores offer, but in a bite-sized truffle!
Why this recipe works: It includes all three s'mores ingredients. It's no bake and easy to make by hand. Truffles aren't as messy as s'mores, but taste just as good!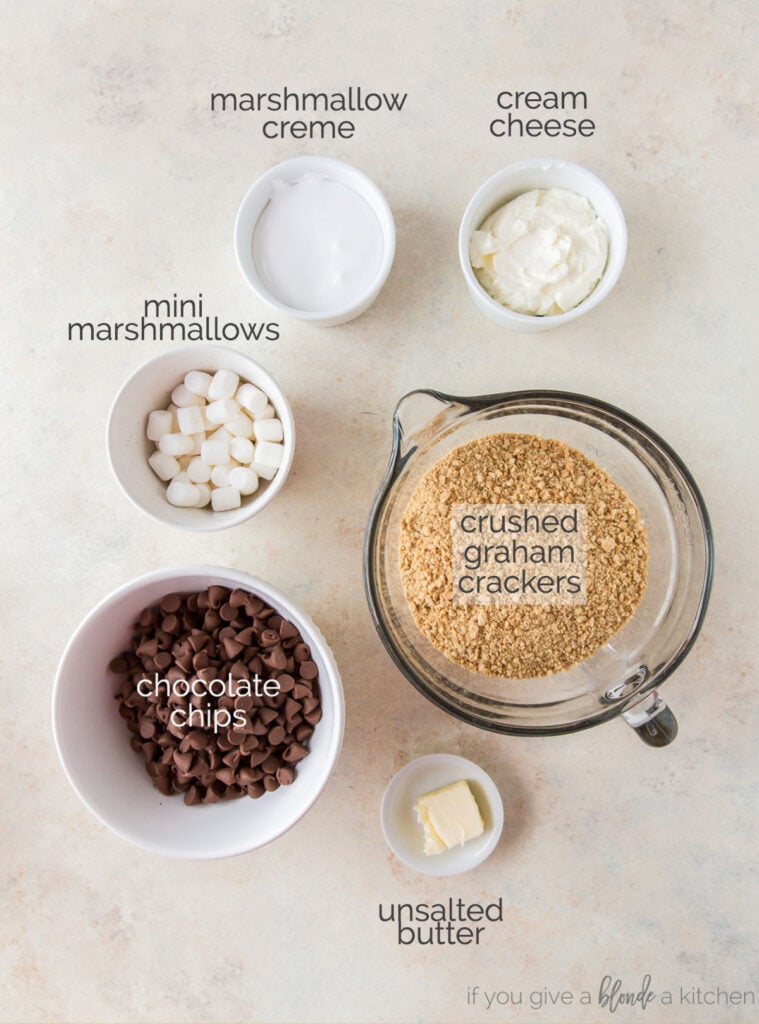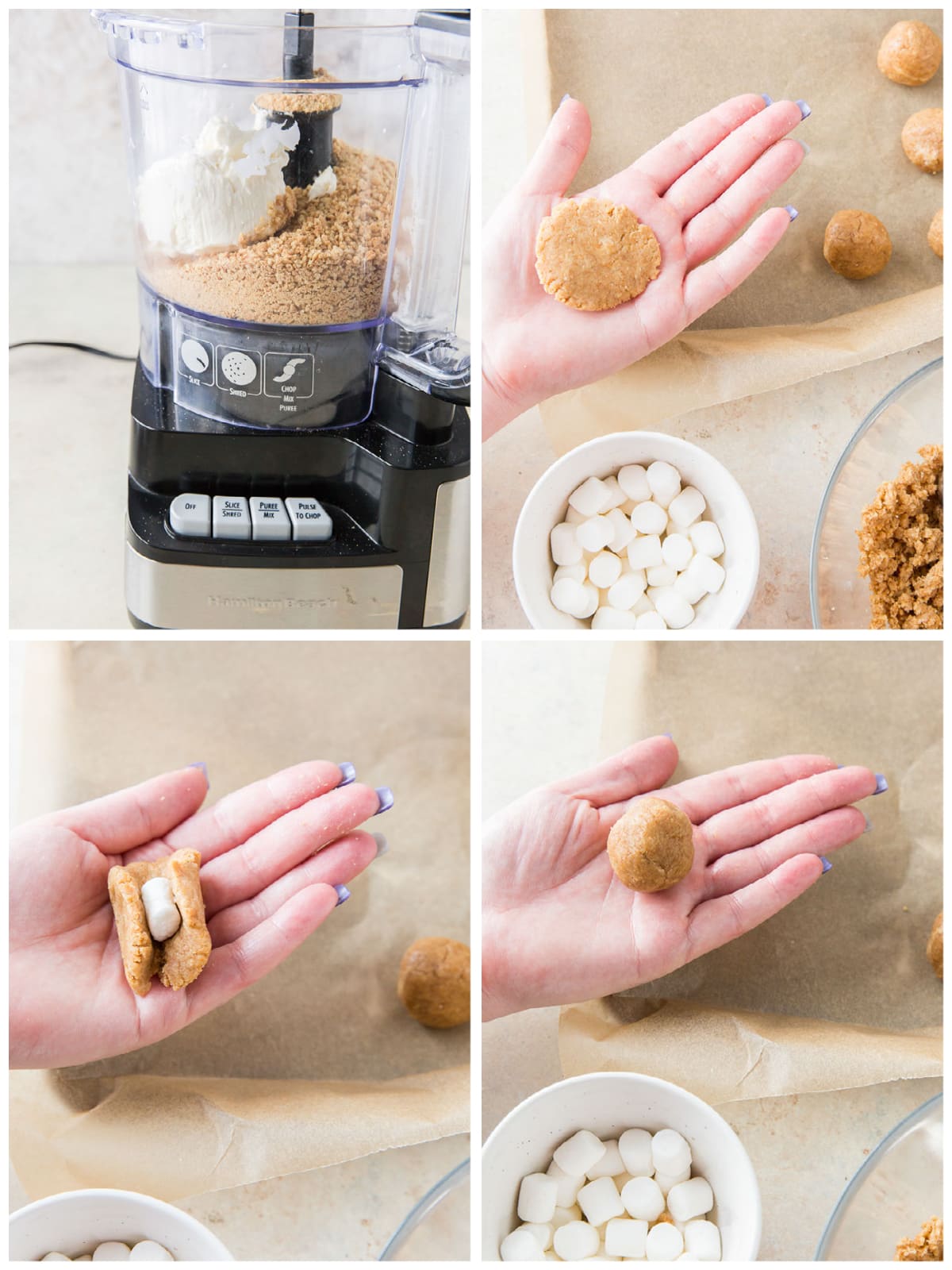 Overview: How to make smores truffles
Make graham cracker dough: Crush graham crackers in a food processor. Add cream cheese and marshmallow creme and pulse until combined.
Shape truffles: Take about a tablespoon of dough and press into a flat disc. Place mini marshmallow in the center and fold up the dough to envelope the marshmallow.
Chill truffles: Place truffles on a parchment lined baking sheet. Chill in the freezer for 20 minutes.
Dip truffles: Melt chocolate in the microwave at 50% power level until melted. Dip chilled truffles in chocolate and immediately sprinkle with additional crushed graham crackers.
No food processor? You can make these truffles by hand. Use a spoon or measuring cup to crush graham crackers in a sealed ziplock bag. In a bowl, stir together graham cracker crumbs, cream cheese and marshmallow creme.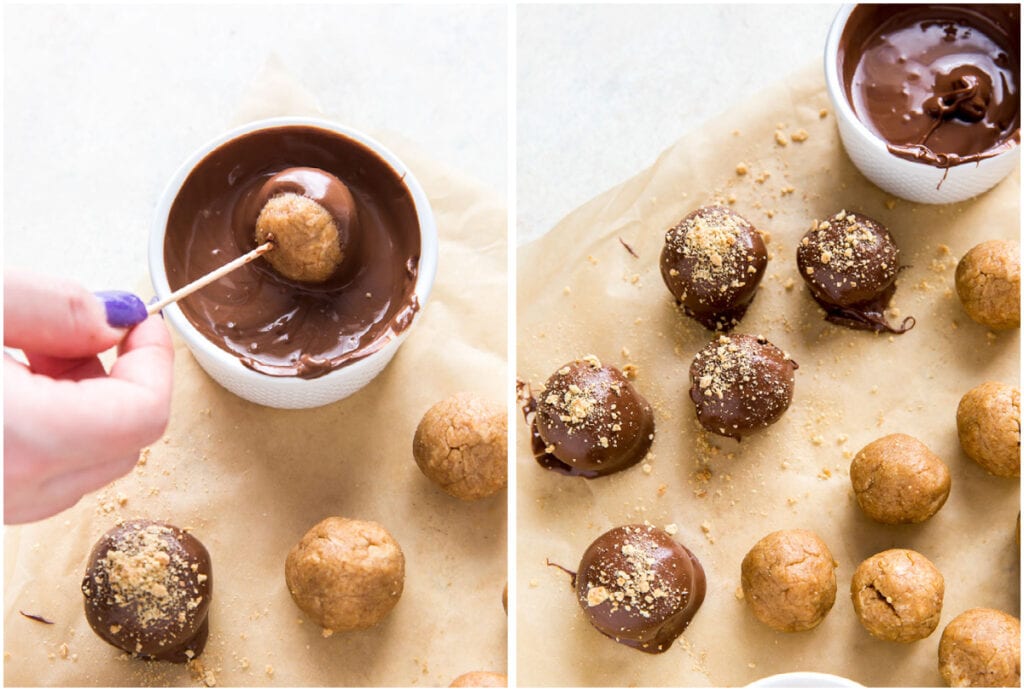 How to dip truffles in chocolate
There are few tricks to dipping truffles in chocolate. I like to chill truffles in the freezer for 10 minutes before dipping them. This helps them hold their shape and the chocolate to harden a little more quickly. Second, be sure to melt chocolate evenly (I have a full post with tips to melt chocolate).
Use proper tools to dip the truffles. You can use either a toothpick as shown above or dipping tools like I did for my Oreo truffles. Remove excess chocolate by gently tap the truffle on the side of the bowl. I like to have a second toothpick nearby the scrape off the bottom. Immediately garnish with more crushed graham crackers before the chocolate hardens!​​​​​​​
Related recipes
S'mores lends itself well to baking. There are various ways you can incorporate graham crackers, marshmallows and chocolate into baking! My favorite was is with these rich s'mores bars. It has marshmallow creme and chocolate bars sandwiched between layers of graham cracker dough. Another popular recipe is for s'mores cookies with mini marshmallows and graham cracker bits.
If you want to make s'mores, but don't have a campfire, try this easy s'mores dip. Add chocolate and marshmallows to a cast iron skillet, bake and dip with graham crackers!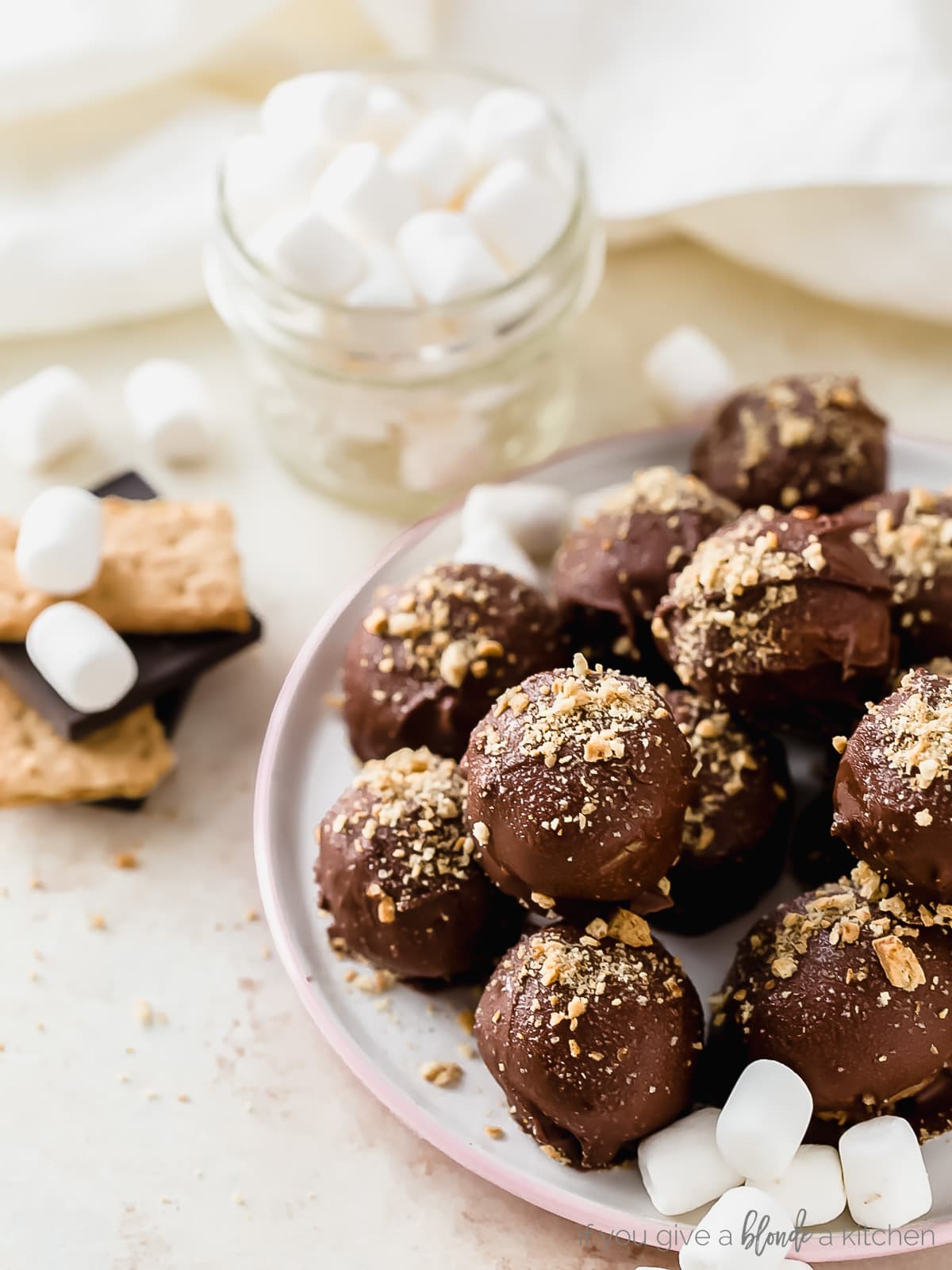 Perhaps my favorite part of these truffles is the mini marshmallow hiding inside of them. How fun is it to crack the chocolate shell with your teeth, bite through the graham cracker dough and into a fluffy little marshmallow? It's a delightful surprise within a delicious treat!
So when you don't have a bonfire going or just want a summertime treat to pop in your mouth, then these s'mores truffles are just what you need. If you try this recipe tag @ifyougiveablondeakitchen on social media and I will share my favorites!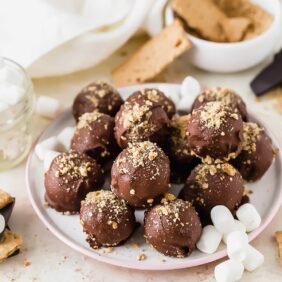 Get the Recipe:
S'mores Truffles
S'mores truffles are no-bake summertime treats made with crushed graham crackers, marshmallow fluff, melted chocolate and a mini marshmallow hiding inside!

Ingredients
18

whole graham crackers

½

cup

(4 ounces) cream cheese,

,

room temperature

½

cup

(4 ounces) marshmallow fluff

½

cup

mini marshmallows

2

cups

milk chocolate chips

1

teaspoon

shortening*

Extra graham cracker crumbs for sprinkling
Instructions 
Line a baking sheet with parchment paper and set aside.

Add graham crackers to the bowl of a food processor or blender and process until they become very fine crumbs. Add cream cheese and marshmallow fluff and continue processing until fully combined. Dough should be moist enough to hold together when you press it with warm hands. If it's too crumbly, add an additional tablespoon of cream cheese.

Using a tablespoon or mini cookie dough scoop, scoop out dough and flatten it between the palm of your hands. The disk will be about 2 1/2-inches in diameter. Place a mini marshmallow in the center and then fold the dough over the marshmallow and roll into a 1-inch ball. (Instructional video below). Place ball onto parchment-lined baking sheet and repeat until all the dough has been used up. Place in freezer for 20 minutes to set.

To prepare the chocolate coating, melt chocolate and shortening in the microwave or over a double broiler, stirring periodically to ensure no clumps remain. (See tips for melting chocolate here.)

Using a toothpick or fork, dip each ball into melted chocolate, gently tapping side of bowl to remove any excess. Place back onto parchment-lined baking sheet and immediately top with graham cracker crumbs. Repeat until all truffles have been coated.

Refrigerate for about 10 minutes, or until the chocolate has set. Store truffles in an airtight container in the fridge for up to 2 weeks, or freeze for up to 1 month.
Notes
*Coconut oil may be substituted here.
Serving:
1
truffle
,
Calories:
74
kcal
,
Carbohydrates:
11
g
,
Protein:
1
g
,
Fat:
3
g
,
Saturated Fat:
1
g
,
Cholesterol:
5
mg
,
Sodium:
85
mg
,
Potassium:
25
mg
,
Fiber:
1
g
,
Sugar:
5
g
,
Vitamin A:
64
IU
,
Calcium:
13
mg
,
Iron:
1
mg