Banana cinnamon muffins are easy to make from scratch and filled with cinnamon flavor. Try the recipe for breakfast or a snack on the go!
A simple muffin recipe can be taken up a notch with just a couple extra steps. These banana muffins do just that with the cinnamon sugar topping.
Cinnamon sugar has always been my favorite topping, especially when it comes to breakfast foods. When I was a kid, I used to put cinnamon sugar on my scrambled eggs.
I know, not too appetizing now. But I also put it on my cereal, toast and muffins in the morning!
When I got a craving for banana bread, I thought, why not make banana muffins and top them with cinnamon sugar? That's just what I did. I used a super moist banana bread recipe and adapted it to make muffins.
Any baker will know the key to flavorful, moist banana bread (and muffins) are extra ripe bananas. I'm talking brown spots galore. In fact, if that banana peel is almost black, use it.
I used two overripe bananas for this banana cinnamon muffin recipe and it was the perfect amount. It yielded a dozen moist muffins bursting with banana flavor.
Now here's the fun part—the cinnamon sugar topping. Each muffin is dipped in melted butter then rolled around in cinnamon sugar. It makes each bite all the more delicious.
It's basically a muffin trying to be a cupcake, but just can't find some frosting so butter and cinnamon sugar will have to do.
To make sure all the flavors come together, I added some cinnamon to the muffin batter. The recipe calls for just the right amount so you can still add plenty to the top of each muffin without the cinnamon flavor becoming overwhelming.
I like banana cinnamon muffins because they are super easy to make from scratch. Just add the dry ingredients to the wet ingredients and you have the muffin batter!
The recipe makes a dozen muffins, which I think is the perfect amount for breakfast with the family or a few friends who are in town. Homemade muffins in the morning will put a smile on anyone's face!
Tools to make banana cinnamon muffins…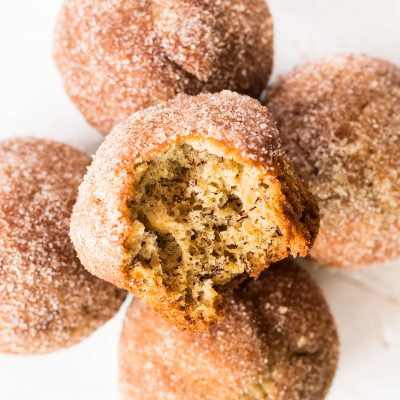 Ingredients
Muffins
1 2/3

cups

(208 g) all-purpose flour

1

teaspoon

baking soda

1/2

teaspoon

baking powder

1/2

teaspoon

ground cinnamon

1/2

teaspoon

salt

2/3

cup

(133 g) sugar

1/2

cup

(118 ml) vegetable oil

2

eggs

1

teaspoon

vanilla

2/3

cup

(200 g) mashed very ripe bananas,

2 small
Topping
1/4

cup

(50 g) sugar

1/2

teaspoon

ground cinnamon

1/4

cup

(56 g) unsalted butter,

melted
Instructions
Preheat oven to 375° F. Place paper baking cups in 12 regular-size muffin cups.¹

In a medium bowl, whisk together flour, baking soda, baking powder, salt and cinnamon. Set aside.

In a large bowl, mix 2/3 cup sugar, oil, eggs and vanilla with wire whisk. Stir in bananas. Add flour mixture and stir just until moistened. Divide batter evenly among muffin cups.²

Bake 17 to 21 minutes or until toothpick inserted in center comes out clean. Immediately remove from pan to cooling rack.

In small bowl, mix 1/4 cup sugar and 1/2 teaspoon cinnamon. Dip muffin tops into melted butter, then into cinnamon-sugar. Serve warm.³
Notes
Alternatively, you can spray the muffin pan with nonstick cooking spray. It's the perfect fix if you don't have paper liners.
I like using an ice cream scoop to evenly distribute batter to each muffin cup. It creates the perfect measurement!
Muffins are best served warm, however, they can be stored at room temperature for up to three days. I suggest toasting them and spreading with a little butter if they are a day or two old 🙂
If you like cinnamon banana muffins, try these recipes…