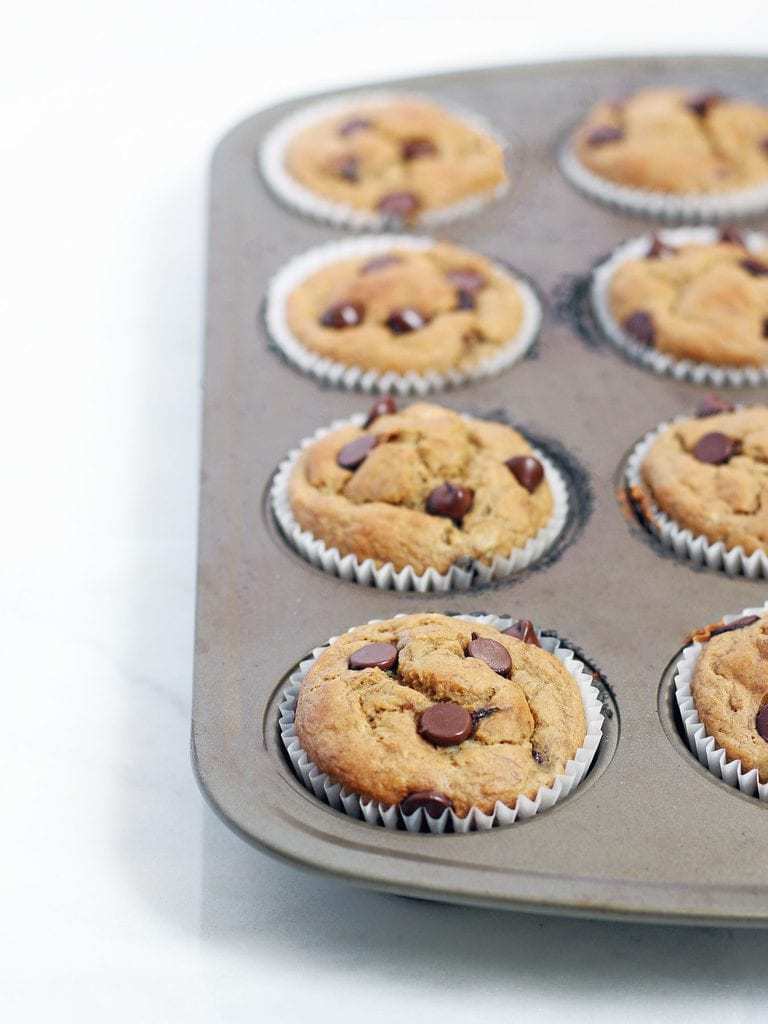 I'm adding to my repertoire of lighter baking recipes today with healthy banana chocolate chip muffins. You will find no butter or added sugar in these muffins, but they still taste pretty darn good!
Honestly, I probably owe it to the bananas that made these muffins taste so good. The recipe calls for three bananas, which divided among 12 muffins is a generous amount. That and a few chocolate chips sprinkled in have me reaching for a muffin every morning!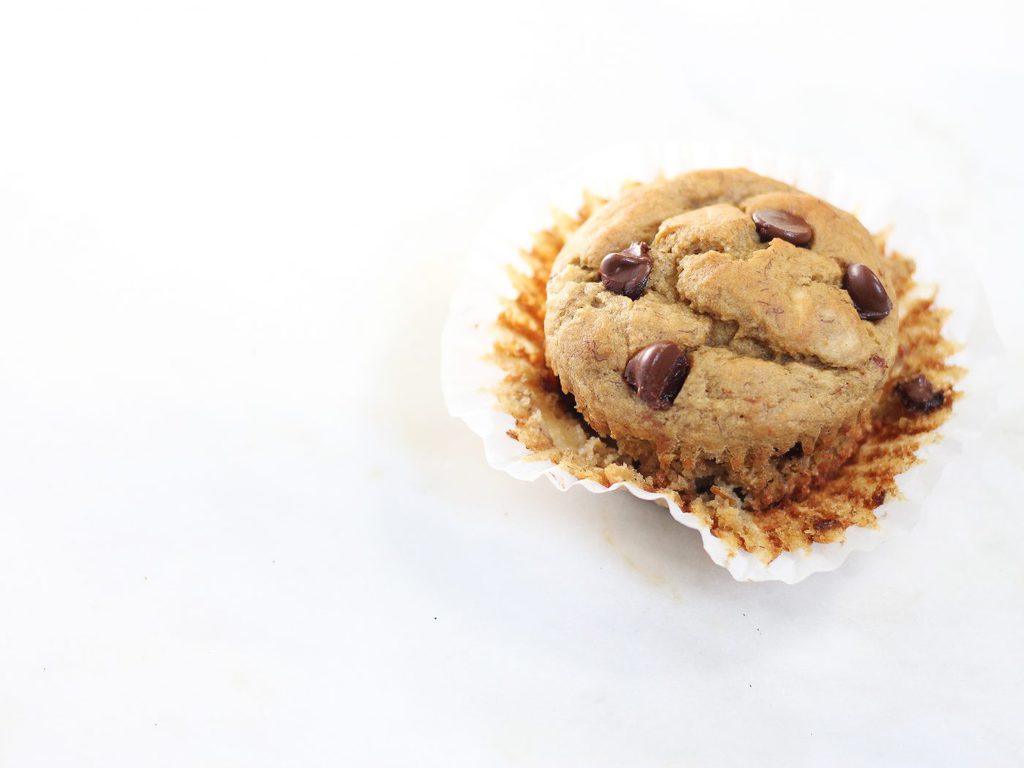 The key to nice and moist banana muffins are ripe bananas. Even the man who sold me the bananas at the produce cart around the corner from my apartment knows that! "I never eat the yellow bananas, always the ones with the brown spots." Side note: I only buy fruits and veggies with thick skins from the NYC food carts—bananas, avocado, oranges, etc.
So with ripe bananas on hand, these healthy banana chocolate chip muffins are ready to be made. Whisk up the dry ingredients (I added a touch of cinnamon for some subtle flavor) and set aside. Then blend the wet ingredients on high speed until nice and creamy. Mix together the wet ingredients and the dry ingredients just until combined. Stir in chocolate chips, scoop into a prepared muffin tin and into the oven they go!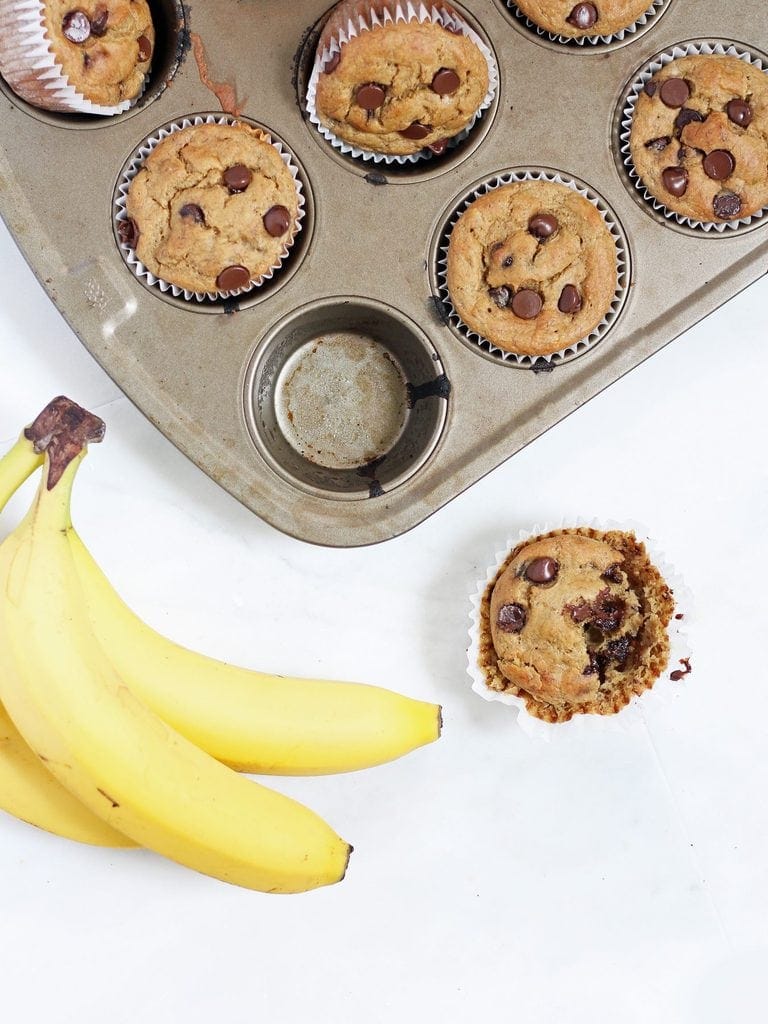 When these healthy banana chocolate chip muffins come out of the oven you're going to want to eat one right away. I hate waiting for baked goods to cool down, but I also hate when when I burn my tongue and my tastebuds are out of commission for the rest of the day.
After 10 minutes of cooling, try a muffin. They are still warm and the chocolate chips are nice and melted. When I'm running out the door in the morning I pop one in the microwave for 10 seconds and they're just as if they came out of the oven!

Ingredients
1 1/2

cups

oat flour*

1

teaspoon

baking soda

1/2

teaspoon

baking powder

1/4

teaspoon

salt

1/2

teaspoon

ground cinnamon

optional

3

bananas

about 1 1/2 cups chopped

1/4

cup

honey

1

tablespoon

vanilla

1

tablespoon

olive or coconut oil

1

egg

1/2

cup

nonfat plain greek yogurt

1

tablespoon

unsweetened almond milk

1/2

cup

chocolate chips
Instructions
Preheat oven to 350° F. Prepare a 12-cup muffin tin with paper liners.

In a medium bowl, whisk together flour, baking soda, baking powder, salt and cinnamon. Set aside.

In a large bowl, mix together the bananas, honey, vanilla, oil, egg, milk and yogurt on medium-high for 1-2 minutes or until well combined, smooth and creamy. Add the dry ingredients to the bowl and mix until just combined, about 15 seconds. Using a wooden spoon or rubber spatula, gently fold in the chocolate chips.

Divide batter evenly into the muffin tin and bake for 20 minutes or until tooth pick comes out clean or with just a few crumbs attached. Cool muffins for 5 minutes then remove and transfer to a wire rack to finish cooling. Muffins are best served warm, but can be stored in an airtight container for up to five days.
Notes
*Regular flour can be substituted for oat flour, but it will alter the nutrition.
Inspired by Ambitious Kitchen's Skinny Banana Chocolate Chip Muffins